Sloppy Firsts Reader's Guide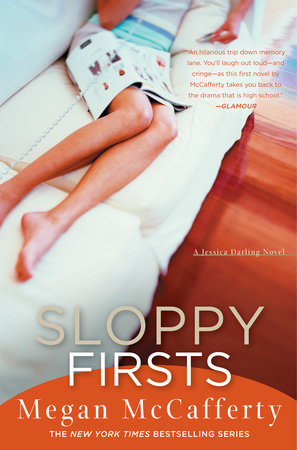 Sloppy Firsts Reader's Guide
READERS GUIDE
Introduction
When her best friend, Hope Weaver, moves away from Pineville, New Jersey, sixteen-year-old Jessica Darling is devastated. Smart, sarcastic, and hyperobservant, Jessica is a fish out of water in her high school, and Hope was the only one who understood her. How is she ever going to deal with the shallow boy- and shopping-crazy girls at school, her lame parents, and her nonexistent love life without Hope around to help? Sloppy Firsts is a fresh, funny, insightful look at one year in the life of Jessica Darling, taking Jessica from the dark days of Hope's departure through her struggles to fit in at high school and in her own family.
Jessica feels like a stranger in her own home, and a stranger at school, where the only person who seems able to break through the wall of frustration she has erected around herself is the class "Dreg." Marcus Flutie. Intelligent, mysterious, and a troublemaker, Marcus works his way into Jessica's life. But is he the love of her (teenage) life or is it Scotty, the old friend and now hunk who likes her, but whom she can't seem to like back?
Megan McCafferty has written an utterly compelling look at high-school life that is at once sophisticated, insightful, and amazingly authentic-in this remarkable book she pays homage to some of the great teen crossover works of popular culture, from John Hughes movies to MTV's Daria to My So-Called Life.
Questions and Topics for Discussion
1. Family Relationships
Describe the relationship between Jessica and her father. Who puts more pressure on Jessica about running, her father or herself? Is track the only thing these two have in common?
2. Discuss how Jessica and her older sister, Bethany, relate to each other and to their mother. Are any of these relationships healthy?
3. Both Jessica and Hope have lost their older brothers. Discuss how each family dealt with the death. Will Hope understand Jessica's new relationship with Marcus?
About this Author
Megan McCafferty graduated with honors from Columbia University. She was a senior articles editor at Cosmopolitan and has written articles for CosmoGIRL!, YM, Glamour, Maxim, Fitness, and Shape. She developed a fiction serial on twistmagazine.com featuring her characters Hope Weaver and Jessica Darling and currently writes "The Annabelle Chronicles," a new web storyline for Elle Girl. Megan lives in New Jersey with her husband.
Back to Top