The Lost Art of Gratitude Reader's Guide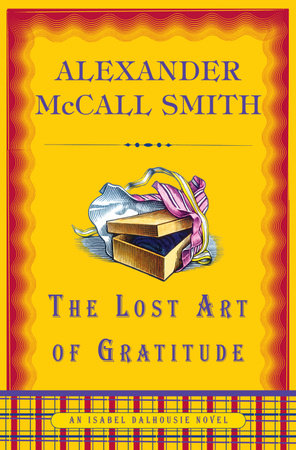 The Lost Art of Gratitude Reader's Guide
READERS GUIDE
The questions, discussion topics, and reading list that follow are intended to enhance your reading group's discussion of
The Lost Art of Gratitude
, the sensational sixth installment in Alexander McCall Smith's best-selling chronicles of the irrepressibly curious Isabel Dalhousie.
Introduction
McCall Smith "has created a world where humor is gentle, suffering is acknowledged but not foregrounded, and efforts to do good are usually rewarded. It's a wonderful place to visit, even if we don't get to live there." —The Washington Post
Philosopher and editor Isabel Dalhousie's son, Charlie, is now of an age—eighteen months—to have a social life, and so off they go to a birthday party, where, much to Isabel's surprise, she encounters an old adversary, Minty Auchterlonie, now a high-flying financier. Minty had seemed to Isabel a woman of ruthless ambition, but the question of her integrity had never been answered. Now, when Minty takes Isabel into her confidence about a personal matter, Isabel finds herself going another round: Is Minty to be trusted? Or is she the perpetrator of an enormous financial fraud? And what should Isabel make of the rumors of shady financial transactions at Minty's investment bank?  
Not that this is the only dilemma facing Isabel: she also crosses swords again with her nemesis, Professor Dove, in an argument over plagiarism. Of course, her niece, Cat, has a new, problematic man (a tightrope walker!) in her life. And there remains the open question of marriage to Jamie—doting father of Charlie.  
As always, there is no end to the delight in accompanying Isabel as she makes her way toward the heart of every problem: philosophizing, sleuthing, and downright snooping in her inimitable—and inimitably charming—fashion.
Questions and Topics for Discussion
1. Why is this novel called "The Lost Art of Gratitude"? Who is, or should be, grateful? Why is it a lost art?
2. One of Isabel's guiding principles is "moral proximity": If someone you know is in trouble, you must try to help—a notion that Jamie seems to consider meddling. In what ways does this make Isabel's life more fulfilling? And more difficult? What do you think Isabel gets out of this?
3. On page 15, Isabel muses about her life: "She used to think that her major achievement in life had been the editing of the Review, or perhaps her doctorate; she no longer thought so—now she felt that the most important thing she had done was to give birth to a whole new life, a whole new set of possibilities." What does this say about her as a philosopher? As a mother?
4. "Perfect villains have to live somewhere, and even the most innocent-looking suburb can conceal its surprises" (p. 21). How does this notion play out over the course of the novel? Is there a perfect villain within Isabel's circle?
5. What role does money play in the novel? How does Minty's wealth affect the way Isabel deals with her? Are there other instances in which money affects characters' behavior?
6. "Stoicism and defeatism, of course, can be kissing cousins, but Isabel would never find fault in Jamie's quite exceptional ability to accept setbacks" (p. 47). What does this tell us about Isabel and Jamie's relationship? How does Isabel respond to setbacks? Is this a function of the difference in their ages?
7. Isabel thinks quite a bit about Scotland, almost as if it were a character in its own right. What point is Alexander McCall Smith trying to make?
8. "Yes, she thought, our very ordinary freedoms were being rapidly eroded by the nanny state, but it was difficult to make the point without sounding strident, or like an opponent of motherhood and apple pie. So she had done nothing to defend these freedoms, which made her . . . the realisation was a shocking one: it made her one of Christopher Dove's free riders" (p. 101). How does the notion of free riders play into the larger plot of the novel? Who else is accepting a free ride, and how?
9. Discuss the plagiarism subplot. What purpose does it serve? What does Isabel's handling of the situation tell us about her character?
10. Two of Isabel's acquaintances refer to Minty as "wicked" (p. 181). Do you agree with that assessment? Ultimately, does Isabel?
11. Given the way Isabel dispatched Christopher Dove and Professor Lettuce, what do you think about the suggestion that she is an "enforcer" who "specialised in ruining reputations" (p. 195)? Would Isabel concede that there is symmetry between the plagiarism episode and the Minty/Jock affair?
12. On page 252, Isabel explains the liar paradox, and ends by reassuring Minty that she won't divulge her secret. What point is she trying to make? Why does Isabel choose to keep her word to someone who has told so many lies?
13. Discuss Isabel's relationship with Cat. How does Isabel treat her niece? What does she expect from her?
14. Reread the song lyrics on page 261. How do they reflect upon the events of the novel? What does the song say about Jamie's feelings toward Isabel?


(For a complete list of available reading group guides, and to sign up for the Reading Group Center enewsletter, visit www.readinggroupcenter.com)
About this Author
Alexander McCall Smith
is the author of the international phenomenon The No. 1 Ladies' Detective Agency series. He is professor emeritus of medical law at the University of Edinburgh in Scotland and has served on many national and international bodies concerned with bioethics.
Suggested Reading
The Sunday Philosophy Club
by Alexander McCall Smith;
The No. 1 Ladies' Detective Agency
by Alexander McCall Smith;
Maisie Dobbs
by Jacqueline Winspear;
A Desirable Residence
by Madeleine Wickham;
The Sweetness at the Bottom of the Pie
by Alan Bradley;
Ratking
by Michael Dibdin;
The Unexpected Mrs. Pollifax
by Dorothy Gilman
Back to Top