Family Baggage Reader's Guide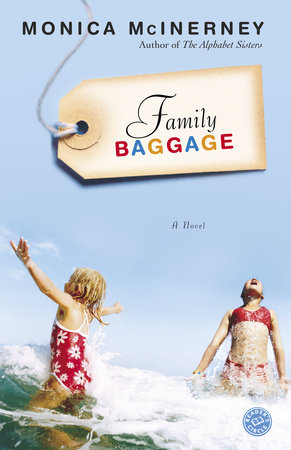 Family Baggage Reader's Guide
READERS GUIDE
Questions and Topics for Discussion
1. In the Reader's Circle interview, Monica McInerney cites several authors as inspiration for her writing (John le Carré, Edith Nesbit, John Wyndham, Maeve Binchy, and Adriana Trigiani, among others). Do you see the influence of these writers in McInerney's writing? What novels would you compare to Family Baggage, and why do you feel they are similar?
2. Reading has had a strong influence on Monica McInerney, as she discusses in the Reader's Circle interview. How important has reading been to you? Did you read a great deal as a child, or have you come to reading later in life? What role does it play in your life today?
3. Do you think Penny was right to keep the truth about Lara's parents a secret?
4. Was it fair for Penny to ask Gloria to keep the family secret? What would you have done in Gloria's place?
5. Do you believe there are secrets that should be kept, or is truth always the best method?
6. In Family Baggage, Monica McInerney uses several different voices and viewpoints, from different family members, to tell the story. How did having different viewpoints help or hinder your connection to the characters and story? Do you prefer a particular point of view in novels (first person, third person, omniscient, etc.)?
7. Which voice in Family Baggage was the most powerful for you? Did you enjoy hearing from one character more than another?
8. Near the end of the novel (p. 456), Harriet and Lara each confess that they had always wished they were more like the other. Do you think this is a common sentiment for sisters?
9. How do the relationships between brother and sister (Austin and Harriet, for example), brother and brother ( James and Austin), and sister and sister (Harriet and Lara) differ in Family Baggage? Are sisters more forgiving of their brothers than their sisters in general, do you think? If you have both a brother and a sister, how does your relationship with each differ?
10. Were you surprised by Melissa's plan at the end of the novel? Why do you think Gloria and the Turner family expected the worst from Melissa?
11. Some of the funnier moments in the novel occur with the tour group members. If you have been on a tour with a group, share some of the funny or insightful behavior that you witnessed within the group.
12. If you were going to embark on a television show—themed tour, which television show would you choose, and where would the tour take you? (For Monica McInerney's choice, see the Reader's Circle interview. Or check out page 177 for a clue.)
Back to Top