Mrs. Harkness and the Panda Teacher's Guide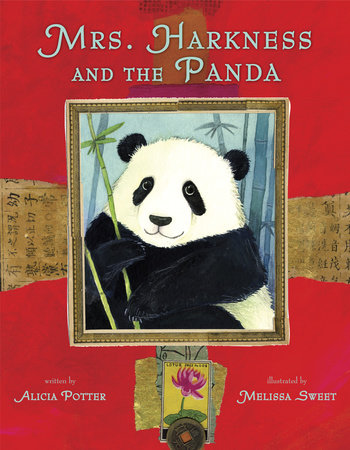 Mrs. Harkness and the Panda Teacher's Guide
TEACHING GUIDE
NOTE TO TEACHERSMrs. Harkness and the Panda

by Alicia Potter
Illustrated by Melissa Sweet
About the book:

In 1934, Ruth Harkness had never seen a panda bear. Not many people in the world had. But soon the
young Mrs. Harkness would inherit an expedition from her explorer husband: the hunt for a panda. She
knew that bringing back a panda would be hard. Impossible, even. But she intended to try. So she went
to China, where she found a guide, built traps, gathered supplies, and had explorer's clothes made—all
unheard of for a woman in those days. Then she set out, up the Yangtze River and into the wilderness.
What she discovered would awe America: an adorable baby panda she named Su Lin, which means "a
little bit of something cute." With breathtaking illustrations by Caldecott Honor©\winning artist Melissa
Sweet, this little©\known true story shares the tale of an adventurous woman whose unforgettable
journey helped shape American attitudes toward wildlife.
About the author:

Alicia Potter, an avid traveler and animal lover, found inspiration to tell this story in the magnitude of
Ruth Harkness's independence, mission, and legacy. She is also the author of
Fritz Danced the Fandango,
which won an Oppenheim Toy Portfolio Gold Seal Award, and works as a freelance journalist and
children's book reviewer.
Melissa Sweet is the Caldecott Honor©\winning illustrator of
A River of Words
by Jen Bryant,
The Boy WhoDrew Birds
by Jacqueline Davies, and
The Sleepy Little Alphabet
by Judy Sierra, and is the author/
illustrator of
Carmine: A Little More Red,
named a New York Times Best Illustrated Book. She was lucky
enough to take a trip to China several years ago, and although she didn't bring back any pandas, she did
return with a collection of paper and other collage materials that she used to create the art for this
book.
Pre©\reading:

What do you know about panda bears? How did you learn this information?
Questions to consider:

1. In 1934, not many people had ever seen a panda bear. Why?
2. Why didn't Mrs. Harkness just join her husband on the expedition to find the panda?
3. What terrible news did Mrs. Harkness learn about her husband? Despite what others told her,
what did she decide to do?
4. If you were Mrs. Harkness's friend, what advice would you have given her about the idea of
inheriting her husband's expedition to China?
5. Why were her friends so concerned for her safety? Would you be willing to take such a journey
even today?
6. How did Mrs. Harkness get to China? Why do you think she didn't just fly there?
7. From what locations did she possibly send postcards?
8. What were some of the concerns of people worried about Mrs. Harkness's safety? Do you think
she listened to any of their advice or not? Why?
9. Explain how Mrs. Harkness prepared for the expedition once she reached China. Why did she
need so much stuff?
10. Describe the different forms of transportation Mrs. Harkness used for each part of her
expedition. Why did she need so many different types? Which one sounds like the most fun?
11. How many people joined her expedition? What did she hire them to do? Would you have gone
to do one of the jobs she offered?
12. Once Mrs. Harkness reached the mountain, what steps did they take to find the pandas?
13. Describe the way Mrs. Harkness and her friend, Quentin, finally found a panda.
14. Just looking at the headlines upon Mrs. Harkness's return, how did America react to the panda?
Where did Su Lin live in America?
15. Why do you think Mrs. Harkness returned to China?
VOCABULARY:
Mrs. Harkness and the Panda

Directions:
1. Put a √ mark before any word you've HEARD before
2. Define any SIX terms in your own words
3. Draw a picture that best represents three of the words
terrain:
treacherous:
expedition:
inherited:
athletic:
daring:
scoffed:
steamer:
Ceylon:
bandits:
dashing:
tailor:
tweed:
bulky:
scrambled:
whimper:
accomplished:
hastened:
fiancée:
specimen:
rugged:
Art:

Inspired by Melissa Sweet's illustration, create a collage piece of your own based on an expedition YOU
would like to take someday. Add a note that explains the location and what you'd like to do there. Think
about: what colors will work best to represent that location? What memorabilia or papers would add
interest? What shapes will you use? Have you included any three©\dimensional objects? Will you use the
whole page or have a border?
Science:

Good scientists always ask questions before they do experiments or head out on an expedition.
Brainstorm a list of questions Mrs. Harkness may have wondered about each of these topics. Then write
observations she might have made on each topic.
Topic: Questions: Observations:

Pandas
Weather
Transportation
Clothing
Language
Flora & Fauna
(plants and animals)
Architecture
(buildings)
Math:

Noodle with these word problems inspired by the book:
1. Pandas can eat up to 84 pounds of bamboo each day! If bamboo costs $2 how much would it
cost to feed a panda for a day? A week? A whole month (of 30 days)?
2. You want to travel to Hong Kong to plan your own expedition in the mountains of China. If you
have $2,000 in your savings and $4,000 in a checking account, do you have enough if the ticket
costs $3,000 one way?
3. If you need to hire one person to carry each of your 22 bags on the expedition and each person
wants to be paid $10 each day, how much should you budget for a seven©\day trip? A twelve©\day
trip? A six©\month trip?
4. If the panda baby drinks three bottles of milk each day, how many will you have to make each
week? What if he drinks four bottles each day? Ten bottles each day?
5. You want to send 10 postcards to your friends back home. If each postcard costs 25 cents to buy
and send, how much should you budget? What if you want to send 20 postcards?
Music: Sing to the tune "Frere Jacques"

Mrs. Harkness
Mrs. Harkness
sailed to China
sailed to China
On an expedition
She brought back a panda
named Su Lin
named Su Lin
History:

Using the "Chronology of Events" in the back of the book, create a timeline that also includes at least
THREE important historical events (American or World events) that happened at the same time. Then,
with a friend, talk about how these events may have made Mrs. Harkness's journey easier or more
difficult.
Tracie Vaughn Zimmer, a reading specialist and children's book author, created this guide. Find
hundreds more like it available at her website!

Back to Top