A Buffalo in the House Reader's Guide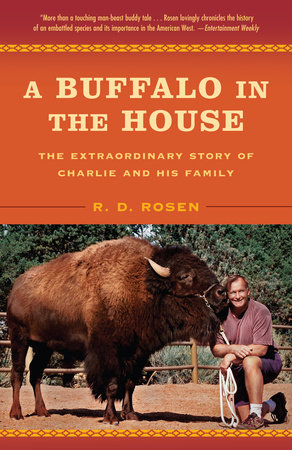 A Buffalo in the House Reader's Guide
READERS GUIDE
Questions and Topics for Discussion
1. Before reading A BUFFALO IN THE HOUSE, how much did you know about buffalo? What new things did you learn about the species history in America?
2. On page 15, R. D. Rosen writes: "When the British explored Virginia in 1733, they found hordes of wild buffalo, 'so gentle and undisturbed' that men could almost pet them." How do you think our lives would be different today if the buffalo were able to continue their dominance of the American landscape?
3. Charlie came into Veryl and Roger's family because of Veryl's need, and because he'd been abandoned. Have you ever adopted an orphaned pet? What circumstances led you to decide to welcome an abandoned animal into your home?
4. Roger Brooks did not expect to fall in love with Charlie. In fact, he first thought of Charlie as "Veryl's baby bison." But he soon realized he had become quite attached without knowing it. In what ways can you relate to Roger's experience? Have you ever fallen in love — with a pet or a person — unexpectedly? And in what ways do you think we love animals and people differently?
5. In nineteenth century America, politicians were chiefly concerned with removing impediments to westward expansion–and the buffalo (live ones) and American Indians stood in their way and suffered accordingly. Today, what other populations–animal or human–are being threatened or destroyed in the name of "progress"?
6. Can you imagine any other "solution" to the problems presented by tens of millions of buffalo covering the American plains in the 19th century? Or was the Great Buffalo Slaughter inevitable?
7. Buffalo are making something of a comeback these days. Many people would like to see buffalo once again roam the Great Plains, especially in economically depressed areas, where they might attract tourist dollars and also revitalize the soil. Do you think this is a good idea?
8. A growing number of vegetarians highlight the harsh treatment of animals farmed for consumption as their chief reason for removing meat from their diets. Has reading this book, changed your perspective on eating meat? If so, what would you attribute to that change?
9. Even owners of large breed dogs have empathized with Roger and Veryl's plight as Charlie became a bit too big for the house. If you own a pet, what challenges did you face integrating that pet into your new home? Was it easy to establish boundaries — where it could roam, what it could do?
10. What role do you think Charlie played in his family — aside from sculpture model? If you have a pet, how does it fit in to your family? If you have more than one pet, how did the other(s) respond to new additions?
11. Roger and Veryl are quick to mention that Charlie actually brought them closer together. Does your pet bring you closer to the other members of your family?
12. Because of his unique upbringing, perhaps the biggest challenge Charlie faced was an identity crisis — he didn't quite distinguish that Roger and Veryl were humans and that he was a buffalo. In what ways did your upbringing inform your sense of identity, of who you are and where you belong? What adjustments did you find were necessary as you got older?
13. Roger and Veryl went to great odds to get Charlie to their home, to raise him, and to care for him under some intense circumstances. How much would you risk to bring an animal into your home? And what would you be willing to do to save its life?
Back to Top