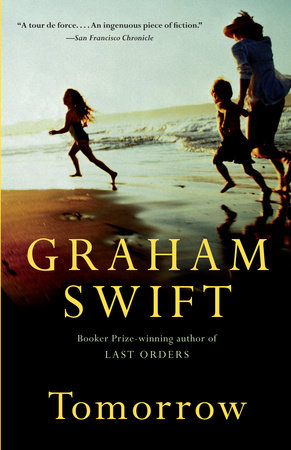 READERS GUIDE
"A tour de force. . . . An ingenous piece of fiction."
—
San Francisco Chronicle
The introduction, questions, and suggestions for further reading that follow are designed to enhance your group's discussion of Booker Prize–winning author Graham Swift's new novel,
Tomorrow
.
Introduction
Graham Swift's extraordinary new novel is a tour de force of first-person narration. Told by Paula Hook on the eve of a revelation that she and her husband, Mike, will deliver to their sixteen-year-old twins,
Tomorrow
explores the potency of family secrets, their power to protect and potentially to destroy.
Paula's narrative, which is addressed, though entirely within her thoughts, to her children, is a mixture of anxiety about what the morning will bring, the joy and love she has felt with Mike, the complicated relationships she and her husband have both had with their own parents, and the luminous affection she feels for her children, Nick and Kate. Spanning several generations, the story she tells Nick and Kate will give them the context and history they will need to understand and, Paula hopes, to forgive the secret she has been keeping from them. Her narrative is a kind of testimony, and she often says that her children will "judge" their parents tomorrow. What she offers, perhaps to compensate for the years of deception, is a rare and total honesty. Paula explores her motives, both conscious and unconscious, with unflinching self-scrutiny and lays bare her emotional life to her children.
It is a testimony to Swift's own gifts as a storyteller that he can sustain the suspense while dispensing with some of the conventions of narrative fiction. For example, there is no dialogue except as it occurs in Paula's memory, no action that takes place except within Paula's narration. The novel instead follows the workings of one woman's mind during a sleepless night as she contemplates a revelation that may change the lives of everyone in her family. Where other writers might begin with the revelation, or spend a great deal of time exploring its consequences, Swift instead concentrates on what leads up to it. The novel is an investigation of consciousness unique in contemporary fiction, and perhaps in all of fiction, bringing the reader to a place where his or her own imagination must complete the story.
Written with the mastery that has characterized Graham Swift's work from the very beginning,
Tomorrow
is a story about one woman's anxious reflections on the eve of a life-changing event. But it is also a story about the power of storytelling itself—to conceal and reveal the truth, to comfort and enlighten both the teller and the listeners.
Questions and Topics for Discussion
1. Tomorrow begins with the line, "You're asleep, my angels, I assume" [p. 3]. What is the effect of reading a narrative that is addressed, specifically, to someone else? Why might Graham Swift have chosen this narrative structure? How would the effect of the novel be different if it were addressed to a different audience?
2. Why have Paula and Mike Hook decided to wait until their children are sixteen to reveal a secret they have kept for the twins' entire lives?
3. How are Kate and Nick likely to react to the news they are to receive just after the novel ends? Are there clues in the novel that suggest how they will receive the revelation about their father?
4. Paula often remarks that she expects to be judged by her children. How should Kate and Nick judge their parents? How should readers of the novel judge them? Has their sixteen-year-long deception been a responsible or a selfish choice, in your opinion?
5. Tomorrow is an unusual novel in that it consists of the buildup to an event—the revelation—that readers do not get to witness. What is the effect of anticipating but never realizing this scene? Is it frustrating? Or is it, in fact, more satisfying not to know, for sure, what happens? Why might Swift have chosen to leave his novel open-ended?
6. Why does Paula feel it is important to tell Nick and Kate so much about their family history? What qualities of feeling emerge most powerfully from her story?
7. How is Swift able to create such suspense and interest in the absence of certain traditional narrative devices, such as including more than one character's point of view? What does he gain through this unique form?
8. How does Swift so convincingly inhabit the voice and consciousness of his female narrator, Paula? What aspects of a woman's and of a mother's way of thinking and feeling does he represent especially vividly?
9. There are aspects of both comedy and tragedy in Paula's story. What are some of the ways in which she draws out the humor and the sadness of various situations?
10. Tomorrow is very particularly about one family, but in what ways is it about all families?
11. Why does Paula sleep with the veterinarian? Do the motives she herself gives for doing so make sense? Why would she confess this now, to her children and her husband?
12. Paula asks, "And isn't it the point, or one of the points, of this bedtime story, you must be thinking, to underscore the proposition, never mind proposals, that this man lying here and me were always meant for each other, as they say? We were meant to be. And would you yourselves, who have such an intimate interest in the matter, have written the story differently?" [p. 79]. Why do you think this is one of the main points Paula wants to make? Why does she call her story a "bedtime story"? How might her children have written it differently?
13. What does Paula's story reveal about the generational differences and cultural changes that have taken place since the era of her parents up to the era of her children?
14. What does the novel suggest about how we deal with mortality as well as birth? How does this relate to Paula's—and our own—thinking about the future?
15. Do you think these characters are happy? Why, or why not? Is happiness important to them?
16. Why do you think Swift chose to make Nick and Kate twins? How does this impact the family dynamic? How is being a twin similar to or different from being part of a romantic couple? And how does coupledom affect one's personal identity?
17. Paula works for an art dealer, and Mike is a biologist. How do the worlds of art and science tie in to the themes of the book?
18. Paula ends her story, as day is dawning and rain falling, by saying: "Some little bedraggled bird I can't identify, which no doubt has a nest somewhere which is getting drenched too, is singing its heart out. Perhaps I'm wrong, but sometimes mothers can just tell things. In any case, they only want the best for their children" [p. 255]. In what ways can these final sentences be read? Do they say more than they seem to be saying? Why might Swift end the novel in this way?
About this Author
Graham Swift
lives in London and is the author of seven previous novels:
The Sweet-Shop Owner
;
Shuttlecock
,
which received the Geoffrey Faber Memorial Prize;
Waterland
,
which was shortlisted for the Booker Prize and won the
Guardian
Fiction Award, the Winifred Holtby Memorial Prize, and the Italian Premio Grinzane Cavour;
Out of This World
;
Ever After
,
which won the French Prix du Meilleur Livre Étranger;
Last Orders
,
which was awarded the Booker Prize; and, most recently,
The Light of Day
.
He is also the author of
Learning to Swim
,
a collection of short stories. His work has been translated into more than thirty languages.
Suggested Reading
Renate Dorrestein,
A Heart of Stone
; Ian McEwan,
On Chesil Beach
; Jacquelyn Mitchard,
The Deep End of the Ocean;
Joyce Carol Oates,
We Were the Mulvaneys
; Michael Ondaatje,
Divisadero
; Ann Packer,
Songs Without Words
.
Back to Top