The Way We Live Now Reader's Guide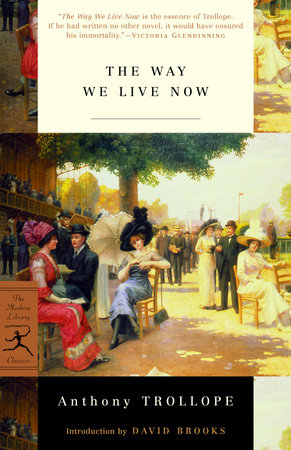 The Way We Live Now Reader's Guide
READERS GUIDE
Questions and Topics for Discussion
1. In 1873 the London Times praised The Way We Live Now as providing a "likeness of the face which society wears today." More recently Cynthia Ozick called the novel "very contemporary, despite its baronets and squires and rustics, and despite its penniless young women whose chief employment is husband seeking, and its penniless young lords whose chief employment is heiress-hunting. If all this sounds as far as possible from the way we live now, think again." Compare the world of Trollope's novel to our own. What are some similarities? Differences? Could this novel have been written today?
2. In his autobiography Trollope writes of The Way We Live Now: "I was instigated by what I conceived to be the commercial profligacy of the of the age." Discuss commercialism as taken up by Trollope, and its effect on society, from politics to morality to relations between the sexes to art.
3. Discuss the "great financier" Augustus Melmotte. How would you characterize him? What accounts for his rise and fall? Do you find him to be a compelling literary creation? What other characters in thenovel do you find interesting?
4. For the critic James Kincaid The Way We Live Now is concerned with "people's cynical admiration for successful dishonesty, their evasion of the tawdry moral realities underlying it for the sake of its surface glamour." Do you agree? Is this insight helpful in thinking about the meaning of the book?
5. What are some of the social institutions Trollope scrutinizes in this work? Do you agree with Kincaid's assessment, The Way We Live Now "comes closer than any of Trollope's other novels to admitting the possibility that all existing social institutions may be obsolete and doomed, no longer having any real moral and economic foundations"?
6. Discuss the literary world taken by Trollope. How would you characterize the writing industry that Trollope portrays?
Back to Top