China Dolls Reader's Guide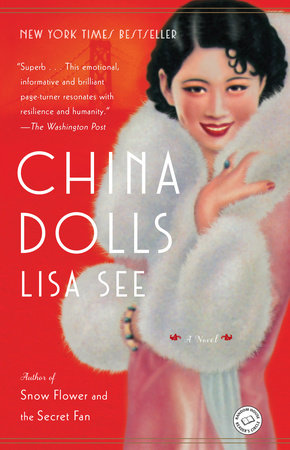 China Dolls Reader's Guide
READERS GUIDE
A Conversation with Lisa See, 
Jodi Long, and Trudie Kim
I first met Jodi Long, an actress who made her Broadway debut at age seven in
Nowhere to Go But Up
and now stars in
Sullivan and Son
on television, when she came to one of my book events. She gave me a copy of
Long Story Short,
a documentary she produced about her parents, who were nightclub performers. Larry Long was from Australia. He danced as a solo artist, teamed up with Paul Wing, and later married Trudie Kim (née Kimiye Tsunemitsu), who had been interned at the Minidoka War Relocation Center. After they married, they put together their own song, dance, and comedy act. On May 7, 1950, they were among the first Asian-American performers to appear on
The Ed Sullivan Show.
In 2011, I did two interviews with Jodi and Trudie together. I offer these excerpts so you can get a sense of how I do research and then how the truth and details of real-life stories inspire me.
Lisa See:
How old were you when the war started?

Trudie Kim:
I was nineteen. I celebrated my twenty-first birthday in New York City when I got out of the internment camp in Idaho.

LS:
When you were in the camp, you wrote letters to people, asking them to sponsor you to leave. How did you know who to write to?

TK:
I knew that several people were writing for newspapers in New York; they were nightlife people. Not Walter Winchell, but others. So I
wrote, and I said I was in camp and I didn't want to stay there. I said, "Why am I here? I'm an American citizen." I couldn't get out of camp unless someone agreed to give me a job.

LS:
Your parents let you go?

TK:
We were in camp! We lived in barracks. The whole family lived in one room. They evacuated us from the West Coast. A lot of people lost property, farms, and so forth, but we didn't own anything like that. They sent us there, and when we got out of the train, we put our hands up like this and we couldn't even see our hands because that's how dusty it was. When I got there, I said, "How in the hell do I get out of this joint?" I spent all of my days going up to the placement office, which wasn't even settled at that point, in a spot two or three miles away. I'd walk up there, and I'd say, "How the hell do I get out? Give me the papers." It took me weeks. Lee Mortimer finally answered. He was a writer for the
New York Daily Mirror.
He was the nightlife editor, or whatever. He used to take out Asian girls. He used to take out Noel Toy. She was a bubble dancer. I think he took out Florence Ong. She was Korean, and she was sort of an opera singer.
LS:
What did you think when you first got off the train in New York?

TK:
I didn't have a soul to help me. I got off at Penn Station. I had read about the Barbizon Hotel for Women, which was on Lexington and Sixty-third. I stayed there for a couple of weeks. I started to look for a job. I went to Macy's, Lord & Taylor, Best & Co., Arnold Constable, and Gimbel's. No one would hire me as a saleswoman.

LS:
Do you think that was because of the war?

TK:
Probably. But they probably weren't hiring any Asian people, anyway, at that time. No one said that. That was just my intuition. No one offered me a job—not even in the storeroom. I wasn't fussy. I just wanted a job.

Jodi Long:
I think what's really interesting is that she couldn't get a job in any of those places, but the one place that gave her a job was the American Bible Society as a file clerk and a typist.

LS:
[
To Trudie
]
You must have been a bit of a dreamer.

TK:
I thought, Gee, I might be a singer. When I first came to New York, someone said, "Let's go to the Hurricane Nightclub, where Duke Ellington is playing with Johnny Hodges." Someone said, "Go up and sing." I sang a few bars. Duke Ellington didn't really listen to me, but it was an entrée.

LS:
How did you get your job at the China Doll?

TK:
Lee Mortimer took me out. That's how I met everyone. He used to call me at the American Bible Society and say in a very low voice, "You want to go out tonight?" I used to go to nightclubs with him. When the China Doll opened, he had some pull in trying to get Asian people into the show. He is the one who suggested that I go down there to audition. "Go down there and audition. Maybe you'll get a job!" I wanted to try out, but I was afraid that I might lose my job at the ABS, even though the pay was only seventeen dollars a week. Let me put it this way. The girls at the China Doll were making seventy-five dollars a week, so I talked to my boss at the ABS. "They have an open call for chorus girls. They make much more money than I do here. Would I be able to go down there and not lose this job here?" She said, "Go and try for it. Don't worry about your job here. If you get it, fine. If you don't get it, come back. I'll hold the job for you."

LS:
So this was your first experience dancing?

TK:
You go in, and he looks at you. The next day, they show you—do this and do that—which is absolutely nothing much. I guess he wanted to see how I looked onstage—presence, walk, and so on. It wasn't too long, otherwise my boss wouldn't have let me go. And then he decided. "Okay. I'm going"—like in the movie
The Black Swan
—"I'm going to pick you, pick you, pick you. The rest of you, thank you very much for coming." When I went back to the dressing room, I said, "I got the job!" The other girls said, "You did?" I shouldn't have bragged, but I was so excited. I wasn't that clumsy, I guess.

JL:
This was so much about survival. Performers like my mom and dad grew up in the Depression era. They saw Hollywood movies and somehow they got in their minds that they could do that, whether they had any formal training or not. Like my mother—​she didn't have any formal training. Some of them did, like my father, who was taught how to tap by a Caucasian woman in Australia. The person who really took him under his wing was an African American man who was putting on music-hall shows in Australia. How interesting that that guy got from Africa to America, learned tapping, and then went to Australia and gave it to a little Chinese boy. I think it was really, "Oh, I can do this, and who cares what anybody thinks? I can make more money doing this."

TK:
Back home I used to work for fifty cents an hour in a grocery store. The big thing for me was, God! I can make seventy-five dollars!  
JL:
Tell Lisa the story about the guy, who, when you girls sat with him at the China Doll, he always took the money out of his socks.

TK:
He was a Chinese guy. He worked on a big boat, going back and forth, with lots of passengers. I don't know what his function was. I know he wasn't just a sailor. I don't think he was a cook, either. Maybe a steward. He used to come in regularly when he came back to shore. He would have all the girls sit at his table. When I say "girls," there were a lot of us—six or so. We'd order food and drinks. That's what we did after the first show. We used to sit and eat!
LS:
What was your favorite thing to eat?

TK:
I just wanted food. We didn't go home and cook. When the tab came, he used to get cash from his shoe, from the heel, and pay for it. There were no charge cards back then. One time, he came in and said, "Oh, you girls want some shoes?" About four or five of us said, "Sure." We went to his hotel. I thought, Oh my God. What's going to happen? Let's go get them and get out as fast as we can. He gave us shoes and some of us went home. I don't know if anything happened with other girls. We used to stick together because we were all so young.

LS:
It sounds like there was a lot of camaraderie with the other girls. Were there rivalries and jealousies and competition too?

TK:
I don't think so, not rivalry. The only thing I really didn't care for and I really didn't like was that three-quarters of them were Chinese, and they spoke Chinese most of the time in the dressing room. I didn't like it.

LS:
Did you feel they were doing that to leave you and the others out? Did you feel they were gossiping?

TK:
I felt sometimes they may have been talking about us. I just didn't like it. They probably weren't talking about us, but who knows? When you're young, you always think someone's talking about you. Still, that was one thing I detested.  
LS:
All this time, were you writing to your parents? What did they think?

TK:
I didn't write to my parents. They didn't read English, and I couldn't write Japanese. Who used the telephone in those days? But they might have thought, Ah! What is she doing? It's not traditional. The only worry they probably had was, Is she getting along?

JL:
My grandparents couldn't provide my mother with anything. They were in an internment camp, after all.

TK:
I don't know how my mother felt. She used to iron shirts in the Laundromat and she would work really hard, and she would send me ten dollars every once in a while.

LS:
When you were working at the China Doll, what did you do when the night was done? Would you just go home or did you go out with everyone?

JL:
Tell her about how you used to go to the drugstore after the show.

TK
: Hanson's Drugstore was across the street, and everybody hung out there. It was on Seventh Avenue, right across Fifty-first Street.  [
To Jodi
] Your father always used to be there.

LS:
Was Larry considered a headliner, a big star?

TK:
Yes, he was a headliner at the China Doll.

LS:
So he saw you and thought you were cute?

TK:
I was the only one who listened to him! He hung around. I used to take a cab home to Seventy-fifth Street, but he'd make me walk all the way up to Seventy-fifth Street. I'd say, "Cryin' out loud. I could have taken a cab."

JL:
Because he couldn't afford a cab? Right?

TK:
Right. Exactly. Sometimes we used to stop at Reuben's, which was a pretty big restaurant; a lot of people used to go after the shows. Lena Horne was there one time, in the next booth. That was on Fifty-seventh Street.

LS:
So Larry comes to the club; he's got an act; he starts following you around . . .

TK:
No. He was in an act.

JL:
We should back up a little bit and give the backstory to that. Paul Wing was in a dance act with his partner, Dorothy Toy. [Wing & Toy were considered the Chinese Fred Astaire and Ginger Rogers.] They were married at one point. Dorothy, even though her last name was Toy, was Japanese. According to the stories that I've heard, and I think it was Dad who told me, Wing & Toy had a Hollywood contract and another performer, who will remain nameless, ratted her out and told the people that they were hiring "a Jap." The other performer was Chinese, and she got the job instead. That's when Paul and Dorothy split up their act, because now that her cover was blown, she went on the road with her sister. Paul was on his own in San Francisco, and that's when my father got up to the Forbidden City and they formed the Wing Brothers. Paul went from being Wing & Toy to the Wing Brothers. Even though all the pictures make them look like they were like the Nicholas Brothers—with all this tap dancing—my father was a tap dancer, but Paul didn't really tap.

LS:
He was more like a ballroom dancer.

JL:
Yeah. Exactly. They did lots of jokes and patter and that stuff. They brought that to the China Doll, and that's when my mother met my father. The Wing Brothers broke up somewhere in there, and my dad stayed in New York. I think because he gambled all his money away and couldn't get it back!

TK:
That's true, because after work, not every night, but on certain nights they would play
pai gai.

JL:
They would stay after the show—not just at China Doll but also at the Forbidden City—to play cards or mahjong or whatever.

LS:
[
To Trudie
]
What was it like working with your husband?

TK:
Putting the act together wasn't just overnight.

JL:
My father was a real stickler. He'd come see me at my show. "Did you know somebody was moving during your punch line? Tell them to stop moving." He probably did that with my mom too.
TK:
He'd say, "You moved!" "I moved?" I did move. [
To Jodi
] You went through that too? I didn't dance, so I was faking when we did the tap dancing.
LS:
I've seen the clip of you on
The Ed Sullivan Show.
You looked like you were dancing to me.

JL:
If you really watch her feet [on
The Ed Sullivan Show
], she's really good from here up. If you really watch my father's feet, he's tap dancing. My mother's just stepping. It's really funny to go back and watch it. She's just doing the moves. She's a good faker.

TK:
I'm a good faker!

JL:
Yes, you are!  
LS:
[
To Jodi
] What's your earliest memory of being in a nightclub?

JL:
I remember the waitresses. They used to take care of me when my parents were onstage. I remember I would sit sometimes in the audience, if it wasn't too late. I specifically remember that you had to go through the kitchen to get to the dressing rooms. We'd be going through the kitchen with all those cleaver-wielding chefs, and that was scary. They're all barking Chinese and wanting to pinch your check, and you're like, "Ugh!" You're running through the kitchen and getting backstage. The backstage area is still so clear in my mind. There were two staircases that went up. One to the women's dressing room and one to the men's dressing room. I also remember a stripper at the Forbidden City. She used to babysit me backstage. I used to play with paper dolls, and I liked to cut out the dresses myself. One day, she cut all the paper doll dresses out of the book. She thought she was doing me a favor. I was so upset. And I remember as a child thinking, "Why is she doing that?" Thinking about it later, she was giving my dolls clothes, even though she didn't wear them. That's pretty strange. She was putting clothes on my paper dolls!

TK:
You used to run around backstage with Michael.

LS:
Another boy?

JL:
Yes. Larry Ching's son. [Larry Ching was billed as the Chinese Frank Sinatra.] He was my first crush. A few years ago, we did a movie together up in San Francisco. It's six in the morning, I'm in the makeup chair, some guy's supposed to be playing my brother-in-law and I'm hearing him talk about how his father was a -performer at the Forbidden City. I'm like, What? I look at him, and I say, "Your father worked at the Forbidden City? So did mine." He goes, "Oh, yeah. What was your dad's name?" I say, "Larry Long." I say, "What's your dad's name?" "Larry Ching." "And what's your name again." He goes, "Michael." I go, "Wait a second. You're not the Michael I went to the San Francisco Zoo with?" He goes, "Oh my God! You're Jodi." It was unbelievable. It was just too weird. We're still friends.

LS:
One thing that struck me was how people were billed: The Chinese Fred Astaire; the Chinese Sophie Tucker. What was the reason or thinking behind that? Why would they get those labels?

TK:
They called Toyet Mar the Chinese Sophie Tucker because she was heavy, I think.

LS:
And she had a big voice.

TK:
Yeah. Kind of. With the Wing Brothers, when your father and Paul Wing danced together, the newspapers used to call them the Chinese Nicholas Brothers.

JL:
I always thought they did that for the Western audience to go, "Oh, I know what that is!" You look at certain actors, and they'll look like Errol Flynn or whomever, and there's a context already when you see them on the screen. You recognize what that stands for. It contextualizes the performer. I think in the performing arts that's somewhat useful. But it's also why it's been hard for Asian Americans when you get to that other level of breaking into television or film. There's not quite been a context for it. "Now I know what that is and I'm not completely shocked." Seeing my parents on
The Ed Sullivan Show,
what's always so amazing to me is that they start out doing the chinky-Chinaman kind of thing, but it contextualizes them and it makes their act almost acceptable for the audience, because that's the way the audience is looking at it. When they take off their Chinese robes and they're just Western-style performers, it's like, "Oh!"
LS:
How did that come about—being on
The Ed Sullivan Show
?
TK:
I have no idea. I didn't handle any of that stuff. All I know is we were going to perform there.

JL:
Ed Sullivan had scouts who would go to all the nightclubs and all the vaudeville places, and that's how they would see you and then they would want to book you.

LS:
I would have been excited and terrified too.

TK:
I really can't remember if I was excited or not. I was trying to be very careful of what I wore. I had something I had already made. Everything matched. I even had green hose.

JL:
Mom made all her own costumes. But it was always about the career and putting it out there. It was the only way you were going to get ahead. That's the performer's dilemma. There will always be that Broadway show, that television show, that movie part that will put you over.

LS:
But maybe people really did think there was a chance. "I'm at the top of what I'm doing as queen of the nightclub acts."

JL:
You're right. There is that glass ceiling. Completely. And it is still here for us now. There's always that vague hope that one day that one thing is going to happen that's going to change something. Sometimes it does, and sometimes it doesn't. Maybe it does for half a second, and then you're back to square one. That was really what I wanted to say about these performers and how they were perceived. The times were different. In those days, you could make a lot more money in entertainment than the average Joe putting wires into a transistor, slinging hash, or typing.  
Jodi Long brought her memories of the Forbidden City, her parents, and all the amazing performers she grew up knowing to her narration of the audio version of
China Dolls.
On June 13, 2014, Trudie Kim Long passed away at the age of ninety-one, exactly two weeks before the publication of
China Dolls.
In the memorial card Jodi sent to her friends, she used the following lines from an Eskimo legend:
Perhaps they are not stars in the sky. But rather openings where our loved ones shine down to let us know they are happy.
Questions and Topics for Discussion
1. The novel opens with the below quotation:

Only three things cannot be long hidden:
the sun,
the moon,
and the truth.

What does this quotation mean in the context of China Dolls? Lisa's novel is filled with secrets—some hidden and not revealed until late in the novel. What were the most important ones? Why were they hidden? Did you agree with how and when they were revealed?
2. "In just these few minutes I'd learned two things about myself: I would never lower myself by faking an accent like my dad did (or Charlie Chan did in the movies), nor would I work naked as a hoochie-coochie dancer. All right, so I had pride. But what price would I have to pay for it?" (p. 11). This is something Grace realized about herself when she just started out as a performer. How did her outlook evolve throughout the novel?
3. Grace's father brutally abused her when she was a young girl. Although Lisa never excused his behavior, how did she gradually reveal to the reader some of the factors that made him the man he was? Did you ever accept him for who he was? In what ways did the abuse Grace suffer at the hands of her father shape her subsequent relationships with men?
4. How did your perception of Ruby shift throughout the story? Did the hardship and discrimination she experienced affect the rest of her actions, whether commendable or not? How did Ruby's ambition differ from that of Grace's?
5. Ruby could have had any man she wanted—and she often did. Is it fair to be critical of the way Ruby tried to hide her early relationship with Joe from Grace? Why did she choose Joe, especially in light of Grace's crush on him? Was this betrayal ultimately helpful to Grace in some respects?
6. How did you react to the way Ruby hid her Japanese ancestry as World War II began? How did you feel about her relationship with her parents? Did you think Ruby's parents were Japanese spies? Could you tell one way or another? Did it matter to you whether they were verifiably innocent or guilty?
7. Helen's narratives were filled with traditional Chinese sayings. Which are the most important in the novel and why? What aspects of Helen's life made her situation fundamentally different from that of the other girls? When Helen's past was revealed, were you surprised? How did it affect her approach to friendship?
8. Helen's and Grace's fathers share many similarities in how they look at their daughters and women. In what ways do their personal backgrounds make the two men different from each other?
9. What important elements did Eddie bring to the novel? Would you have married Eddie if you had been in Helen's situation?
10. Ruby says to Grace, "You want an American life. I want an American life. Even Helen wants an American life" and then thinks to herself "And all of us, in our own ways, were doing the best we could to erase who we were" (p. 301). What do you think an "American life" meant for each woman, and why did they have to erase themselves to achieve it? Who were you rooting for most in the novel—Grace, Helen, or Ruby? And why?
11. Did you think Grace's relationship with Joe was significantly different after the war? If so, how? In what ways had Grace changed? Joe? In reality, could they have changed as much as they did in the novel?
12. How was Helen's betrayal of Ruby different from her betrayal of Grace? Which betrayal was worse? Why? Would the final confrontation scene have been different if it had been entirely narrated by Grace? Or by Helen?
13. While there are big betrayals in the novel, there were also moments of great resiliency and hope as the girls helped each other. In what ways did Grace, Helen, and Ruby support one another?
14. Perhaps more than in any of her other novels, Lisa has written in great detail about clothes and fashion. Why do you think she did that and what was she trying to say?
15. "China doll" or "China dolls" are phrases used often in the novel. What are the most important meanings behind this phrase? Which are positive? Which are negative? At the end of China Dolls, Tommy's daughter criticized Grace's career as one that promoted racial stereotypes. Was that criticism fair? Why or why not?
Back to Top