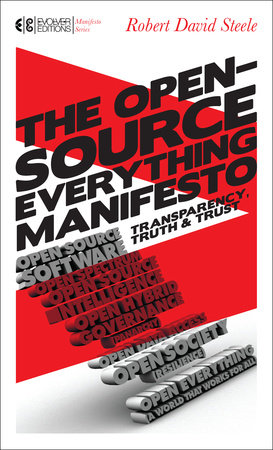 The Open-Source Everything Manifesto
Transparency, Truth, and Trust
Transparency, Truth, and Trust
By Robert David Steele
Foreword by
Howard Bloom
By
Robert David Steele


Foreword by

Howard Bloom



By Robert David Steele
Foreword by
Howard Bloom
By
Robert David Steele


Foreword by

Howard Bloom




Best Seller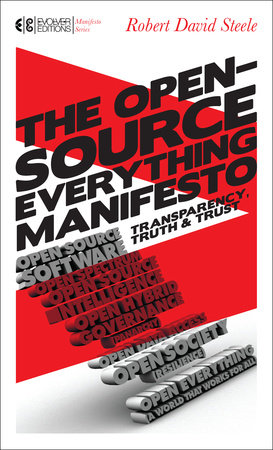 Jun 05, 2012 | ISBN 9781583944431
*This title is not eligible for purchase to earn points nor for redemption with your code in the
Reader Rewards
program
Inspired by Your Browsing History
Also in Domestic Politics
Praise
"Steele's book is a must-read, a powerful yet still pragmatic roadmap to a new civilisational paradigm that simultaneously offers a trenchant, unrelenting critique of the prevailing global order. His interdisciplinary 'whole systems' approach dramatically connects up the increasing corruption, inefficiency and unaccountability of the intelligence system and its political and financial masters with escalating inequalities and environmental crises."
— Nafeez Ahmed, The Guardian

"I found it refreshing to read such a powerful and all-encompassing approach to the eternal problem of hierarchy and how so few people are currently determining the destiny of so many individuals on this planet." —Peter J. Morris, Writer and Blogger

"If you have ever thought that the U.S. intelligence system is structurally dysfunctional you will not be disappointed by Steele. The bottom line is that if you satisfied with a status quo which operates on the basis of "a top-heavy, opaque, centralized, and rigidified system that misses the big picture and rewards a few at the expense of the many," then don't read Steele's book." —Huffington Post

"Robert Steele is about 100 times as smart and 10,000 times as dangerous as the best of the hackers, for he is successfully hacking the most challenging of bureaucracies, the U.S. intelligence community, and doing it for the right reasons."
—Bruce Sterling, Wired magazine and author of Hacker Crackdown: Law and Disorder on the Electronic Frontier

"Few have thought as deeply or imaginatively about such questions as a super-smart former Marine and intelligence officer named Robert D.
Steele.…"
—Alvin and Heidi Toffler, authors of War & Anti-War: Survival at the Dawn of the 21st Century
 
"Robert Steele is unusual for an American … he is clearly internationalist in his orientation. He has written a book that can bring us together in facing our greatest enemies: ignorance, poverty, and mistrust."
—Rear Admiral Hamit Gulemre Aybars, Turkish Navy (Retired)
 
"Robert Steele's vision for the future of intelligence is clearly 'internationalist' in nature. It focuses on regional partnerships … and on the value of open source intelligence collection."
—Rear Admiral Dr. Sigurd Hess, DE N(Ret), Former Chief of Staff, Allied Command Baltic Approaches
 
"Constantly committed to truth and honesty, [his work] demonstrates his ability to grasp the real issues and to take into account the views and concerns of men of good will from all nations and all cultures."
—Admiral Pierre Lacoste, French Navy (Ret), Former Director of Foreign Intelligence (DSGE)
 
"Robert Steele goes well beyond the original visions of the best of the Directors of Central Intelligence, and has crafted a brilliant, sensible, and honorable future for the intelligence profession."
—Major General Oleg Kalugin, KGB (Ret), Former Elected Deputy to the Russian Parliament
 
"Over a broad canvas reflecting the changing nature of information and information technologies, Robert Steele lays the foundation for the future of e-intelligence."
—Commodore Patrick Tyrrell, OBE, Royal Navy, United Kingdom
 
"Steele consistently has been well ahead of the pack in his appreciation for everything from open source research to the implications of technology … his work thrills with its insights and ideas."
—Ralph Peters, author of Fighting for the Future: Will America Triumph?
 
"Steele's concept is simple: Empower the citizen and private sector to gather and analyze intelligence so that we can make informed decisions [using] Open Source Intelligence gathering [that] is faster, smarter, cheaper…"
—Robert Young Pelton, author of World's Most Dangerous Places and producer of Come Back Alive
 
"Robert Steele deserves our admiration and our focused attention for bringing the idea of open source information to the fore. His passion to serve the nation by developing this new approach … is exemplary."
—Lieutenant General Patrick Hughes, U.S. Army (Retired), Former Director, Defense Intelligence Agency

"…a minefield of political and economic awakenings… a visionary worth paying serious attention to." 
—Open Spectrum Inc.
Table Of Contents
Chapter 1: Open Sesame
Changing the Game
Panarchy
Enter "Radical Man"
Terms of Reference

Chapter 2: Open-Source Everything
Free/Open-Source Software
Open-Source Hardware and More
Open-Source Intelligence
The Open-Source Pyramid in Detail

Chapter 3: Manifesto

Chapter 4: Philosophical Concepts
Truth, Coin of Collective Consciousness
Education
Transparency
Diversity, A Resource of Infinite Wealth

Chapter 5: Integrity, Lies, and Panarchy
Integrity
Lies As Treason
Complex Threats to Humanity and the Earth
Thirteen Big Lies
Panarchy and Resilience

Chapter 6: Whole-Systems Thinking
Complexity
Responding with Flexibility
History
The Fragmentation of Knowledge
Science and Religion

Chapter 7: Public Intelligence and the Citizen
Taking Control of the Challenge
Public Intelligence
Calculating True Costs
Doing Public Intelligence
Blogging for Public Intelligence
Participatory Democracy
Creating the World Brain and Global Game

Conclusion

Epilogue: My Conversion Experience
Weaknesses in the World of Secret Intelligence
OSINT Rises to the Challenge
The Co-Evolution of OSINT
The Role of Hackers

Learn More
About the Author
Endnotes
Back to Top