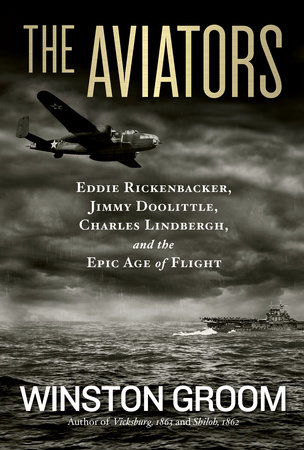 The Aviators
Eddie Rickenbacker, Jimmy Doolittle, Charles Lindbergh, and the Epic Age of Flight
Eddie Rickenbacker, Jimmy Doolittle, Charles Lindbergh, and the Epic Age of Flight
Eddie Rickenbacker, Jimmy Doolittle, Charles Lindbergh, and the Epic Age of Flight
By Winston Groom

By
Winston Groom
By Winston Groom

By
Winston Groom
By Winston Groom

By
Winston Groom
Best Seller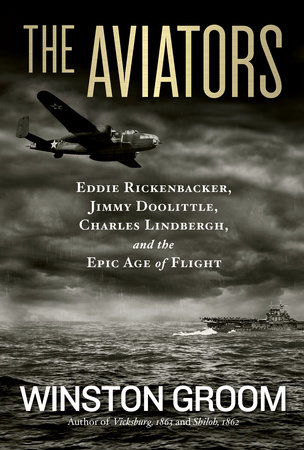 Paperback
Sep 15, 2015 | ISBN 9781426213694
Paperback

$15.95

Sep 15, 2015 | ISBN 9781426213694
Hardcover

$30.00

Nov 05, 2013 | ISBN 9781426211560
*This title is not eligible for purchase to earn points nor for redemption with your code in the
Reader Rewards
program
People Who Read
The Aviators

Also Read
Inspired by Your Browsing History
Praise
"This is a winner, combining an engaging narrative and appropriate documentation into one solid study of three iconic aviators and their times." —Library Journal, starred review

"A gripping document of a brilliant era in our history and a few of the men who helped make it so." —Kirkus Reviews, starred review

"As Mr. Groom's absorbing narrative unfolds, we see one man enduring a horrendous ordeal on the open sea; another nearly losing his life in a bombing run; and yet another finding a sort of redemption for his battered public image."
–The Wall Street Journal

"Groom's rich narrative tell the intertwined stories of these aeronautical pioneers as they took to the air to become exemplars of the spirit of the "greatest generation." –Flight Journal

"That the imagination that conceived Forrest Gump could conjure up fresh ways to tell stories of American history is astonishing…Groom's epic story is a tribute…Readers of all his fiction and nonfiction might well feel inclined to testify that he is fast becoming a national treasure. Forrest Gump would agree." —The Advocate

"Winston Groom writes history like a novelist. Readers will appreciate his careful and accurate use of aviation and military terminology, and description of each aircraft in the narratives. Groom handles this complex subject in clear, understandable terms, woven into a great air war story."  –American Aviation Historical Society

"Groom is at his best sharing history through the personal stories of the people involved. Not only is this history a learning experience, it is a joy to experience the suspenseful adventures of these extraordinary aviators as they spent their lives developing and promoting aviation in this country. An important narrative not to be missed!" –Stephanie Crowe, Page and Palette Bookstore

This will be an alternate selection in History Book Club, Military Book Club, and Book-of-the-Month Club.
Back to Top