A Distant View of Everything Reader's Guide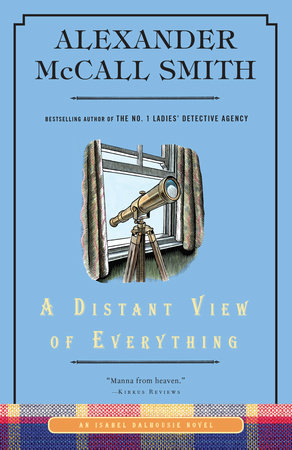 A Distant View of Everything Reader's Guide
READERS GUIDE
The introduction, author biography, discussion questions, and suggested reading that follow are designed to enhance your group's discussion of
A Distant View of Everything
, the latest installment of Alexander McCall Smith's best-selling Isabel Dalhousie series
Introduction
In this latest installment of the beloved Isabel Dalhousie series, Isabel is called upon to navigate complex social situations both at home and in her community.
A new baby brings an abundance of joy to Isabel and her husband, Jamie—but almost-four-year-old Charlie refuses to acknowledge Magnus, and Isabel struggles to impress upon her older son the patience and understanding that have guided her throughout her own life.
These are the very qualities that bring Bea Shandon, an old acquaintance, to seek Isabel's help. Something of a matchmaker, Bea has introduced a wealthy female friend to a cosmetic surgeon, but soon uncovers information leading her to doubt his motives. Isabel agrees to find out more, but as her enquiries take an unexpected turn, she starts to wonder whom exactly she should be investigating. As ever, Isabel's intelligence, wit, and empathy come to her aid as she grapples with issues like friendship and its duties, the obligation of truthfulness, and the importance of perspective.
Questions and Topics for Discussion
1. At the opening of the book, Isabel and her husband Jamie play a free association word game. What are some of the associations they make and how do they respond to one another's associations? How does this reveal a deeper dialogue about perspective and the variety of individual experience?
2. Consider the book's exploration of feminism and gender roles. When Grace challenges Jamie's comments about a man's ability to cook, Jamie tells her: "The world is not the same place it was twenty years ago. Sexism is a thing of the past" (p. 21). Do you agree with him? Why or why not? Is Jamie convinced of his own argument? Explain.
3. Jamie contemplates the advice Isabel gives him for dealing with people who frustrate or irritate him. What is it? Does Isabel seem to follow her own advice?
4. In bed with her husband, Isabel muses about "latitude and attitude" (p. 31). What is the relationship between the two according to Isabel? What is her response when Jamie asks "where religion comes in" (p. 32)?
5. When Bea confesses to Isabel that she believes she has made a mistake in setting up her dinner party guests, Isabel responds by saying that "unawareness of something is a perfectly good excuse" (p. 51). Do you agree that unawareness absolves Bea's mistake or was it avoidable? Did Bea neglect some further obligation to the people she was setting up? Discuss.
6. Isabel believes that "letting up on social pressures is a serious mistake" (p. 56). Why do you think she believes this? Is her viewpoint surprising? Do you agree with her? Why or why not?
7. Who is the "Ridiculous Dutchman" and why does Isabel believe him to be ridiculous? How does Isabel deal with him? Is her reaction surprising? What does Isabel mean when she says that "uber anythings are ridiculous" (p. 72)?
8. Isabel tells Rob that "Maybe it's worth doing something even if the effect is very tiny" (p. 86). Do you agree? Why does Isabel put so much work into her journal even though she believes that few people read it?
9. Explore the theme of confidentiality. When Isabel presents her argument to the attorney she hopes will assist her, she says that "[one doesn't] have to keep quiet if some other value is threatened" (p. 90). What does she mean by this? Do you agree with this assertion? Do you believe that the attorney was justified in deciding to cooperate with Isabel?
10. What is "a necessary assumption" (p. 98) according to Isabel? Why does Isabel feel that we can't be too skeptical about what other people confide in us? How does her belief in necessary assumptions affect her investigation?
11. What does Isabel believe "could fall victim to revisionism" (p. 129) based on changes in attitude over time? How does history influence our perspective of our surroundings?
12. Why does Isabel hesitate in telling Jamie that she met with Rob a second time? What complications does this cause? What is "the extraordinary coincidence" (p. 200) that allows Jamie to forgive Isabel?
13. Isabel believes that "the judgment of others was often more about them than the one they were judging" (p. 164)? What does she mean by this? Do you agree with her assessment?
14. What is moral proximity? Throughout the story, several characters ask Isabel why she gets involved in helping other people even though she could be putting herself in harm's way. How might Isabel's theory of moral proximity provide us with insight into why she continues to get involved in sleuthing?
15. Evaluate the theme of misunderstandings. What misunderstandings are presented in the book and what causes them? Could these misunderstandings have been avoided? If so, how? What does the book suggest about assumptions and the way that we form judgments about others?
16. Where does the title of the book come from? What does the book ultimately suggest about taking "a distant view" (p. 237) of things? What does Isabel mean when she says that a distant view of everything is "what we need"? Who is "we" in this statement?
About this Author
ALEXANDER McCALL SMITH
is the author of the No. 1 Ladies' Detective Agency novels and of a number of other series and stand-alone books. His works have been translated into more than forty languages and have been best sellers throughout the world. He lives in Scotland.
Suggested Reading
For a complete list of Alexander McCall Smith's works, along with more reading group guides and tour information, please visit his author page on www.penguinrandomhouse.com, or www.alexandermccallsmith.com.
Back to Top