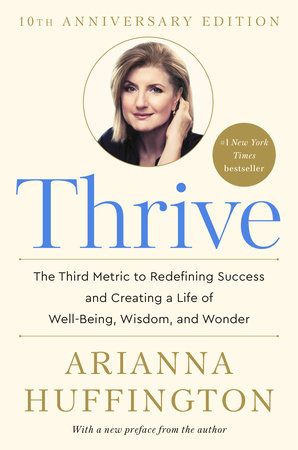 READERS GUIDE
Introduction
How do you measure success? How much do you think you have to sacrifice to get that promotion? Do you always feel rushed and behind? Do you feel you always have to be connected to your devices to not miss anything important? Arianna Huffington — cofounder and editor-in-chief of one of the fastest growing media companies in the world — headed on a journey to redefine success after she collapsed from exhaustion and lack of sleep. Drawing on the advice of medical researchers, spiritual leaders, neuroscientists, ancient philosophers, and her inspiring mother, Arianna set out to create a new measure for success. The result is Thrive, a rallying cry for a third metric of success — beyond money and power — that emphasizes physical and emotional well-being, wisdom, wonder and giving as the true indicators of a life well lived. Rescuing us from our 24/7 hyperconnected world, which steeps us in information but starves us of wisdom, Thrive presents a transformative plan for recharging our bodies and reclaiming what really matters.
We hope that the following topics will enrich your experience of this refreshing new approach to living a life of well-being, wisdom, wonder and giving. 
Questions and Topics for Discussion
1. Arianna Huffington's third metric of measuring success beyond by the conventional two metrics of money and power consists of four vital pillars: well-being, wisdom, wonder, and giving. Before reading Thrive, how did you measure success? How did the book change your view of what living a good life is all about? 
2. Describing her 2007 wake-up call, Arianna writes that while she was on the cover of magazines and had been named one of the world's 100 most influential people by Time magazine, she was working eighteen hours a day, seven days a week, and definitely not thriving. In her case, "success" contributed to her stress and collapse. What are your greatest sources of stress? How many hours do you work each week? How many hours do you think about work even if you're "off-duty?" Are you incorporating into your daily life what nurtures and recharges you?
3. Citing numerous scientific studies about the harmful effects of sleep deprivation, Thrive offers readers a variety of ways to improve sleep habits, including turning off all your devices and gently escorting them out of your bedroom. Do you have trouble getting to bed? Do you feel you get the sleep you need? If so, what are the biggest hurdles to getting more sleep? Are you able to take a nap during the day?
4. Arianna describes a range of approaches to meditation, from the secular to the spiritual. Ultimately, she writes, "The point is to find some regular activity that trains the mind to be still, fully present, and connected with yourself." Which meditative activities are you most drawn to?How can you make some form of meditation a part of your daily routine?
5. What did the book help you discover about the differences between the ways in which women and men experience stress and stress-related illness? In your profession, are there many women in leadership roles?
6. What do the contents of your refrigerator look like? Are the veggies "forlorn," or do they get eaten? Do you rush through meals while eating on the run? Or have you learned the value for your health of eating slowly and mindfully?
7. The book balances scientific research with examples showing the importance of inner wisdom, dreams, silence, and escaping from the digital world and its 24/7 data stream. What are your favorite ways to unplug and recharge?
8. What does wonder mean to you? How does hyperconnectivity get in the way of wonder? What are you grateful for right now?
9. How has the power of giving influenced your life? Can you recall a gift you have received of someone's time and assistance? Did you pay it forward? How?
10. Thrive takes on the myth that we must choose between a successful career and a well-rounded life of well-being. In fact, as the book shows, Third Metric tools and practices can enhance our success at work. Why has American culture sometimes celebrated workaholism? What would our corporate climate be like if burnout was no longer a badge of honor?
11. The book's appendices feature dozens of additional resources including apps and websites.Which ones do you intend to try? And how does Thrive inspire you to live your life differently in the future?
12. Paying homage to her heritage, Arianna often shares sage advice from Greek philosophers and storytellers. Are there traditions in your own family that sustain you? How can they help to bring you inner peace?
Back to Top