The Jezebel Remedy Reader's Guide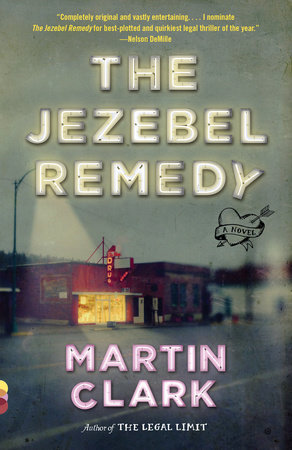 The Jezebel Remedy Reader's Guide
READERS GUIDE
The questions, discussion topics, and reading list that follow are intended to enhance your reading group's discussion of
The Jezebel Remedy
.
Introduction
Lisa and Joe Stone, married for twenty years and partners in their small Virginia law firm, handle routine, run-of-the-mill cases, including never-ending complaints from their cantankerous client Lettie VanSandt. When Lettie dies in a suspicious accident and unexpectedly leaves her entire estate to Joe, the Stones find themselves entangled in a corporate conspiracy that will require all their legal skills—not to mention some difficult ethical choices—for them to survive. Complicating matters, Lisa is desperately trying to shield Joe from a dreadful secret, a mistake that she would give anything to erase.
With a cast of perfectly drawn imperfect characters, an intricate tour of the legal system, and a remarkably entertaining plot alongside a no-holds-barred portrait of a marriage,
The Jezebel Remedy
is a legal drama in a class of its own.
A
BOSTON GLOBE
BEST MYSTERY OF THE YEAR
Questions and Topics for Discussion
1. Joe and Lisa are both respected lawyers in Henry County, yet they each have their own style of practicing law. How would you describe Lisa's style as compared with Joe's?
2. Several times throughout the novel, the Stones are stopped by local townspeople who thank them for their services and advocacy in the court system. How would you describe the Stones' law practice? Their practice's philosophy?
3. How would you describe the Stones' partnership—both in the legal sense and in their marital life? Are they able to preserve the boundary between their working life and their home life? How is this complicated by the Lettie VanSandt case?
4. Trace the roots of Lisa's marital dissatisfaction. What caused her to cheat on Joe? At what moment in the novel is her guilt most apparent? Did you think she was going to get caught or confess to her behavior?
5. From her very first scene in The Jezebel Remedy, Lettie VanSandt is characterized as an eccentric and obscene woman with a habit of indiscriminately slapping lawsuits on businesses. Given Lettie's less-than-esteemed position in society, why do you think that Joe trusted that she had created something that was valuable to Benecorp?
6. Discuss the role of deception in The Jezebel Remedy. How is deception central to the plot? How do Lisa and Joe use deception to their advantage in the case against Benecorp? When does their deception backfire?
7. Despite the dark atmosphere surrounding the case, there are moments of humor throughout The Jezebel Remedy that add levity. What scene did you find most entertaining?
8. Joe Stone is consistently described by his peers as one of the most ethical practicing lawyers, even as his license is about to be suspended. At what moments—if any—does Joe's behavior border on unethical during the proceedings with Benecorp? Does Lisa engage in any unethical behavior?
9. Discuss the relationship between M.J. and Lisa. How does M.J. act as a sounding board for Lisa? How does M.J. rely on her for her legal advice?
10. The scene in which Joe and Lisa visit Garrison aboard his yacht becomes powerful fodder later in the book. Discuss this scene. How would you describe Joe's approach to the conversation? What assumptions did Garrison make about the Stones?
11. Lisa's relationship with Brett Brooks is passionate but short-lived. Why do you think she was attracted to him? Discuss their trip to Nassau. What are her expectations for the getaway?
12. Throughout The Jezebel Remedy, an undercurrent of economic instability in Henry County is described. How do economics influence plot development? How do concerns about finances come into play for the Stones?
13. Dr. Downs is a crucial witness to Benecorp's unethical and bullying behavior, however, given his medical history, he is constantly fighting against the stigma of his illnesses. Discuss his reliability. Do you think the Stones trust him entirely? What is the turning point for the Stones in believing Downs's testimony?
14. Discuss Lisa's decision to dress as Lettie during the DNA testing. Why do you think she ended up going forward with this risky plan?
15. The Jezebel Remedy has several twists and turns in the plot to keep you turning the pages. What was the most surprising aspect of the novel for you?
16. The title of the book is referenced as Lisa is going through the emotional roller coaster of her affair. How does she attempt to create a "remedy" for her actions? By the novel's end, has she absolved herself of her guilt and shame?
About this Author
Martin Clark is a Virginia circuit court judge. His previous novels have been chosen as a
New York Times
Notable Book, a
Washington Post
Book World
Best Book of the Year, a
Bookmarks Magazine
Best Book of the Year, a finalist for the Stephen Crane First Fiction Award, and a Book-of-the-Month Club selection. His novel
The Legal Limit
was the winner of the Library of Virginia's People's Choice Award and was called "a model of how to write a literary legal thriller" by
The
Oregonian.
He lives in Patrick County, Virginia, with his wife, Deana.
Back to Top