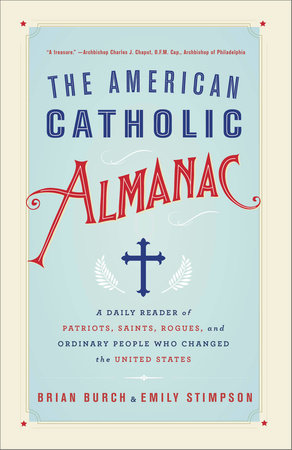 The American Catholic Almanac
A Daily Reader of Patriots, Saints, Rogues, and Ordinary People Who Changed the United States
A Daily Reader of Patriots, Saints, Rogues, and Ordinary People Who Changed the United States
By Brian Burch and Emily Stimpson

By
Brian Burch

and

Emily Stimpson



By Brian Burch and Emily Stimpson

By
Brian Burch

and

Emily Stimpson




Best Seller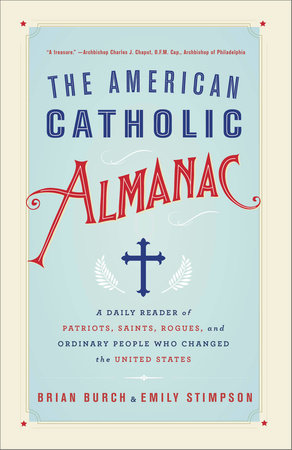 Mar 21, 2017
|
ISBN 9780553418743
Inspired by Your Browsing History
Buy other books like The American Catholic Almanac
Praise
"Catholic means universal. But religion, like politics, is always local. In the pages of The American Catholic Almanac, we can spend every day as a feast in the company of our homegrown communion of saints. It's time we learned to boast, as St. Paul did, of the amazing graces that God has given — liberally and locally. It's time we learned to appreciate what is ours." –Mike Aquilina, co-author of The Feasts

"What a joy it is to have The American Catholic Almanac in my home! This unique resource is a testament to the rich and diverse history of Catholicism in the United States. You can browse just a few entries at a time, or do as I did, and devour the entire book in just a few days, but one thing is certain: You will come away inspired and encouraged by the witness and courage of those who have gone before us in the history of our Church and our nation." –Danielle Bean, Catholic author and Editor-in-Chief, Catholic Digest

"My first thought after reading The American Catholic Almanac is, 'Why didn't someone think to write this decades ago!' The saints and sinners, heroes and villains–and a few in between–who helped create our America are brilliantly and concisely given their due.  In these troubled times such examples illuminate a clear path forward for the Church Militant.  As Father Francis Parater, one of the more obscure heroes brought to life in its pages declared, 'Since my childhood, I have wanted to die for God and my neighbor. Shall I have this grace?' It's long past time for us to regain such a burning desire for sacrifice, and to raise up a new generation of American Catholics that know both where they come from and the company they will join if they lovingly embrace self-denial, charity, and boldness in defense and promotion of the Faith." – Brian Brown, National Organization for Marriage

"If we don't know our history as a believing people, we invite the world to invent it for us, with little regard for the facts or our convictions.  This is why The American Catholic Almanac is such a treasure.  Vividly written, filled with engaging historical detail and organized into easy readings for every day of the year, this is a wonderful record of the American Catholic experience." –Archbishop Charles J. Chaput, O.F.M. Cap., Archbishop of Philadelphia

"The American Catholic Almanac is a fascinating and exciting read.  Our country needs the witnesses of Catholics who have been extraordinary 'missionary disciples' of Jesus Christ.  The American Catholic Almanac tells the stories of the men and women who have sought to know God, and to serve him, here in the United States.  This book will inspire a generation to strive for heroic sanctity in Christ." –Bishop James Conley, Diocese of Lincoln, NE

"From prelates and politicians, to Annie Moore, the first Irish Catholic immigrant to set foot on the newly opened Ellis Island, you will find it all here in this lively story of the Catholics who transformed the United States.  This engaging book will inspire all–both inside the Church and out. " –Anne Hendershott, Director of the Veritas Center for Ethics in Public Life at Franciscan University of Steubenville, Ohio

"The American Catholic Almanac is a daily scenic walk for anyone who seeks to do the work of rebuilding Catholic culture."  - Kathryn Jean Lopez, Editor-at-large of National Review Online

"The American Catholic Almanac is a timely book.  At a time when religious freedom is threatened, this book serves as a reminder of the great influence that Catholics have in the United States of America.  The book is filled with stories of Americans who have helped shape our culture and politics.  From the time Catholics arrived on these shores, they strove to be both Catholic and American.  This delightful and informative book suggests how we might still do that today." –James Nicholson, American Ambassador to the Vatican

"The American Catholic Almanac is a treasure trove of information and inspiration. In the great tradition of almanacs, Brian Burch and Emily Stimpson provide a daily account of events reflecting the role and experience of Catholics in America. It is a delightful read." –Cardinal Donald W. Wuerl, Archbishop of Washington D.C.
Back to Top