The Scent of Secrets Reader's Guide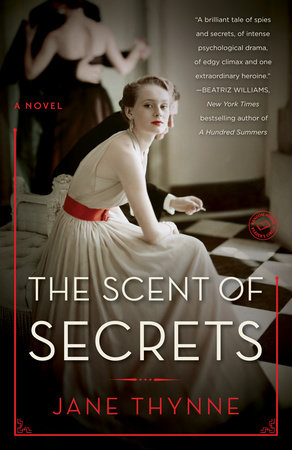 The Scent of Secrets Reader's Guide
READERS GUIDE
A few streets away from Harrods in London's Knightsbridge stands the anonymous, shiny black door of a private members' club. From the outside, you would never know that the club is for agents who served in resistance organizations during WWII and beyond. But when you enter and climb the stairs you pass numerous photographs of female spies who served—-and mostly died—-in the field. It is deeply inspiring.
When I began writing about a British agent in Germany in the 1930s it was with the bravery of these women in mind. I had always wanted to write a novel set in Berlin. It was a city that went in a matter of months from being the most exciting place in Europe—-the center of sexual and cultural freedom, of Expressionist film and Bauhaus art—-to the most frightening and repressive. The idea of placing a female British agent not just in Berlin but at the heart of the Nazi regime itself was irresistible.
Having been a journalist, both in TV and newspapers, for most of my career, I was keen on documentary accuracy, so even though I was writing fiction, I spent weeks tramping Berlin's streets, exploring the prewar buildings that remained and picturing those that had been destroyed. It was a strange process in which my imaginary Berlin—-the 1930s version—-existed like a palimpsest alongside the hastily erected and often ugly postwar buildings. Parts of Goebbels's Propaganda Ministry still stand, and the Babelsberg film studio remains in its entirety, as does Goering's Air Ministry, but we can no longer see Hitler's Reich Chancellery, and the bunker where Hitler and Eva Braun died is buried beneath a parking lot. Yet it wasn't just the official buildings that mattered. Deciding where an actress like Clara Vine might live was just as important. In the end I chose Winterfeldtstrasse, a lovely tree–lined street in Schöneberg just a block away from where Christopher Isherwood wrote the novel that was filmed as Cabaret.
The streets of Berlin were the easy bit. The chief challenge of my research was that I was writing about women. There are barely enough libraries in the world to contain the books written about the male side of the Third Reich—-the leaders, the politics, the campaigns—-but the experience of German women seems to have gone largely unrecorded. What was it like to be in the League of German Girls? To attend a Bride School or a weekly Mother's Course? And in the upper echelons of society, how did it feel to be married to a man who became a monster? Were the Nazi leaders' wives complicit, or did they try to dissuade their men from their crimes?
The answers were not easy to find. No one has wanted to translate the memoirs of women like Lina Heydrich into English, so I brushed up on my German and spent time buried in the London Library, a beautiful Georgian building in St. James's Square. And the information I found provided for me a whole new perspective on the private life of the Third Reich. The domestic details of the women's lives seem so fragile and recognizably ordinary beside the war machine that their husbands were preparing. While I was researching the life of Eva Braun I read a few lines about her love of perfume, how she adored Worth's Je Reviens and liked to create her own concoctions. This was, of course, just another irony of life in Nazi Germany—-cosmetics, especially French ones, were frowned on for ordinary women. Yet that detail, like a snatch of perfume itself, lit an idea in my mind. I thought about the power of scent to evoke feelings—-not just childhood memories, but unsettling emotions and fear too—-and I decided that perfume should be a theme at the heart of my story.
Like the door of that secret agents' club in London, the wartime lives of German women are easy to pass by. But you only understand how a totalitarian society works when you see it on the human scale. To me, glimpsing the personal lives of the senior men through their relationships with their wives and girlfriends only makes their activities more disturbing.
Introduction
<html />
Questions and Topics for Discussion
1. Who surprised you the most in the novel?
2. Women played a crucial role in Hitler's vision for the future of Germany. Discuss the role of women in German society in the 1930s. How does Hitler want the position of women to change?
3. There are several examples of women who are even more fervently in favor of the Nazi cause than their spouses; did that surprise you? Why or why not? Discuss the relationships between the high–ranking Nazi officials and their wives.
4. What did you think of Rosa's decision to forge her nephew's official medical papers? Were you surprised by her decision? Why or why not?
5. What did you think of Eva Braun? What about her relationship with Hitler? Was she as silly as she sometimes seemed to be, or do you think she understood more about politics than she let on?
6. Discuss the importance of the Nazi youth clubs and the mother schools in implementing the Nazi philosophy.
7. Like most Berliners, Clara grows suspicious of everyone—-including her new neighbor, who turns out to be an innocent schoolteacher. Anyone might be a spy, even young children on their Sunday collection rounds. What means of recourse are there for normal citizens who do not support the Nazi regime?
8. There seem to be a lot of inconsistencies in the personal, political, and moral philosophies of Hitler and his entourage. Hitler detests makeup yet loves actresses and the cinema. Goebbels champions family values yet is a serial philanderer. Rosa observes that party leaders seem to want to keep men and women separate, like flour and sugar, while at the same time encouraging higher birth rates and more marriage. Can you think of any other examples? How do you rationalize these hypocrisies? How do they?
9. What surprised you most about Hitler?
10. Compare and contrast the different Nazi wives in the novel.
11. What would your signature scent be?
Back to Top