The Pursuit of Pearls Reader's Guide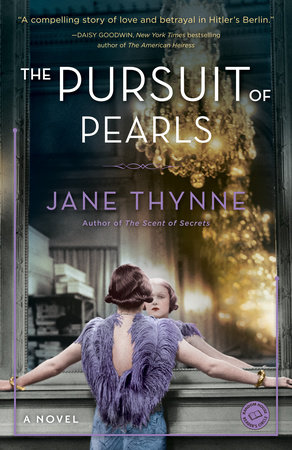 The Pursuit of Pearls Reader's Guide
READERS GUIDE
The Real Housewives of Nazi Germany

When I first thought of setting a series of novels in prewar Berlin, I knew a few things. I knew that my heroine was going to be Anglo–German and an actress. I decided that she would be a spy who gains a valuable glimpse of the Nazi elite through the women around her. Yet while I understood a fair bit about the men and the politics of the Third Reich, I realized that I knew far less about the lives of the women in that regime. And increasingly, as I delved deep into the lives of women through their letters and journals, I became fascinated by what I came to think of as the Real Housewives of Nazi Germany.
Under Hitler, every aspect of a woman's life was tightly controlled, from child–bearing, marriage, and social life, right down to her daily appearance. The ideal woman didn't pluck her eyebrows, paint her nails, or dye her hair. Nor did she smoke. In the early days of the Reich, bars and restaurants throughout Germany were plastered with signs saying German women don't smoke, and storm troopers who saw a woman smoking in public were advised to dash the cigarette from her lips.
But the control over women's appearance didn't stop at cigarettes and cosmetics. One of the first things Hitler did when he came to power in 1933 was to establish a Reich Fashion Bureau. He realized that fashion carries a potent political message and he knew exactly what image he wanted German women to project to the world. The female look should celebrate tradition, so the Bureau promoted dirndls, bodices, and Tyrolean jackets. Women should only wear clothes made by German designers, with German materials. By "German," Hitler meant Aryan, which posed an immediate problem because the fashion industry and the textile trade of the time were dominated by Jewish companies. Hitler also frowned on Parisian couture, both because he disliked the French, and also because designers like Coco Chanel encouraged an unnaturally slender silhouette. A nation of women striving for slim hips and boyish bodies was certainly not ideal if Hitler was to achieve one of his major objectives—-to encourage prolific child–bearing.
In one of the many bizarre hypocrisies of the Third Reich, the woman chosen to preside over this Fashion Bureau was Magda Goebbels, the wife of the Propaganda Minister. Like many other aspects of Nazi Germany, Magda Goebbels's participation was rife with contradictions, and Magda herself was the living, breathing opposite of everything the Bureau promoted. Famed for her love of couture, she changed several times a day, slathered on Elizabeth Arden cosmetics, chain smoked, and wore hand–made Ferragamo shoes. Her favorite fashion designers, Paul Kuhnen, Richard Goetz, Max Becker, and Fritz Grünfeld, were all Jewish.
Yet there was a far greater contradiction in Magda Goebbels's life than her fashion sense. Before she married, she had a passionate involvement with a leading Zionist called Victor Arlosoroff, who returned to Berlin in 1933 aghast at his former girlfriend's choice of husband. To me, the idea that the wife of the arch persecutor of the Jews, Joseph Goebbels, should have had an affair with an important Jewish agitator seemed astonishing. But it was typical of the ironies that reigned in that terrible, turbulent regime.
One question always at the back of my mind while I was researching the lives of Nazi women was the extent to which they themselves had exerted a political influence on their husbands. Did any of them act as the power behind the throne? In some cases, the answer was yes. Annelies von Ribbentrop and Lina Heydrich were both considered more ardent Nazis than their husbands. Yet others, like Emmy Goering, actively interceded with their husbands on an occasional basis to save friends. Henriette, the wife of the Hitler Youth leader Baldur von Schirach, was the only one who actually remonstrated with Hitler when she confronted him over dinner at the Berghof about the treatment of Jews in Holland. She was never invited again.
Women are so often the untold half of history and their perspectives are frequently ignored. I think it's impossible to visualize the Nazi leaders as people without getting a glimpse of their private lives and their most important relationships.
For me, understanding the Real Housewives of Nazi Germany, from the wives of the elite to the ordinary women in the street, was the key to making history and, I hope, my novels come alive.
Questions and Topics for Discussion
1. Despite their seemingly different political inclinations, Clara visits her sister when she is upset by Grand's suggestion of Leo's death. Blood may be thicker than water, but do you believe, as Clara does, that it should be thicker than war?
2. How does Clara's status as an English spy change her relationship with Erich?
3. Clara talks about all the things that have been rationed, such as coffee and meat, or made more difficult, such as easy travel. What do you think is the hardest thing for her to sacrifice? What would be the hardest for you?
4. What advice would you give to Hedwig about the conflict between Jochen and her parents?
5. Though Clara narrates the majority of the novel, we occasionally see events from Hedwig's point of view. In what ways are the two perspectives similar? In what ways are they different?
6. In part due to Clara's mixed heritage many of her acquaintances ask where she would eventually like to settle down. Where do you think she should go?
7. Conrad Adler knows that Clara is part Jewish, but she continues on with her life as always, even seeing Adler again. Do you agree with her decision, or would you have handled the situation differently?
8. Themes of heritage pervade the book, often bringing into conflict ethnic, religious, cultural, and national identities. What do you think it is that makes you who you are?
9. What do you think Conrad Adler means when he says that Clara has a look of "fire behind ice"?
10. In a world of spies, secrets, and war, it is difficult to know who to trust, and Clara chooses her confidants carefully. Do you agree with all of her choices? Who in your life would you choose to trust if you were in Clara's circumstances?
11. Do you think Conrad Adler is a good man, or do you think he is as bad as the political party for which he works? Would you trust him? Why or why not?
12. There are quite a few revelations as the final pieces of the book fall into place. What surprised you the most?
Back to Top