For Love of Country Reader's Guide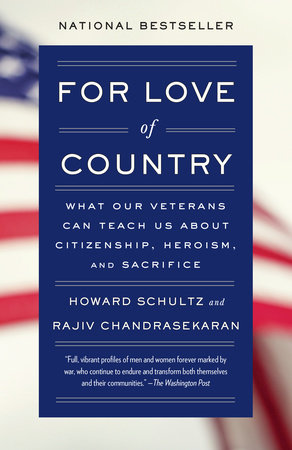 For Love of Country Reader's Guide
READERS GUIDE
These questions have been prepared to guide the conversation in your reading group. Feel free to follow them closely or to deviate from these questions, as your discussion merits.
Introduction
For Love of Country
is an inspiring celebration of the men and women who fought for our country in Iraq and Afghanistan. Through the words of the veterans themselves, their comrades in arms, their commanders, and their families and friends, these stories vividly capture the realities of war, the physical and psychological challenges faced by returning veterans, and the efforts of current and former service members to better the lives of fellow veterans and improve our communities.
The book opens with riveting scenes of American troops caught in deadly combat: Army rangers trapped in a Afghan minefield; Marines ambushed on a treacherous mountain trek to meet with Taliban leaders; a female soldier leading a convoy of trucks along roads peppered with improvised explosive devices (IEDs); and a doctor in his early sixties working to save lives at an overburdened trauma center in Afghanistan. In the second part of the book, the authors introduce veterans and military families helping those in need, such as gravely injured servicemen and -women; veterans struggling to readjust to life back home; and ordinary people facing the devastation of natural disasters.
His encounters with the individuals in
For Love of Country
and others in the military inspired Howard Schultz to establish a foundation to support veterans. In a thought-provoking epilogue, the authors show how we all can and must "come together and do right by those who have done so much for us" [p. 203].
Questions and Topics for Discussion
1. The chapters "Never Leave a Fallen Comrade," "The Last Line of Defense," and "Just Doing My Job" take us into the heat of battle and introduce extraordinary heroes. What qualities define the thoughts and actions of the U.S. Army Rangers, Marines, and soldiers featured in these profiles? What explains the strong bonds among the members of these units? Are there other situations that elicit this kind of unity and sacrifice?
2. "In His Son's Steps" focuses on an unusual volunteer. Driven by the desire to honor his late son Nate, a Marine, as well as follow the example of his younger son, Austin, who had also enlisted, Bill Krissoff joined the Navy at age sixty. What other factors played a role in his decision? What effect did his service have on him?
3. "This Is What I Want to Do with My Life" highlights another uncommon figure among the troops. Discuss the implications and the consequences of Kellie McCoy's approach to the obstacles she has faced as the first female engineer officer: "She was a soldier, but no culture warrior. She brushed off most of the mistreatment she experienced, chalking it up to ignorance and testosterone, not actual malice" [p. 62]. To what extent has this attitude and her unstinting adherence to the Army's teachings helped her move up through the ranks? How did they shape her actions as a commander in Iraq?

4. Upon returning home after serving in Iraq and Afghanistan, David Oclander is struck by a headline announcing that in 2011, homicides in Chicago outnumbered U.S. troop deaths in Afghanistan. He concludes that the "greatest threat to our country is no longer overseas, it's within our borders" [p. 121]. Did this statistic surprise you? Discuss how Oclander used both the skills and the point of view he developed in the military to change at-risk kids' mind-sets in Chicago's West Side. Why do you think these techniques worked with his students?
5. The members of Team Rubicon translated their knowledge of military strategies and tactics into rescue and recovery work following natural disasters. In addition to their practical expertise, what made these veterans particularly suited to dealing with the aftermath of devastating events?
6. Not-for-profit organizations like the Semper Fi Fund, the Yellow Ribbon Fund, America's Fund [pp. 147–163], and the Tragedy Assistance Program for Survivors (TAPS) [pp. 185–194] provide assistance to veterans and their families that "the military couldn't or wouldn't provide" [p. 148]. Were you angered by the government's failure to ease the plight not only of injured veterans but also of their families? Why have these organizations succeeded where the government has failed?
7. Much attention has been given to the high rate of suicide among veterans, as well as to the violence committed by a small percentage of returning vets. In what ways did seeing the crises through the eyes of Peter Chiarelli change your view of the causes of these tragedies and the obstacles to finding effective solutions?
8. If you or someone you know has served in the military, do the portraits in For Love of Country reflect your own experiences and/or the stories you have heard? Are there aspects of the military experience that you think are ignored or underplayed?
9. Is there a difference between the moral and ethical principles embraced in the military and those in contemporary society in general? If so, why do you think this is true?

10. In their introductory reflections, Schultz and Chandrasekaran discuss the "giant divide between our military and our civilian populations" [p.14] and note that almost 55 percent of veterans of today's conflicts feel disconnected from civilian life in America. Do political and media coverage of the fighting in Iraq and Afghanistan and the situations faced by returning vets exacerbate the problem?
11. What do we owe the men and women who return from war? Discuss the specific suggestions the book presents [p.199–200]. Did they motivate you to join these efforts? Which ones particularly appeal to you and why?
12. Unlike previous generations, Americans born after 1955 have grown up without the obligation to serve in the military. What are the pros and cons of the elimination of the draft system, which required all men to register at the age of eighteen? Do you think every citizen should serve our country, either as a member of the military or by devoting time to improving the lives of others (for example, working in schools, hospitals, or other community-based organizations)?
13. Are the recent conflicts in Iraq and Afghanistan different from the other wars this country has fought? Do you think they represent the kinds of conflicts we will face in the future? In what ways does this book help us prepare for such a futur
About this Author
Howard Schultz is chairman and chief executive officer of Starbucks, where he has been recognized for his leadership, business ethics, and efforts to strengthen communities. He and his wife, Sheri, have pledged extensive support to help veterans make successful transitions to civilian life through the Schultz Family Foundation's Onward Veterans initiative. He is the bestselling author of
Onward: How Starbucks Fought for Its Life Without Losing Its Sou
l and
Pour Your Heart Into It
.
Rajiv Chandrasekaran is a former senior correspondent and associate editor at
The Washington Post
,
where he worked from 1994 to 2015. He was the newspaper's bureau chief in Baghdad, Cairo, and Southeast Asia, and covered Afghanistan on and off for a decade. He is the author of
Little America
and
Imperial Life in the Emerald City
, which was named one of the 10 Best Books of 2007 by
The New York Times
.
Suggested Reading
Brian Castner,
The Long Walk
; Dexter Filkins,
The Forever War
; David Finkel,
The Good Soldiers
and
Thank You for Your Service
; Robert M. Gates,
Duty
; Dava Guerin and Kevin Ferris,
Unbreakable Bonds
; Sebastian Junger,
War
; Phil Klay,
Redeployment
;
Chris Kyle,
American Sniper
; Robert M. Poole,
Section 60
; Helen Thorpe,
Soldier Girls
; Brandon Webb,
Among Heroes
.
Back to Top