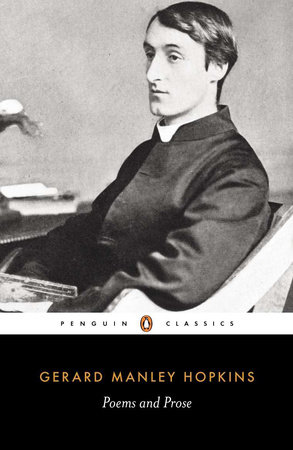 Poems and Prose
By Gerard Manley Hopkins
Introduction by
W. H. Gardner
By
Gerard Manley Hopkins


Introduction by

W. H. Gardner




Best Seller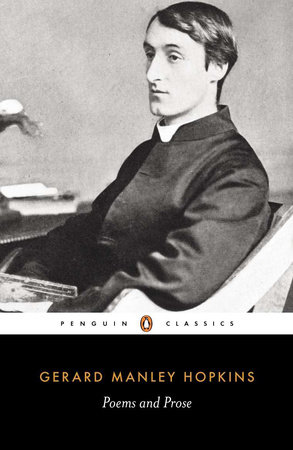 Paperback
Dec 30, 1953 | ISBN 9780140420159
Paperback

$17.00

Dec 30, 1953 | ISBN 9780140420159
Buy the Paperback:
People Who Read
Poems and Prose

Also Read
Inspired by Your Browsing History
Table Of Contents
Poems and ProseIntroduction
Note to Tenth Impression
SECTION A – POETRY
Four Early Poems (1865-1866)
1. The Alchemist in the City
2. "Let me be to Thee as the circling bird"
3. Heaven-Haven
4. The Habit of Perfection

Poems (1876-1889)
Author's Preface (with explanatory notes by the Editor)
5. The Wreck of the Deutschland
6. Penmaen Pool
7. The Silver Jubilee
8. God's Grandeur
9. The Starlight Night
10. Spring
11. The Lantern out of Doors
12. The Sea and the Skylark
13. The Windhover
14. Pied Beauty
15. Hurrahing in Harvest
16. The Caged Skylark
17. In the Valley of the Elwy
18. The Loss of the Eurydice
19. The May Magnificat
20. Binsey Poplars
21. Duns Scotus's Oxford
22. Henry Purcell
23. Peace
24. The Bugler's First Communion
25. Morning, Midday, and Evening Sacrifice
26. Andromeda
27. The Candle Indoors
28. The Handsome Heart
29. At the Wedding March
30. Felix Randal
31. Brothers
32. Spring and Fall
33. Inversnaid
34. "As kingfishers catch fire, dragonflies draw flame"
35. Ribblesdale
36. The Leaden Echo and the Golden Echo
37. The Blessed Virgin compared to the Air we Breathe
38. To what serves Mortal Beauty?
39. Spelt from Sibyl's Leaves
40. (The Soldier)
41. (Carrion Comfort)
42. "No worst, there is none. Pitched past pitch of grief"
43. "To seem the stranger lies my lot, my life"
44. "I wake and feel the fell of dark, not day"
45. "Patience, hard thing! the hard thing but to pray"
46. "My own heart let me more have pity one; let"
47. Tom's Garland
48. Harry Ploughman
49. That Nature is a Heraclitean Fire and of the comfort of the Resurrection
50. St. Alphonsus Rodriguez
51. "Thou art indeed just, Lord, if I contend"
52. "The shepherd's brow, fronting forked lightning, owns"
53. To R. B.

Some Unfinished Poems and Fragments (1876-1889)
54. Moonrise
55. The Woodlark
56. Cheery Beggar
57. "The furl of fresh-leaved dogrose down"
58. St. Winefred's Well
59. (Margaret Clitheroe)
60. "Repeat that, repeat"
61. On a Piece of Music
62. Ash-boughs
63. "Thee, God, I come from, to thee go"
64. On the Portrait of Two Beautiful Young People
65. Epithalamion

SECTION B – PROSE
From Note-Books, Journal, Etc.
Early Diary (1863-1864)
From "On the Origin of Beauty: A Platonic Dialogue" (1865)
From the Journal (1866-1875)
Sermon: on Luke ii. 33 (Nov. 23, 1879)
From "The Principle or Foundation: An address, etc."
From "Comments on The Spiritual Exercises"

Selected Letters
I. To C.N. Luxmoore (May 7, 1862)
II. To A.W.M. Bailie (Sept. 10, 1864)
III. To E.H. Coleridge (Jan. 22, 1866)
IV. To Rev. Dr. J.H. Newman (Aug. 28, 1866)
V. do. (Oct. 15, 1866)
VI. To his father (Oct. 16 [1866])
VII. To A.W.M. Bailie (Feb. 12, 1868)
VIII. To Miss Kate Hopkins (April 25, 1871)
IX. To Robert Bridges (Aug. 2, 1871)
X. To his mother (March 5, 1872)
XI. To his father (Aug. 29, 1874)
XII. To Robert Bridges (Feb. 20, 1875)
XIII. do. (May 13, 1878)
XIV. To R.W. Dixon (June 4, 1878)
XV. do. (June 13, 1878)
XVI. do. (Oct. 5, 1878)
XVII. do. (Oct. 24, 1879)
XVIII. do. (Oct. 31, 1879)
XIX. To A.W.M. Bailie (May 22, 1880)
XX. To R.W. Dixon (Dec. 1, 1881)
XXI. To Robert Bridges (Feb. 3, 1883)
XXII. To Robert Bridges (Nov. 11, 1884)
XXIII. do. (May 17, 1885)
XXIV. To Coventry Patmore (June 4, 1886)
XXV. do. (May 20, 1888)
XXVI. To Robert Bridges (Sept. 25, 1888)
XXVII. do. (Oct. 19, 1888)
XXVIII. To his mother (May 5, 1889)

SECTION C – EDITOR'S NOTES
(a) Notes on the Poems
(b) Additional Notes on the Prose

Short Bibliography
Index of First Lines
Index to the Prose
Back to Top