Consequences Reader's Guide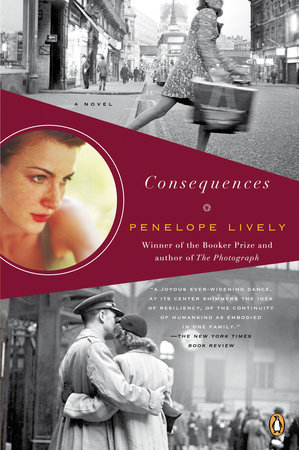 Consequences Reader's Guide
READERS GUIDE
Questions and Topics for Discussion
INTRODUCTION
Exploring the relationship between past and present, and the connections that lead people to retrace the steps of their ancestors, sometimes unconsciously, Penelope Lively's fourteenth work, Consequences, journeys through time and space.
The story begins with a chance encounter on a park bench—Lorna, a girl increasingly uncomfortable with her well-to-do London lifestyle, meets Matt Faraday and for the first time feels as though she can control her own future. Matt is an artist, a working-class "tradesman" of whom her parents cannot approve. Still, Lorna and Matt fall recklessly, madly in love. Ignoring the as-yet far-off rumble of World War II and the sweeping changes it will bring, they marry quickly and without ceremony, eschewing the trappings and expectations of both their families, and head for a secluded cottage in Somerset. But despite their efforts to shut out the world, the Faradays' idyllic life is devastated by the war when Matt is called to action and is killed overseas.
Twenty years later, Matt and Lorna's daughter, Molly, turns a long-shot job interview into a position rubbing elbows with higher society—the world of her now-dead mother and distant grandparents—where she is introduced to wealthy James Portland. Despite his marriage to another woman, the two begin an affair. When she becomes pregnant, James proposes divorcing his estranged wife to marry her. Instead of accepting and settling into marriage with a man she does not love, Molly challenges the assumptions of her era to forge a life for herself and her daughter, Ruth, based on staunch independence and a kind of bohemian freedom. But at mid-life she feels incomplete and fears that she has not given her daughter the tools with which to build her own happiness.
In the end it is Ruth—raised in a family untraditional in every way with the specter of her grandparents' romance always haunting the edge of her experiences—whose disconnection with a sense of self and dissatisfaction with her own life choices leads her to her grandfather Matt's grave in Crete—and back to 1941. And with a labyrinthine journey to the Somerset cottage, Ruth's questions about her place in the inexorable forward-march of time (and its strange ability to bend back on itself) may finally lead her to something she didn't know she'd been missing.
A love story spanning three generations, Consequences is a powerful story of growth, death, and rebirth of one family set against the backdrop of the twentieth century—its major and minor events, its shaping of public consciousness, and its changing of lives.
ABOUT PENELOPE LIVELY
"Penelope Lively grew up in Egypt but settled in England after the war and took a degree in history at St Anne's College, Oxford. She is a Fellow of the Royal Society of Literature, and a member of PEN and the Society of Authors. She was married to the late Professor Jack Lively, has a daughter, a son, and four grandchildren, and lives in London.
Lively is the author of many prize-winning novels and short story collections for both adults and children. She has twice been shortlisted for the Booker Prize; once in 1977 for her first novel, The Road to Lichfield, and again in 1984 for According to Mar. She later won the 1987 Booker Prize for her highly acclaimed novel Moon Tiger. Her novels include Passing On, shortlisted for the 1989 Sunday Express Book of the Year Award, City of the Mind, Cleopatra's Sister, Heat Wave, and The Photograph, which was a Today show summer book club selection.
Lively has also written radio and television scripts and has acted as presenter for a BBC Radio 4 program on children's literature. She is a popular writer for children and has won both the Carnegie Medal and the Whitbread Award.
DISCUSSION QUESTIONS
Over the course of the novel, there is a lot of movement into and out of London. Discuss the circumstances that cause each of the following characters to make this move: the Bradleys; Matt and Lorna; Molly; the unnamed masses of women and children.
 
The houses in this novel serve as metaphors, both with regard to their inhabitants and to the greater themes of the novel. What do you think the author meant to convey through her use of the Brunswick Gardens home, the Somerset cottage, and the Fulham house?
 
On page 102, Molly wonders if she will turn out like her pragmatic but dispassionate roommate, Glenda, or "the other sort," the kind of reckless-in-love woman she imagines her mother to have been. What type of woman does she become? How is the foundation for her adult self laid by the experiences of her youth? What do you think influences our development more: family upbringing or the times in which we live?
 
Though the focus remains on the maverick Faraday women, how does Simon's relationship with his partner, Tim, reflect the relationships of the women in his family? Why do you think the author chose to write Simon as a gay man?
 
Molly is surprised and admiring of Sam's "split personality"—that he balances his mental work as a poet with the more hands-on work as a mechanic. Later, Ruth compares her "think-work" as a journalist to Sam's. What comment do you think this novel makes on the nature of art as work and work as art? How have views about what constitutes "real work" changed throughout the twentieth century, according to the novel?
 
The characters of this novel seek to define and redefine themselves in relation to each other, particularly through the vehicle of love. Discuss the different meetings and love relationships between these characters: Matt and Lorna; Lucas and Lorna; Molly and James; Molly and Sam; Ruth and Peter; and Ruth and Brian.
 
Molly and Sam meet at a poetry festival that concludes with a panel discussion of the diminished role of the poet/artist in politics. Later, Ruth and her Cretan guide, Manolo, observe that most words written are "about sheep and oxen," only concerned with the practical aspects of daily life and survival. How does literature and art affect your own worldview? Do you think art has the power, and even an obligation, to engage in public discourse? Why or why not?
 
What incidents prompt Lorna, Molly, and Ruth to each consider the intricate ways in which past, present, and future double back on themselves and on each other?
 
On page 257, Ruth and Brian discuss "Sleeping Beauty," "Rip Van Winkle," "Alice's Adventures in Wonderland," and other stories as comments on the struggle to defeat space and time. Do you think Consequences falls into the same category? Why or why not? Use examples from the book to support your opinion.
 
Penelope Lively takes you on a journey through several decades of major social and cultural upheaval—though the story takes place in England, a nearly parallel set of events were transforming American culture. Using the characters as examples, describe how views on issues such as education of women, social strata, career choices and progression, marriage, and sex have changed throughout the twentieth century.
 
Why do you think the author chose "Consequences" as the title of this novel?
Back to Top