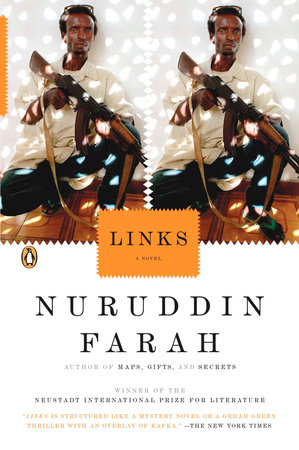 READERS GUIDE
Questions and Topics for Discussion
INTRODUCTION

Links is set in a city that is at once shockingly foreign and hauntingly familiar: Mogadiscio, the capital of Somalis, just weeks after the U.S. troops have pulled out, leaving a decimated, starving city ruled by thuggish clan warlords and patrolled by qaat-chewing gangs who shoot civilians simply to relieve their adolescent boredom. This is the city so disturbingly captured by CNN cameras and in Black Hawk Down, but from a startlingly different—and surprising—point-of-view.
Jeebleh is returning to Mogadiscio from New York for the first time in twenty years. Equipped with a clear-minded Americanized perspective and ready to attend to business, this journey is not a nostalgia trip for him—Jeebleh's last residence here was a jail cell. And who could feel nostalgic for a city like this?
Jeebleh is returning to visit his mother's grave and to settle her outstanding accounts—but more urgently, the youngest member of his oldest friend's family has been abducted. Though they have not seen each other in two decades, Jeebleh knows from their childhood that his friend—a virtual brother, who remained in Somalia when Jeebleh left – will need Jeebleh to step in. Jeebleh is determined to cut through the swirling, clan-based violence and corruption to rescue the little girl—and, perhaps, a piece of his own identity. Jeebleh's adventure pulls him (and us) into a whirlwind tour of a city where nothing—family or friendship, loyalty or gratitude, betrayal or resentment, tradition or modernity—is simple.
Gripping, provocative, and revelatory, Links is the finest work yet from Farah, a novel that will secure his place in the international literary firmament and stand as a classic of modern world literature.
ABOUT NURUDDIN FARAH
Widely recognized as not just "one of the finest contemporary African writers" (Salman Rushdie) but as "one of the most sophisticated voices in modern fiction" (New York Review of Books), Nuruddin Farah is the author of eight novels. His fiction has been translated into more than a dozen languages and won numerous awards, including the 1998 Neustadt International Prize for Literature, "widely regarded as the most prestigious international literary award after the Nobel" ( New York Times).
Born in Somalia, Farah was persona non grata in his native country for over twenty years, able to visit Mogadiscio for the first time in the late 1990s. He currently lives in Cape Town, South Africa.
DISCUSSION QUESTIONS
After nearly being run over by a cab in New York City, Jeebleh travels to Mogadiscio to "disorient death" (pg 5). What does he mean by this?
 
Though Jeebleh was born and raised in Mogadiscio, much has changed in the twenty years since he moved to America. Do others view Jeebleh as a Somalian or as an American? How does Jeebleh view himself? What sort of conflicts does Jeebleh's twenty year absence present?
 
Discuss Jeebleh's refusal to give his clan family money for a new battlewagon and his intervention when he sees the child beating the dog. Do you expect this from Jeebleh given his personality and actions up to this point? What do you think causes him to do this?
 
Discuss Jeebleh's relationship with his mother. Specifically, why do you think she never moved to America? How are Jeebleh's actions towards her after her death different from the way he treated her while she was still alive? How are views on the family different between Somalians and Americans?
 
The description given of Hagarr, Bile and Caloosha's mother, on pages 172 and 173 paints the picture of a strong, educated, independent woman. How are other women in the novel depicted? How are their relationships with men depicted?
 
After being injected by the bodyguard in the cemetery, Jeebleh under goes personal changes. Discuss the nature of his transformation. Would you describe him as more courageous? How does this transformation help him?
 
Dreams and superstitions have a significant impact on the actions taken by Jeebleh and his friends. In particular, there are many superstitious views about Raasta who is viewed as an extraordinary child. What does Raasta offer her family and the people of Mogadiscio that warrants the admiration that she receives?
 
What do you think of Jeebleh's ultimate decision concerning Caloosha? What gives him the strength to make this decision? What do you think the long-term impact will be for the people surrounding Caloosha?
 
Why do you think Jeebleh leaves Mogadiscio without saying goodbye to his friends?
 
What other "direction" could Jeebleh take at the end of the novel when he decides to book himself "on a homebound flight and, not wanting to tempt fate, get to New York before impulse propelled him in another direction"?
Back to Top