From a Crooked Rib Reader's Guide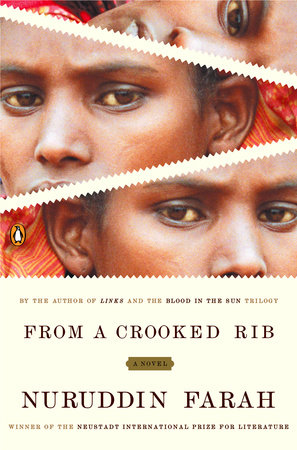 From a Crooked Rib Reader's Guide
READERS GUIDE
Questions and Topics for Discussion
INTRODUCTION
Though From a Crooked Rib explicitly bemoans the plight of women in Somali society, the novel cannot be reduced to being merely about the situation of Somali women or described as a feminist work, because, in truth, all of humanity is Nuruddin Farah's concern.
Written in 1968, when Farah, aged twenty-three, was a second-year student at Panjab University in India, the novel occupies a unique place in African fiction in its sympathetic portrayal of women. The editor at the British publishing house Heinemann agreed to publish it and, assuming the author to be a woman, wrote requesting that Farah send him a photograph. Never reviewed when it was first released, it became a cult text thanks to the reputation it gained by word of mouth. Since then, Nuruddin Farah has published critically acclaimed novels, including Sardines, Maps, and Gifts, which take, as their principle concern, the embattled womanhood in Africa and the Islamic world.
Ebla's escape, at eighteen, from an enforced marriage, takes her first to a small town and then to Somalia's metropolis, Mogadiscio. Along the way, she is sold into a bartered wedlock and then abandoned. On her wedding night, her "husband" beats her up and treats her in a manner more akin to rape than seduction. Already violated in her preteens through the barbarous, un-Islamic practice of female infibulation, the experience of pain and the humiliation he metes out to her on their first night leaves her traumatized for life. She becomes cynical, distrustful, bitter, and this disillusionment sends her on a warpath.
She is vengeful; the desire for freedom and her wish for what she presumes to be her "self-preservation" force her to live entirely in the present. Friendless, a woman adrift, with no resources to fall back on, she flees from two arranged marriages—about which she is not consulted and into which she is sold as chattel—to two "matrimonies" with dubious justifiability. She travels from one crisis to another, some of her own making, some stemming from her delusion that she is taking vengeance on the men that have sold her off, hurt her, used and abused her, deceived her. There is a certain naïveté to her sexual odysseys: she says, "I love life, and life lies in marriage"; elsewhere, contradicting herself, she says, "I love to be a wife, I don't care whose." Ebla takes the only alternatives that are open to a woman of her background. Such is her ingeniousness that at some point she thinks "she had lost the game: she had become a prostitute without realizing that she had become one." Farah has said somewhere that he views arranged marriages, in which men treat women as if they are the items and objects on the shelf of a shop, as venal—no different from prostituting one's own daughter or sister in acquisitive exchange for material wealth.
ABOUT NURUDDIN FARAH
Nurudin Farah is the author of nine novels, including From a Crooked Rib, Links and his Blood in the Suntrilogy: Maps, Gifts, and Secrets. His novels have been translated into seventeen languages and have won numerous awards. Farah was named the 1998 laureate of the Neustadt International Prize for Literature, "widely regarded as the most prestigious international literary award after the Nobel" (The New York Times). Born in Baidoa, Somalia, he now lives in Cape Town, South Africa, with his wife and their children.
DISCUSSION QUESTIONS
In traditional Somali society, women are the property of men—whether of fathers, husbands, or male relatives—and are expendable commodities. Discuss this in relation to From a Crooked Rib.
 
Ebla flees an arranged marriage only to find herself a victim of yet another bartered marriage. To forestall it, she rushes into accepting Awill's marriage proposal. Discuss what other possible actions she might have taken, given her situation.
 
Ebla ruminates over the lot of a cow that resents the slaughter of its calf. Moreover, in many other passages in the novel, Ebla seems obsessed by the situation in which these beasts exist. Discuss this recurring theme.
 
How does Ebla treat the two women—Asha and the widow—who are without husbands? What is the place of such women in the lives of men who seek their services? Are they accomplices, abettors of women's continued oppression, or is there another way to see them?
 
What do you make of the unexpected bits of comedy that are mixed into what is generally a very serious novel?
 
Ebla's wedding night leaves her traumatized. Why? How much do you know about female infibulation, a practice known these days as genital mutilation?
 
When Ebla first meets Awill, she feels as though an insect is crawling on her back. What do you make of the image? Why does she feel awkward about the meeting?
 
When, having "married" Tiffo without being "divorced" from Awill, she proclaims that they are now equal because Tiffo has another wife and she has another husband, he calls her a harlot. Discuss the implications of their positions. Compare Ebla's insistence that women and men are equal with Tiffo's claim that women are inferior to men.
 
If Ebla is wanton in her wifehood, as the literary critic Derek Wright put it, and if Asha is her procuress and the sheikhs who are paid to officiate at her marriages a dishonest lot, then is Ebla justified in comparing her sexual parts to a bank?
Back to Top