Petropolis Reader's Guide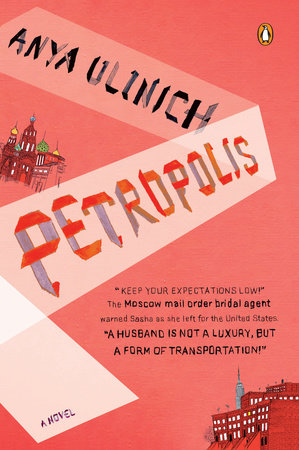 Petropolis Reader's Guide
READERS GUIDE
Questions and Topics for Discussion
INTRODUCTION
In her stellar debut novel, Russian émigré Anya Ulinich paints a vivid, beguiling, and funny portrait of post-Soviet Russia and turn-of-the-century America.
Growing up in a Dickensian apartment block in a bleak Siberian town, Asbestos 2, Sasha Goldberg has more than one strike against her in the blond, blue-eyed Russian north: chubby, biracial, and Jewish, she consistently disappoints her overbearing mother with academic and extracurricular failures. Mrs. Goldberg is on a feverish quest to shape Sasha into a proper "member of the intelligentsia," but Sasha finds love in the arms of an art school dropout living in the town dump, and Mrs. Goldberg's plans for Sasha unravel.
Petropolis is a richly layered and luminous emotional epic in the mode of great Russian novels. From perpetually gray Asbestos 2 to the shocking green lawns of Paradise Valley, Arizona, where Sasha lands as a mail-order bride; from wealthy suburban Chicago to the streets of Brooklyn, New York, Petropolis takes on motherhood, religion, the promise of love, and cross-cultural perplexity, all set against Sasha's harrowing yet hilarious search for a place to call home. The result is a magnificent work that will stand alongside the likes of Gary Shteyngart's The Russian Debutante's Handbook and Gish Jen'sTypical American in scope, immediacy, and sheer talent.
ABOUT ANYA ULINICH
Anya Ulinich was seventeen when her family left Moscow and immigrated to the United States. She attended the Art Institute of Chicago and received an MFA in painting from the University of California. She lives in Brooklyn, New York.
A CONVERSATION WITH ANYA ULINICHWhat inspired you to write Petropolis?
Writing Petropolis was a way of dealing with the overflow of stories and ideas that I was unable to contain and address in my paintings.
I've studied art all my life. As a child in Soviet Russia, I was subjected to the kind of merciless academic training that Sasha Goldberg goes through at her art school in Asbestos 2. When I came to the United States, I discovered greater freedom in terms of both the media and the content of my works. At the same time, I was struggling to survive in this country as a new immigrant, and my experiences were yielding many stories and observations. For a while, I existed at the bottom of the social hierarchy in America, and I was suddenly thinking about language, culture, and class stratification in a way that I never had to before. So I began to cram all this information into my paintings, trying to figure out my new identity as an immigrant and my relationship with my Russian past, through them. In retrospect, I see that I went about it in a totally ham-fisted, straightforward manner, suffocating my paintings with text and allusive imagery, and sacrificing the visual for the narrative.
Right around the time when I was finally coming to terms with the fact that painting was ill equipped to do what I wanted it to do, I had a daughter. During the first few months of her life, I had a lot of time to think, but since my hands were busy with the baby, I had no opportunity to turn my thought process into another painting. At the same time, the fact that I was capable of making and raising another human being gave me the sense of authority and self-assurance necessary to get over my fear of writing in English. So, I began to write down some of the characters and stories that my paintings could address only obliquely. That was the beginning of Petropolis.
At first, I had no idea that what I was writing would turn into a novel. Later, a central theme began to come through. As a new mother, I began to wonder what it would be like to have my child taken away from me. I began to think about how larger social events invade families, and cause people's lives to take certain turns. So I created Sasha Goldberg, whose life is through and through a product of the Soviet regime and its dissolution—from the circumstances of her father's birth to the circumstances of Sasha's own upbringing. Instead of rejecting that history or becoming a victim of it, she uses it as a foundation for her own humanity.
Can you describe how your own experiences coming from Russia to America influenced the novel? Are there specific differences between the life you led in Russia and your life in America that are reflected in the novel?
There are three differences that immediately come to mind. The main difference is that I was a child in Russia, and when I came to the United States, I had to grow up very quickly. I had to make money to help support my family. Also, my younger brother and I became proficient in English much faster than our parents, which oddly reversed the roles in the family.Petropolis is essentially about growing up. Sasha Goldberg is growing up alone and in the aftermath of a trauma. It was different for me because I still had my parents to lean on. Still, just like Sasha, I experienced a very steep learning curve and became an adult much faster than I would had we stayed in Russia or had I been born in the United States.
Although social class existed in Soviet Russia, it was defined not so much by material wealth, but by a person's place of residence and education level. The class differences were much less pronounced than they are in the United States. I grew up middle class on the outskirts of Moscow. Everyone I knew lived in a small apartment, and I didn't know anyone who hired domestic help. There were no servants, maids, or nannies. Then, when we moved to Arizona, my family ended up at the absolute bottom of the social hierarchy. We were doing menial labor for cash and eating donated food. So I wanted to write about class disparity and how it defines certain relationships.
Like many Soviet people, I grew up without religion. In Soviet Russia "Jewish" meant solely ethnicity, a race. Everyone's ethnicity was recorded in his or her passport for discrimination purposes. So if both of the person's parents were Jewish, the person would be marked Jewish on the "nationality" line of their passport. My Jewish identity consisted of tales about the history of discrimination and extermination, certain foods we ate, and certain Yiddish words my grandparents used at home. I was very aware of my family history and especially of the Holocaust that my grandmother had narrowly escaped when she lived in Kiev. Being Jewish also meant that I looked different from my Nordic classmates.
When I came to America, I received a rather confusing, intense, and not entirely voluntary crash course in religion, similar to the one Sasha Goldberg gets at the Tarakans'. I was expected to pick up Jewish religious traditions that were interrupted, in my family's case, nearly one hundred years before. Here, my cultural identity—that of a secular person who wants nothing to do with, say, religious holidays, is frequently considered almost a tragedy perpetrated upon my people by the Soviet regime.
Your work seems to draw on themes found in the classic novels of the literary giants. There is the furtive social humor typical of the English nineteenth-century novelists as well as the stark and often desolate reality of the Russian romantics and realists. What impact did these types of literature—specifically, nineteenth- and early-twentieth-century literature—have on your writing of Petropolis?
I read Russian novels in Russian, and when I write in English, I almost feel as if I'm using a different part of my brain. The humor is different somehow, too. I think the most obvious influence, in terms of satire, would be Mikhail Bulgakov (The Master and Margarita and Dog's Heart). He is neither a romantic nor a realist, and he's a twentieth-century writer.
I grew up reading Tolstoy and Dostoevsky, and I still reread them pretty regularly, so obviously they have an impact on my writing. As Petropolis became more and more crowded with characters, I sometimes worried, "Can I handle all these people? Where did they all come from?" It seemed immodest and formally sloppy, for example, to have Mr. Tarakan pop up, drive through the forest, catch a cold, and disappear. Then I would reread War and Peace or Anna Karenina and be inspired and reassured. Those books are such expansive messes of characters, events, and ideas (War and Peace even has a lecture tacked on at the end), yet they're great, and entirely absorbing.
What books or writers have had a powerful influence on you and your writing?
Every book I read in English influences my writing. While I was writing the part where Sasha lives with the Tarakans, I reread Lolita, and then had to go back and iron out certain faux-Nabokovian passages in Petropolis, because, obviously, Nabokov's style is wholly inappropriate for my book. So with me it's more of a matter of having to fight influences.
Apart from this, there are books that I love and that I wish I had written. They don't have very much in common with each other. Among them are Gary Shteyngart's Absurdistan, which I admire for its uncompromising ruthlessness.
I love most everything that Alice Munro has written. In her stories, relationships are defined and destroyed by power imbalances within them. Love is shadowed by violence; sexual attraction is tied up with class guilt.
I love Jonathan Lethem for his beautiful language and imagery, and for how unabashedly romantic he is when writing about the city. I love Zadie Smith's novels for their scope and energy. I love short stories by Grace Paley, Jhumpa Lahiri, Lorrie Moore, David Bezmozgis, and Katherine Shonk.
I certainly wish I had Lev Tolstoy's brain. The man is so incredibly persuasive. He can have the most absurd idea and be utterly convincing about it. Take his novella The Kreutzer Sonata, a deranged argument against sexual love delivered by a not-really-repentant wife killer. For how entirely backward its premise is, The Kreutzer Sonata is like a hammer to the reader's head. It's a wonder abstinence educators haven't discovered it.
I love Russian poetry. I especially love Mandelstam, Tsvetaeva, Pasternak, and Brodsky. I have recently reread and was in awe of Pushkin's Evgeniy Onegin. Unfortunately, I needed fifteen years to forget the way Pushkin was taught to me in Russian secondary school.
Sasha is by turns joyful and joyless. How does she maintain her optimism—and gain her strength—in the face of such apparent bleakness?
When I think of Sasha, the Russian folk archetype Ivan the Fool comes to mind. In fairy tales, Ivan the Fool is usually the youngest and the dumbest of three brothers. He is absurdly naïve, he does everything wrong, but he always comes out on top and gets to marry the princess, because he is lucky and pure at heart. Ivan the Fool–type characters are often used in Russian satirical writing. Because Ivan the Fool is wide-eyed, thick-skinned, ignorant of the rules of the surrounding culture, and has no internal point of reference save for his own internal moral compass, it's a lot of fun to see society through his eyes.
Sasha channels Ivan the Fool in several ways. By nature not terribly introspective, Sasha is a typical romantic, self-centered teenager before the birth of Nadia. The bleakness of her existence doesn't upset her. Her life in Asbestos 2 is the only life she's known. Although insane, Mrs. Goldberg is a caring mother in her own way, and Sasha has a stable home life that helps her survive the abuse at school. She is also rescued, just in time, by the Art Studio, where she finds friendship and teachers who care about her and whom she respects despite their flaws.
After the birth of Nadia and during her time in the United States, Sasha exists in a state where her entire being is focused, exclusively, on survival. This intense focus becomes the source of her strength. She can't afford to become depressed, at least not for very long. Sasha is often irritated with the emotional turmoil of people who exist in the higher reaches of the Maslow hierarchy of needs, like Heidi. It is also the reason why she and Jake get along—they both face severe limitations and have a kind of uncluttered understanding of life and of each other.
Your writing is visually rich. Given that you are a painter as well as a writer, how do you feel that painting and visual art are connected to your writing and the creation of three-dimensional characters? Does one medium influence the other?
Definitely. Some characters and places I wrote have appeared in my paintings before. I'm not sure how much my art experience has to do with the three-dimensionality of my characters, but I do look at the world as a painter, and I naturally pay attention to color and light. There used to be passages in Petropolis where I described things in terms of the empty space between them, what in drawing is called "negative space." I would talk about the shape of the space, but then people who read these descriptions had no idea what was going on, and I had to change the text.
What are you working on now?
I'm thinking once again about combining visuals with writing. The obvious answer seems to be to do a graphic novel, but I never read comics as a child and I have no innate sense of the format, the relationship between text and pictures. So I'm just trying to figure this out. I'm also trying to learn how to write a good short story. In a way it's harder than writing a novel because I can't just let the narrative sprawl to get my point across. I'm also raising two young children, which means trying to carve out some time to occasionally feed them and read to them.
DISCUSSION QUESTIONS
The themes of maternal longing, jealousy, and hope turn up in a vast range of literature, from the work of Larry McMurtry and Jane Austen to that of Boris Pasternak, to mention just a few examples. The relationship between Lubov Alexandrovna Goldberg and her daughter is at times cantankerous and strained, yet also oddly loving. How, in light of Lubov's own past, does this complex bond reflect Sasha and her mother's day-to-day existence in Asbestos 2?
 
Beset with issues of class, culture, religion, and promise, Sasha Goldberg's life appears to be a metaphor for a post-Soviet world still clinging to its old ways. Sasha appears to be only half of everything—half white, not attractive enough, not talented enough, not quite Jewish enough for the Tarakans. Describe and discuss some of the scenarios that illustrate these juxtapositions, from Sasha's relationship with Jake to her search for Victor and what she finds when she locates him.
 
In a chapter called "The Friendship of Peoples," Victor is described as being a Festival Baby. Explain the significance of being a baby born out of a government-sponsored event meant to bring sharply clashing cultures together. How have the circumstances of his birth reverberated throughout the rest of Victor's life?
 
Though the relationship between Jake Tarakan and Sasha is strained at the beginning, they begin to understand that they are both trapped—Jake, in his own body, and Sasha, in the Tarakan home—and they begin to see each other as allies. Why does Jake help "free" Sasha from his parents? Are Jake and Sasha in love?
 
The age-old conflict between self-love and love of one's child is a factor in many of the characters' decisions during the novel. Especially for Lubov, Sasha, and Nadia, motherhood and the deeply conflicted relationship between mothers and daughters is a strong theme throughout Petropolis. Looking forward, what are the possibilities for Nadia and Sasha as they both grow up? Will they have a combative relationship like Sasha and Lubov? Or do you think Sasha and Jake have ended the cycle of unhappy, unhealthy parent-child relationships?
 
Heidi and Sasha might have had an extremely antagonistic relationship, given their respective relationships with Victor, but in the end they are supportive of and affectionate toward one another. Explain why the author chose to unite these two characters rather than set them at odds.
 
Lubov was found in the library, clutching a book of poems. Discuss the ramifications of Lubov's death in the library, and the poem (p. 321) that she was reading. Why did Lubov return to the library? What is the significance of the poem to her in life, and in death?
Back to Top