Mistress of the Revolution Reader's Guide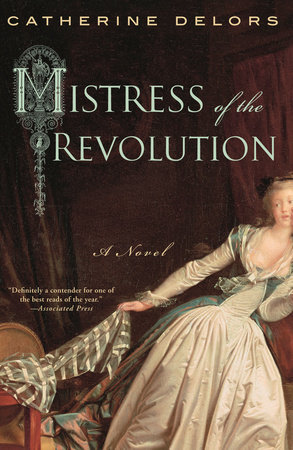 Mistress of the Revolution Reader's Guide
READERS GUIDE
Questions and Topics for Discussion
INTRODUCTION

Set in opulent, decadent, turbulent revolutionary France, Mistress of the Revolution is the story of Gabrielle de Montserrat. An impoverished noblewoman blessed with fiery red hair and a mischievous demeanor, Gabrielle is only fifteen when she meets her true love, a commoner named Pierre-André Coffinhal. But her brother forbids their union, choosing for her instead an aging, wealthy baron.
Widowed and a mother while still a teen, Gabrielle arrives at the court of Louis XVI and Marie Antoinette in time to be swept up in the emerging cataclysm. As a new order rises, Gabrielle finds her own lovely neck on the chopping block—and who should be selected to sit on the Revolutionary Tribunal but her first love, Pierre-André. . . .
Replete with historical detail, complex and realistic characters (several of whom actually existed), and a heroine who demands—and rewards—attention, Mistress of the Revolution is an unforgettable debut.
A stunning new talent in historical fiction makes her debut with a novel perfect for readers of In the Company of the Courtesan by Sarah Dunant
ABOUT CATHERINE DELORS
CATHERINE DELORS, herself from a family of French aristocrats, wa born and raised in France. A lawyer, she has practiced in the United States for ten years, and now divides her time between Paris and Los Angeles. Visit www.catherinedelors.com.
DISCUSSION QUESTIONS
In Mistress of the Revolution, Gabrielle often makes difficult decisions (when she becomes Villiers's mistress, when she accepts the position of lady-in-waiting, when she goes to work at the Theâtre.) In her place, would you have chosen other options?
 
Gabrielle is, for all intents and purposes, abandoned at birth by her mother. How does she cope with it?
 
Do you think Gabrielle is a good mother? How does her relationship with her daughter evolve throughout the book?
 
Do you see Gabrielle's brother, the Marquis de Montserrat, as a villain, or do you feel some sympathy for him?
 
Is Gabrielle passive? Does she accept the limits imposed on women of her class and time, or does she strive to forge her own path?
 
When Gabrielle arrives in Paris as a widow at the age of seventeen, she is not reunited with her former love. Why not?
 
Is the portrait of Queen Marie-Antoinette in Mistress of the Revolution different from what you read in other books or saw in films?
 
How are the stark realities of the Terror foreshadowed in the luxurious lifestyle of the aristocracy before the Revolution?
How does Gabrielle's attitude towards religion in general, and her own faith, evolve throughout the novel?
 
Mistress of the Revolution begins as a memoir. How and why does the tone and purpose of Gabrielle's narrative evolve?
 
Did Mistress of the Revolution change your image of the French Revolution? If yes, how so?
 
Did the conclusion of the novel surprise you? Is it a "happy ending"?
Back to Top