The Divorce Party Reader's Guide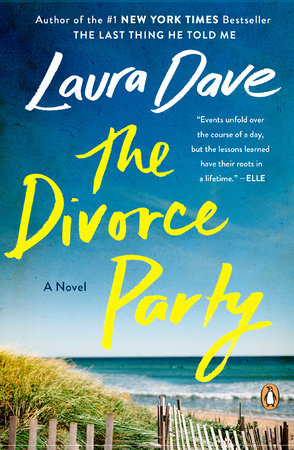 The Divorce Party Reader's Guide
READERS GUIDE
Questions and Topics for Discussion
INTRODUCTION

Gwyn Huntington knows how to throw a party. And Hunt Hall, her postcard-perfect Victorian home in Montauk at the easternmost tip of Long Island, is no stranger to celebrations. But on the morning of her thirty-fifth wedding anniversary, she's putting finishing touches on the last party she'll host there. The last time she'll see Hunt Hall abuzz with caterers and bartenders. The last time she'll preside over a gathering of beautiful friends chatting in candlelight. The last time she'll fully play the role of Mrs. Thomas Huntington. Divorce parties have become commonplace, if not fashionable, in Montauk. But Gwyn is determined that hers will be different.
Just over one hundred miles away on the same morning, Maggie Mackenzie sits on the floor of her Brooklyn apartment attempting to organize her new life. A former travel writer, she's fallen in love with a wonderful man, gotten engaged, and is planning to start a business with him. Today is also the day she'll meet her fiancé's parents for the first time. She's feeling particularly uneasy about the occasion surrounding her first meeting with Nate's family.
The Divorce Party takes us into the lives of these two women at opposite ends of marriage. For all the differences between them—distance, privilege, age—Gwyn and Maggie have one thing in common: Each has found herself at a crossroads. Gwyn has been preparing for this day, the last predictable day before an uncertain future. Even though she's had time to come to terms with her divorce, she still can't quite believe her marriage is over. How can she move on when her marriage has defined who she is for the last thirty-five years? And for Maggie, the emotionally charged trip to Montauk shakes the foundation of her relationship with Nate and dredges up feelings she has spent her life trying to avoid.
In the end, Gwyn and Maggie face the same questions: How hard should you work to stay with the person you love? And when is it time to let go?
ABOUT LAURA DAVE
Laura Dave is the author of the novels The Divorce Party and London is the Best City in America, both of which are in development at Universal Studios. Her writing has appeared in Glamour, The New York Times,Self, Redbook, ESPN the Magazine, and The New York Observer. She received her B.A. in English at the University of Pennsylvania and a graduate degree in creative writing at The University of Virginia, where she was a Henry Hoyns Fellow. She lives in New York City.
A CONVERSATION WITH LAURA DAVE
Q. How did you get the idea for The Divorce Party?
Since I first learned about divorce parties, I have been intrigued by them. On one level, a divorce party makes sense to me as a concept: Let's celebrate what we've had, as opposed to letting it end acrimoniously. On another level, I think marital break-ups are difficult for a reason: They are supposed to be. Something sacred between two people has broken down. Yet regardless of how we may personally feel about the idea of divorce parties, they are gaining a phenomenal momentum—and I wanted to explore this within the context of one family.
This is the first novel to explore the world of divorce parties. My novel also ended up exploring in equal measure how we build a life with someone and how we keep that life secure.
Q. The setting of the novel plays a big role in the story. Why did you choose Montauk?
I have always been drawn to towns on the end of the earth: fishing towns, cliffside towns, towns with more ocean surrounding them than land. They require something different of their inhabitants. Living in a city there are so many distractions, so many ways to avoid knowing what is really going on inside of you, inside of your closest relationships. The quiet in Montauk—the solitude and isolation there—requires an attention to one's own life that I greatly admire.
I also like the juxtaposition of people who live in Montauk year-round and the summer people, who come in and try to take over for a while. There seems to be a reclaiming that occurs perennially—an acknowledgment each September that this place is ours—which is incredible to witness. That type of devotion to one's home isn't unlike what is necessary to keep a marriage strong or to keep a family together.
Q. What prompted you to write the novel from two perspectives? Do you think the novel would have been different with a single narrator?
Maggie was originally the sole narrator of The Divorce Party. It was going to be, more simply, a story of a woman struggling through the fast and hard realization that the life she was signing up for would be much different than she'd imagined. .
But when I began writing a scene with Maggie's mother-in-law Gwyn, my compassion for her was so ardent that I thought: There is something on this side of the story too. In fact, this is the other side of the same story. To truly understand what it means to sign up for one's own life, we need to consider that despite our best intentions life can fall apart one day. At these very different life stages that Maggie and Gwyn find themselves in, there turn out to be the same difficult questions: What matters most to me and what am I willing to risk? And what, in this life, am I brave enough to fight for?
Q. By following two women at such different points in their marriages, did you hope to explore something specific about marriage or relationships in general?
I am interested in the question of forgiveness. Clearly, being able to truly forgive is necessary in order to stay with one person over the course of a lifetime, and certainly necessary if two people are to remain in love with each other. .
I believe that there is no weakness in forgiveness. But we are conditioned these days to think that there is, that the brave thing is to move on when someone disappoints us. It makes it hard to make a relationship work, especially long-term, if the premium is as much on leaving as it is on figuring out a way to stay. .
A Buddhist nun, Pema Chödrön, wrote an amazing book called When Things Fall Apart, in which she talks about how the only way to stay in a sweat lodge—to experience all of the good and bad it brings—is to not sit near the exit. Because if you are sitting near the exit, you will find a reason to use it. I wanted to explore the idea that to find the joy in your relationship or marriage—to be present for it, to help it grow more sacred—you can't be looking for a way out of it. .
Q. Which story was more of a challenge to tell, Maggie's or Gwyn's?
Maggie actually turned out be a harder nut to crack. She didn't know herself very well. Or, I should say, she was in conflict about knowing herself as well as she did. Until her hand was forced about halfway through the narrative, I wasn't sure what she was going to do—when she was going to overreact, when she was going to get mad about the wrong (or right) thing. But once Maggie tapped in to her own culpability in the problems she and Nate were having, she had a new journey. She had to learn to let go of her false notion that someone else was going to magically make the contradictions within her own soul disappear. Maggie is a character who, for very valid reasons, is always going to struggle with wanting to cut and run. Her question becomes: Am I going to disappear, like usual, or will I figure out a way to fight that impulse? .
Q. Do you identify with any one of the characters more than the others?
I identify with so many of the characters, and I want to hug all of them! Especially Thomas. I want to shake him, and then I want to hug him and make some soup for him. But at the end of the day—or the end of today, at least—I think I identify most strongly with Nate. Like Nate, I have been tempted to hit the "begin again" button many times in my life, and I understand all too well his desire to protect the people he loves the most from everything. Even from himself. It is a misplaced desire, and one that gets those of us who have it into heaps of trouble. But there is little doubt that Nate's heart is in the right place.
Q. Were you ever tempted to write a different ending for Gwyn and Thomas?
I am still tempted. I want Gwyn to have everything she wants, and I think there is so much genuine love and affection between Thomas and her. It is heartbreaking. But I also believe that sometimes the universe has more compelling plans for us than we have for ourselves. Having faith in that can be freeing. And I certainly think that is the case for Gwyn, and all that is next for her.
Q. Was the experience of writing this book different from your first, London Is the Best City in America?
Very different, yes. The Divorce Party was more difficult because I was dealing with two narrators. I wanted to figure out how their stories were speaking to each other, as well as speaking on their own, and, in the midst of this, I was also dealing with very painful topics. At times I felt subsumed by the stories I was trying to tell. But I couldn't seem to make myself give up, which I am grateful for. Nothing worth having comes easy, right? And now that I've finally come to the end, I feel great pride in this book.
Q. Is it true that The Divorce Party is being made into a movie?
I am pleased to say yes! The movie rights to The Divorce Party were picked up by Universal Studios for Echo Films, Jennifer Aniston and Kristin Hahn's new production company. I am so excited about that—I think it is going to be a great movie.
Q. What are you working on now?
I am working on my third novel, which takes place in Big Sur, California. It is a story about a thirty-three-year old woman, and her father, Kyle, who is a former San Francisco 49er, and who raised her alone from the time he was nineteen. This is the only time I've started a book by writing the final scene first. And I'm pretty sure—now that I'm talking about the scene—that I'm going to have to toss it. But while I still have it, I love it.
DISCUSSION QUESTIONS
Nate suggests that people with some money act differently than people with a lot of money. What does he mean? If you were to come into a large sum of money, in what ways would you expect it to change you? How would you want your life to stay the same?
 
Gwyn seems to place most of the blame for her marital problems squarely on her husband. How much responsibility does Eve bear? Do you think Gwyn should have been harder on her? How much responsibility lies with Gwyn?
 
Put yourself in Maggie's shoes. Would your trust in Nate be shattered? Do you think you'd be able to overcome your uncertainty about him? Is it ever best not to know the truth?
 
Do you think a divorce party is a good idea? Would you hold a celebration for a divorce or a break-up? Would you attend one?
 
How do you see Gwyn faring? What about her husband's relationship with Eve? How do you expect it to evolve?
 
Should Gwyn have confronted Thomas earlier? How do you think their story would have been different?
 
In what ways has Maggie been affected by her mother's leaving? What about Nate and Georgia? How have they been affected by their relationships with their parents?
 
Do you know women like Murphy? Why do you think she would make up a crazy story and make a stranger uncomfortable? Maggie could have avoided worrying about Murphy if she'd only confronted Nate about what Murphy said. If she'd come right out and asked him, do you think Maggie would have believed Nate's denial?
 
Music is woven throughout The Divorce Party and is ultimately critical to the book's resolution. Why is music such an important part of love stories?
Back to Top