The Informers Reader's Guide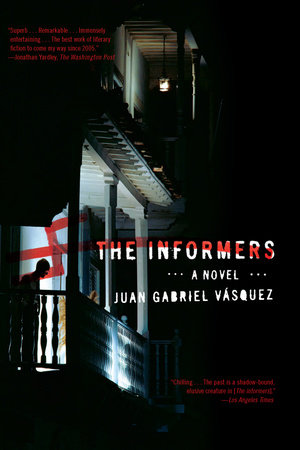 The Informers Reader's Guide
READERS GUIDE
Questions and Topics for Discussion
INTRODUCTION

From a masterful new literary voice—a haunting novel of history, family, and memory.
After Gabriel Santoro's biography is published—a profile of Jewish German immigrant and lifelong family friend Sara Guterman, and her experiences starting anew in 1930s Colombia—he is shocked by his father's (a respected Bogotá rhetorician) widely circulated, scathing review. But as Gabriel delves deeper into his father's life—to help explain this dramatic, painful public gesture—he is soon entrenched in his father's personal history, one filled with startling betrayals and secrets that hold the key to his father's anger and alienation.
Determined to put the pieces together after a mysterious car accident causes his father's death, Gabriel sets out to unravel his family's past in the tumultuous shadow of World War II. But after his father's mistress Angelina goes public with damning admonitions, it becomes clear to Gabriel that he must find out the truth about his father's life before the past slips away completely.
ABOUT JUAN GABRIEL VÁSQUEZ
Juan Gabriel Vásquez is a critically acclaimed, award-winning Colombian writer, whose work has been translated into nine languages. Educated in Colombia and in Paris at the Sorbonne, he now teaches in Barcelona, where he lives with his wife and twin daughters.
ABOUT ANNE MCLEAN
Anne McLean has translated Latin American and Spanish novels, short stories, memoirs, and other writings by many acclaimed authors. Her work has been short-listed for the IMPAC prize, won the Premio Valle-Inclán, and has twice been awarded the Independent Foreign Fiction Prize.
DISCUSSION QUESTIONS
Gabriel Santoro Jr. is a biographer. So in a certain sense, he is also a translator, interpreting Sara's memories, his father's motivations, and Enrique's letters, among other observations he makes of the lives around him. Why does Gabriel think this is his calling? What drives his choice to write, edit, and reveal the hidden dramas of his family's past? What challenges or freedoms arise with this burden of translation?
 
After his book A Life in Exile is published and receives his father's scathing review, Gabriel is stunned, but attempts to reconcile his thoughts and emotions by finding the source of his father's anger. How does Gabriel go about doing this? What are his roadblocks? His unusual resources?
 
Even though it was fought on a different continent, what impact does WWII have on the families in The Informers—to business, identity, innocence, and a sense of belonging? How would you respond to Sara who asks "who's going to pay [Margarita] back those lost years? Who's going to give her body back the years that it lost waiting for abstract things…" (160)? What is the most precious thing lost in war?
 
What role do "the informers" play in the narrative? Who are they, and what does each introduce into the story?
 
"I like other people's lives; I like to make myself at home and examine them" (221). Do you think Gabriel ever oversteps his bounds as he is researching his father's life? Is that an informer's job? What, if anything, should he have kept secret?
 
Sara reveals so much in her tapes, yet upholds her loyalty to Gabriel Sr.'s secrets, especially his shocking act. How does she explain to Gabriel why she did not share every detail with him? Why does she hold back? Do you think she did the right thing?
 
How does Angelina's role, and our opinion of her, change over the course of the novel? As both an informer and confidant—to Gabriel and his son—how does this transform her in our eyes? Why do you think she went to the media with Gabriel's secrets? Was she justified?
 
What was the breaking point for Gabriel's father that drove him to leave Angelina and take the treacherous road to meet with Enrique Deresser? Do you think he purposefully caused the accident? Why or not?
 
Do the characters in the novel really think it is possible to "revise" one's life story through redressing past actions? Why or why not? And does anyone succeed?
 
Do you think knowing why Gabriel Sr. renounced A Life in Exile is enough to justify his behavior toward his son? What would you have done in Gabriel, Sr.'s, situation?
 
What are the differences in Gabriel's motivation for writing his first book versus his second? Is one more justified than the other?
 
Gabriel is accused of revealing too much publicly about his father's affairs—similar to Angelina's own tell-all interview. Do you think this is a fair, accurate assessment? Why or why not?
 
What legacy does Gabriel Sr. leave behind? Do you think Gabriel Jr. is happier knowing the truth about his father? Why or why not?
 
Before reading The Informers were you aware that in the years following WWII, Germans affiliated with the Third Reich were blacklisted in various countries across South America? What, if anything, did you learn about that period in history from reading this novel? Did it surprise you? Why or why not?
 
In an essay about writing The Informers, the author, Juan Gabriel Vásquez, says, "I wanted to find out about the way the war was experienced in Colombia: about the existence of a Nazi party there, about the blacklists, about the way my generation has inherited the consequences of what happened in those years….'Novels,' said Balzac, 'are the private history of nations.' That idea carried me through the writing of The Informers." Do you think Vásquez has lived up to this idea of Balzac's? Why or why not?
Back to Top