The Most Dangerous Book Reader's Guide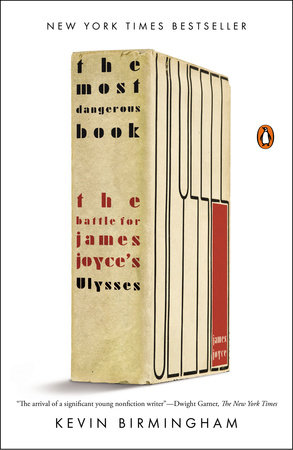 The Most Dangerous Book Reader's Guide
READERS GUIDE
Introduction
On June 16, 1904, near the docks by the river Liffey that flows through Dublin, a fledgling twenty-two-year-old intellectual named James Joyce was manually stimulated by a poorly educated chambermaid named Nora Barnacle. Prosaic and mildly sordid, such casual intersections typically lead nowhere and are soon half-forgotten by young people with other matters to distract them. And yet, as Kevin Birmingham skillfully narrates in his teeming, insightful literary history
The Most Dangerous Book: The Battle for James Joyce's
Ulysses, Joyce's dalliance with Nora turned into something much, much greater than either could immediately have imagined. Barnacle became Joyce's lifelong partner, the mother of his children, and his muse. And the date of their first erotic encounter was later chosen by Joyce as the day on which all the events were to occur in his prodigious, iconoclastic novel
Ulysses
. Forevermore, June 16 would be known throughout the literary world as Bloomsday.
However, as Joyce lovers know, Bloomsday almost never dawned, for
Ulysses
itself almost never saw the light of day. To write it, Joyce struggled for years against penury, ill health, worsening blindness, and impossible odds. But the writing of the book was only the start of the striving. Denounced as obscene while it was still being published in serial form,
Ulysses
became an almost untouchable literary property, as publisher after publisher, fearful of prosecution under laws enacted in the Victorian era, declined to publish it. As Birmingham relates, the fight to publish and distribute
Ulysses
became a kind of holy crusade, in which the names of the both the champions and detractors read like a who's who of literary modernism. In Birmingham's brimming pages, we meet Virginia Woolf, who at first disliked
Ulysses
but later blended its techniques into her own extraordinary fiction; Ernest Hemingway, a drinking companion of Joyce's in the brasseries of Paris; T. S. Eliot, who hailed
Ulysses
as "a step toward making the modern world possible for art" (p. 222); and Ezra Pound, Joyce's tireless defender who saw in
Ulysses
the embodiment of his own literary commandment, "Make it new." And in the center of it all is Joyce himself: brilliant, perverse, exasperating, and determined to discover the most sublime human poetry within the most squalid and soiled of circumstances.
Marvelously engaging on human terms, Birmingham's book is also a discerning chronicle of a legal revolution, for it was because of
Ulysses
that the English speaking world arrived at new standards for drawing the line between art and pornography and developed a legal atmosphere in which, in Birmingham's words, "an ounce of virtue can legalize a pound of vice." Engagingly vivid and novelistic in its tone, relentless in its analysis,
The Most Dangerous Book
tells a fascinating tale of hypocrisy and prudery, of creativity and courage. It is indispensable not only to aficionados of Joyce, but to anyone who wants to know the true meaning and vital importance of freedom of expression.
Questions and Topics for Discussion
1. How does Kevin Birmingham's The Most Dangerous Book compare with other works on Joyce that you may have read? What has Birmingham added to your understanding?
2. The legal battles over Ulysses changed forever America's thinking about obscenity. Do you think that any written material should be considered legally obscene, meaning that someone is liable to go to prison for producing, distributing, or possessing it? If so, what standard should be used for determining the work's obscenity?
3. Kevin Birmingham makes the case that Joyce suffered from syphilis. Are his arguments persuasive? If so, how does this revelation affect our understanding of Joyce and his work?
4. James Joyce the brilliant author was also James Joyce the profane, philandering drunkard. Were his flaws and debauches necessary to the flowering of his genius?
5. Imagine that you are the attorney responsible for prosecuting the case against Ulysses. What would be the best arguments at your disposal? How would you try to sway the court?
6. Imagine that you are the attorney defending Ulysses. What strategies would you adopt? How might they backfire?
7. How does Kevin Birmingham portray Joyce's longtime lover and eventual wife, Nora Barnacle? Does he succeed in explaining the durable bond between them?
8. Ezra Pound, who emerges generally as a hero in Birmingham's account, was also a notorious anti-Semite who, during World War II, made hundreds of radio broadcasts denouncing America and the Jews, and was later arrested on charges of treason. Would Birmingham's narrative have been enriched by a deeper exploration of the darker side of Pound, or would such an excursion have been too much of a digression? Is anti-Semitism an aspect of modernism with which a critic is obliged to contend?
9. One can regard Ulysses as a universal statement about the human condition or, alternatively, as a quintessentially Irish creation. Which view does Birmingham favor, and do you agree with him?
10. Birmingham quotes liberally from Joyce's ribald letters to Nora Barnacle. How is his book either enhanced or diminished by his decision to do so?
11. How do you respond to the overall portrait of Joyce in The Most Dangerous Book? Is he sympathetic? Repellent? Admirable? Some combination of these?
12. In his introduction to The Most Dangerous Book, Birmingham states his intention to "give us insight into the lives of all books" (p. 14). In what ways does he attempt to do this? Does he succeed?
About this Author
A Ph.D. in English from Harvard, Kevin Birmingham is now a lecturer in the university's English Department and an instructor in the Writing Program.
The Most Dangerous Book
, Birmingham's first book, was named the
Sunday Times
(UK) Literary Nonfiction Book of the Year and the recipient of the 2015 PEN New England Award for Nonfiction.
Back to Top