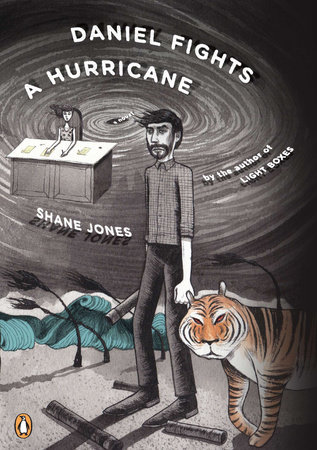 Daniel Fights a Hurricane
A Novel
By Shane Jones

By
Shane Jones
Best Seller
Inspired by Your Browsing History
Praise
"[Daniel Fights a Hurricane] reads like if Franz Kafka and Anne Carson got together and re-wrote The Wizard of Oz, with occasional in-text illustrations by Dave Eggers. . . . A surreal and playful postmodern fable about an epic struggle against a villainous force-of-nature, with a surprisingly human love story of intriguing complexity."
—W magazine
"Filled with surreal, hallucinogenic imagery ranging from the terrifying to the hilarious."
—The Awl
"A wild book full of brain-consuming storms and jacked-up teeth and mysterious tigers and breakfast at McDonald's. While so many other books and movies these days seem to be afraid of their own fantasies, Shane Jones goes for the throat. Fans of his previous novel,
Light Boxes
, or who like Donald Antrim or Kelly Link or, I don't know, Buñuel, can expect a black, fun freakshow."
—Vice
"A joy to read. . . . Gentle, quirky and ultimately redeeming. . . . A marvelous melding of metaphor and reality."
—Shelf Awareness
"Shane Jones' latest novel
Daniel Fights a Hurrican
magnetizes the eye to its watercolor collision course. It's a lighthearted, good-natured tragedy powdered with bubbles, feathers, shaggy-haired rock gardens and folded kangaroos. It's playful enough to hold court in the camp of anti-pretentiousness, yet so sad and demented that even the anthropomorphic 'bears throwing acorns like grenades at squirrels' add an air of menace."
—The Tottenville Review
"In Shane Jones' surreal second novel, Daniel is a pipeline worker with a lifelong fear of hurricanes, who slips in and out of reality as he endeavors to fight the threat they pose to his town. Playful and dreamlike, the true, the imagined and the truly-imagined swirl together to create, yes, a hurricane of a world that will suck you in and offer little hope of escape."
—Flavorpill, "10 New Must Reads for July"
"A bewitching new novel. . . . It's Jones's juxtaposition of the fantastical and, say, a woman polishing off a McDonald's Sausage McMuffin that makes his work feel so unique."
—Mallory Rice, NYLON
"
Daniel Fights a Hurricane
is a wry, beautiful, deeply felt book full of bewitching prose. Shane Jones is a serious player in the world of playfully serious fiction. Better start reading him now."
—Sam Lipsyte, author of Home Land and The Ask
"Shane Jones takes the strands of dreams and reality and combines them so inextricably that it forms the DNA of an entirely new and wonderful species.
Daniel Fights a Hurricane
is an awe-inspiring novel, and I cannot imagine another author who could create this unique and heartbreaking object."
—Kevin Wilson, author of The Family Fang
"A dream in the land of Brautigan written on the interior of a welding mask for proper pipemaking."
—Jesse Ball, author of The Curfew and Samedi the Deafness

"A quietly deft and linguistically playful book about the struggle between so-called reality and the realities of the imagination. Daniel Fights a Hurricane is about the way realities cross, collide and twine around each other, and the lives that are wounded by being caught in between."
—Brian Evenson, author of Fugue State

"Shane Jones's Daniel Fights a Hurricane is a hypercolor kind of dream-machine. Images of McMuffins morph to underwater cities morph to dream salesmen to brutal weather that can destroy the world itself. In midst of such imagination is an even richer field of complex emotion, collaged from the more abstract and terrifying ways that line our days. Here is a work that invents its own fundamental image, logic, and function, and somehow makes it feel like our new electric human skin."
—Blake Butler, author of Scorch Atlas and Nothing
"We were completely blown away by Shane Jones's 2010 debut novel
Light Boxes
, a surreal, fabulistic tale of a village revolting against its never-ending February, so we couldn't be more excited for his sophomore novel, which he describes as 'a novel of hallucinations.' Sounds dreamy."
—Flavorpill, Most Anticipated Books of 2012
Back to Top