Other People We Married Reader's Guide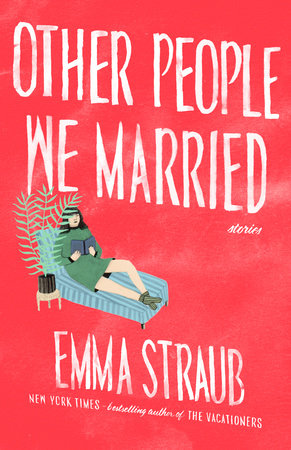 Other People We Married Reader's Guide
READERS GUIDE
Questions and Topics for Discussion
INTRODUCTION
"A rising literary star debuts with twelve wry, poignant stories of love, hope, and transformation.

In this vibrant collection, Emma Straub creates characters as recognizable as a best friend, and follows them through moments of triumph and transformation with wit, vulnerability, and dazzling insight. These stories, filled with the sharp humor, emotional acuity, and joyful language that are sure to become Straub's hallmarks, announce the arrival of a major new talent.
ABOUT EMMA STRAUB
Emma Straub is from New York City. Her fiction and nonfiction have been published by Tin House, The Paris Review Daily, Slate, and Cousin Corinne's Reminder. She is a staff writer for Rookie. Emma lives with her husband in Brooklyn, where she also works as a bookseller.
"Emma Straub is worthy of our adoration. These stories are wise, surprising, hilarious, and unforgettable." —Karen Russell, author of St. Lucy's Home for Girls Raised by Wolves and Swamplandia
"Emma Straub is a wry, witty, incisively observant writer." —Dan Chaon, author of Await Your Reply
"In these stories of grief, love, loss and transplantation, Emma Straub demonstrates her brilliance, her humor, her sharp observational powers, as well as her lyrical gifts and affection for the world. She is a terrific new talent." —Lorrie Moore, author of Birds of America and A Gate at the Stairs
DISCUSSION QUESTIONS
In "Some People Must Really Fall in Love," Amy harbors the fantasy of being with her much–younger student, Paul, despite their age difference. Why does he seem more appealing to her than Martin, an available man of her own age?
In "Rosemary," Claire hires a pet psychic when her cat goes missing. What does the psychic, Vivian, give her that her husband cannot? Do you think Claire really believes that Vivian will be able to help her find her missing cat? Why do you think Claire is so reluctant to tell her husband about Vivian?
Discuss the ending of "A Map of Modern Palm Springs." Do you think Lizzie would leave Abigail in the desert? How do Lizzie's desires compare to her actions over the course of the story?
Discuss how the dynamic between Jackie and Franny changes throughout the course of "Pearls." How has Franny changed or stayed the same in "Other People We married" and "Mohawk"? How do we see her character evolve?
In "Abraham's Enchanted Forest," Greta's life is filled with fantasy—from living in her parents pseudo–amusement park to her father's part–time job as a Walt Whitman impersonator. What role does Nathan play in this fantasy world? Is he more fantasy or reality? What does it mean that Greta chooses to stay?
In "Fly–Over State," Sophie and Mud form somewhat of an unlikely friendship. What do you think draws them together? Sophie frequently compares New York to her new home in Wisconsin. How, if at all, has the move affected Sophie and James' relationship?
"Other People We Married" is, in some ways, about the baggage that comes with any relationship. Discuss how the relationship between Jim, Franny, and Charles either confirms or rejects this idea.
Do you think part of the reason Laura agrees to go to Rome with Stephen in "Puttanesca" is that it will remind her of her late husband, John? Stephen buys Laura an expensive handbag, which seems to make her more uneasy than any of his other large expenditures, like their pricy hotel room. Why do you think this purchase is so off–putting to Laura?
In "Marjorie and the Birds," Marjorie takes up bird watching after her husband dies and describes it not as "a hobby at all, but like agreeing to be more observant" (p. 171). Do you find Marjorie to be an observant person in other aspects of her life?
In "Mohawk," Jim embodies several stereotypically "feminine" concerns and attitudes, such as wanting more children and worrying about his son when he goes to sleep away camp. How do these characteristics play out in the relationship between him and his wife, Fran?
The epiphanies in these stories are subtle. What are some of the recurring themes and motifs in the collection? What, if anything, do the characters here learn and/or come to terms with?
Back to Top