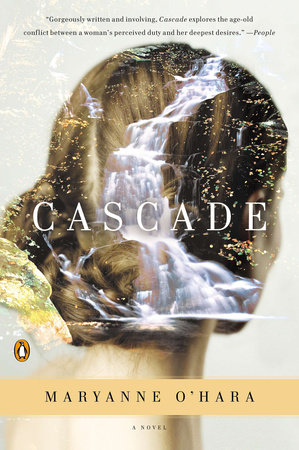 READERS GUIDE
Questions and Topics for Discussion
INTRODUCTION

It's the height of the Great Depression in Cascade, Massachusetts. Desdemona Hart's aging father has lost everything but his treasured, now-shuttered Shakespeare Theatre. To put a roof over his head, Dez marries Asa Spaulding, the local pharmacist. Just out of art school, Dez must put aside her dreams of working in New York City and become a supportive wife, daughter, and—if Asa has his way—mother. When her father dies just two months later and deeds the playhouse to Asa, Dez realizes the extent of her mistake. She's staring down a lifetime with a man she respects but doesn't love, yet she can't leave him without abandoning her father's legacy.
At the same time, their valley hometown is under threat by the state government, which wants to build a new reservoir to serve Boston. If the surveyors choose Cascade, they will flood the entire area, destroy the beloved playhouse, and force a mass relocation of all of its residents.
Amid this turmoil, Dez meets Jacob Solomon, a Jewish artist to whom she immediately feels a connection. To most of the town, he's an outsider who elicits anti-Semitic feelings, but for Dez he represents the creative, cosmopolitan world that should have been hers. As their relationship grows, Jacob inspires her to renew her artistic dreams while igniting a romantic passion that alarms her. As the decision about Cascade's future looms, Dez must weigh her own desires against her husband's—and society's—expectations.
A new opportunity comes when Dez's idea for a series of drawings about Cascade's fight for survival is picked up by the national American Sunday Standard magazine, and she suddenly becomes a household name. New York City and a life with Jacob seem more possible than ever—until a man is found dead, and Jacob is suspected of foul play. As in her father's Shakespearean productions, Dez's choices might have tragic consequences.
Vividly drawn and rich in historical detail, Maryanne O'Hara's debut novel is a pitch-perfect rendering of life in small-town America in the tumultuous early twentieth century. In Desdemona Hart she has created an unforgettable character whose difficult choices and yearnings for independence will resonate with readers of any era.
ABOUT MARYANNE O'HARA
Maryanne O'Hara was the longtime associate fiction editor at Ploughshares, Boston's award-winning literary journal. A graduate of Emerson College's MFA program, she has had short stories published in Five Points,The North American Review, Redbook, and in other magazines and in several anthologies. Her short story collection was a finalist for 2010's Flannery O'Connor Award for Short Fiction. American and Irish, she lives on a river near Boston.
A CONVERSATION WITH MARYANNE O'HARA
The setting for Cascade is loosely based on the true story of the Quabbin reservoir, which led to the destruction and flooding of four Massachusetts towns when it was completed in 1939. What aspects of this event were the most compelling for you?
As a child visiting that reservoir, I was haunted by the idea that a government could destroy a place and say it no longer existed, that you would never again be able to mail a letter to Enfield or Greenwich or Prescott. I was also a little bit enraged. Learning about eminent domain was perhaps the beginning of my awakening to the "real world" and social politics. The uncertainty of both the setting and the 1930s time period seemed a fitting backdrop for the story of Dez Spaulding's personal struggles.
Reflecting her childhood with a theater-owning father, Dez often quotes Shakespeare. How did Shakespeare's writings influence the narrative?
Shakespeare's plays are full of truths that speak for everyone—for the wise man and for the wretch, for the evil heart and the noble soul. I had no interest in patterning my plot on any play, but I did want to suffuse the novel with the truths and flavor of Shakespeare, so there are many subtle references, and it was fun to use some of Shakespeare's tricks, like the mistaken-identity theme.
Dez is a painter who chronicles the events around her in great detail. Are there any parallels between her process as an artist and your own as an author?
Oh, definitely. When I imagined Dez painting, and the ideas she tried to convey, it really wasn't much different from trying to write. I think an artist of any medium can imagine that the underlying struggle is all one big common denominator of ambition and desire and despair. At one point, Dez wins a prestigious prize and mulls over the fact that she feels a bit flat. She thinks, "That was the thing about art, about any artistic endeavor where you gathered all the energy and emotion that surrounded you and tried to paint it, write it, sing it. It was never quite enough. There was always the impulse to try for better."
Although it's the process, more than the end result, that keeps many of us going, Dez paints her life, whereas I prefer to recede into imagined zones. I've experienced dramatic events in my life, but when I think about writing about them, I get tired. I already know what happened.
Cascade is set in the turbulent 1930s. What were some of the challenges of writing a historical novel? How did you research the era?
I enjoy research, so I was content to do a lot of it. In the early years, when the novel was a short story idea, I was able to interview three gifted WPA artists before they died, as well as some other wonderful elderly people with keen memories. I watched hours of period newsreels and old movies with an eye to background detail and an ear to diction. I read art books published before 1935 to get the painting methods right. And how helpful is it that so much research material is now available online? I made great use of the Library of Congress and the Folger Shakespeare Library. I fact-checked obsessively, for example, contacting Strathmore Artist Papers to make sure their illustration boards existed when Dez used them, and figuring out how an operator would have cut and gummed a telegram.
You've deftly constructed a plot that ramps up the tension with definable consequences for each character's actions. What is your method or approach to plotting? How did the plot evolve through drafts?
I've always been very aware, when writing, that although a few readers might be content to admire your lovely sentences, all readers demand to be stimulated; they must wonder what will happen next, must care. Characters need to want things that they will or will not get, they need to try things that they will succeed or fail at doing. Their actions and decisions must have consequences. Having many small, personal wants and conflicts within the broader scope of larger, broader conflicts helps to keep readers turning the pages.
As for the evolution of the novel, I'm not the kind of writer who has separate drafts. I just open my story file and revise. I do remember that I had a very hard time writing the part where Dez leaves Cascade. I was tempted to just jump forward and put her in New York, but I knew I had to write through it, had to force myself to imagine how she would actually tell Asa, live with him, go to the train station, etc. I set up a work table in front of my fireplace one winter, and threw log after log onto the fire, day after day, writing through that part. Of course, it's a lovely, cozy memory now, but at the time I was mostly full of despair, fearing the book would never get through to its ending.
The idea of the postcard story, illustrating Cascade's struggles in a national magazine, seems almost quaint to readers in the age of digital publishing. How did you decide on that format for Dez's illustration? What might be a modern-day equivalent?
I didn't really decide. It just sort of came to me one day, in much the same way that it came to Dez. It seemed like a good idea. And it's really not all that different from what would happen now, is it? Dez used a medium of the time, in her case, painted postcards via a magazine, to transmit the same message, the same artwork, that she would now deliver through a blog or Web site, or some @DrowningTown Twitter account.
And yes, we are digital, but people do still send and receive paper postcards. I've just returned from an extensive trip where I pointedly noticed just how many paper postcards are still for sale out there. There are some beautiful handmade books—like Richard Russo's collaboration with his artist daughter, Kate—being created in reaction to the digital onslaught.
There's an interesting dynamic in the book between fate and the decisions the characters make and how each can shape the actions of the story. For you as the author, where does the one end and the other begin?
At this point in my life, I tend to believe that it is fated that we will face certain decisions in our lives, and that when the time comes, the choices that we do make determine our soul's growth.
You mentioned that readers have been identifying with the "drowned town" aspect of Cascade. What kinds of responses have you been getting?
Well, just as people around the country responded to Dez's postcards by sending her their stories of Dust Bowl devastation, storms, and floods, I have had readers similarly connect with me. The responses I've received range from funny to incredibly poignant. One reader told me how her grandfather, an influential attorney, incensed by the idea of eminent domain, was able to use his connections to stop their area of the Ozarks from being flooded. She wrote, "I grew up with a grandfather who told me my mission was to 'blow up all those dams.' Thank goodness I saw reason and remained a good citizen throughout my life." Other readers tell me about towns in Ohio, Texas, Rhode Island, in the Pacific Northwest, that were "up and moved, and nothing ever the same again." A woman in Texas reminds us that there are still ongoing clashes between the individual's rights and the common good: "Here in Texas we are still fighting over landowner's 'water rights,' so I guess history hasn't changed that much from the 30s era time of your book."
Dez feels she has to choose between the traditional path of wife and motherhood and her creative work. In what ways do you see women still struggling with these choices? How has your own experience (if at all) informed this theme in the book?
I definitely see women (and some men) struggling with these choices. Of course, everyone has her own story, but here's mine: I had my only daughter when I was twenty-five, much earlier than I'd ever planned to have a child. She was born with cystic fibrosis, which readers may know is a pretty devastating genetic lung disease. At the same time, I turned to freelance corporate writing, which allowed me to work at home to take care of our baby and lessen the pressure on my husband while he built his company. I put my creative writing dreams on hold until I was in my thirties, when I started to panic.
Maybe because of the daunting extra care that raising my daughter required—weeks-long hospitalizations, time-consuming daily treatments—I was very aware that children, especially in earlier times, before dishwashers and clothes dryers and fully stocked grocery stores, could easily sap a woman's energy and result in minimal artistic output.
You resist an easy happily-ever-after ending in this book. Can you talk about how you arrived at this particular way to close the novel?
I find that if you close your eyes and imagine what would really happen, rather than try to dictate a course of events, you will write truth.
Before this novel, you were a short story writer. How has the journey of developing a novel changed your writing and what are you working on now?
I grew up loving the short form and still do, but I enjoyed novel writing more than I ever expected. I take a lot of time with anything I write, and it's so satisfying to have a bound, lasting book in my hand at the end of all the effort. I'm now working on a novel about an oral historian who comes across an object in a museum exhibit, an object that had been stolen from his weak-willed father—or so he thought—when he was a boy. Currently, the story alternates between the present day and 1968 Prague, where his father had a secret affair, but that may change. What won't change: the book will be about family secrets and love and betrayal.
DISCUSSION QUESTIONS
Dez married Asa because her father was ill and bankrupt. Were there any other options for a single woman in 1934? What about for Dez specifically? How does the theme of drowning play into the first pages and continue throughout the novel?
This novel is set in the 1930s. How are world events at that time shaping the events in Cascade, both in tangible ways and in broader, less obvious ways?
Dez's attraction to Jacob is almost immediate. Why was it so easy for their relationship to grow, and how do her feelings evolve over the course of the book?
Cascade is rich with interwoven themes—of history, women's issues, art, literature, and Americana. Which of these topics interested you most and why?
When Dez was young, she wanted to be a painter like Mary Cassatt, producing artwork of mothers and their children. Why did the idea of birthing, pregnancy, and motherhood become negative for her? Do you agree with her perspective?
When trouble comes to a head in Cascade, Asa and Dez make a deal. How did you feel about this deal? Did Dez's decisions make you uncomfortable? Why?
In New York, Dez is finally exposed to the bohemian world of artists she's dreamed of. In what ways does it meet her expectations and in what ways is she disappointed by it?
Why was it important for Dez to use the pseudonym D. H. Spaulding on her important artwork? What other women in history have done (and are still doing) this? Would you have read Cascade differently if the cover had not been so beautiful, adorned with a woman's head, and if the author's name had been M. B. O'Hara?
Dez's father promised that Portia's casket held something "infinitely worth saving." Discuss the contents and how human judgment is often flawed. Did your feelings toward William Hart change at the end of the book? How do you think Dez felt?
At its heart, Cascade examines "what is a right choice?" and "who decides what that right choice is?" Discuss.
Back to Top