Read Pink the Last Camellia Reader's Guide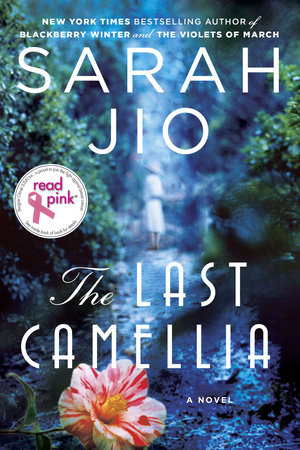 Read Pink the Last Camellia Reader's Guide
READERS GUIDE
Questions and Topics for Discussion
INTRODUCTION

"Terrific…compelling…an intoxicating blend of mystery, history and romance, this book is hard to put down." —Real Simple
On the eve of the Second World War, the last surviving specimen of a camellia plant known as the Middlebury Pink lies secreted away on an English country estate. Flora, an amateur American botanist, is contracted by an international ring of flower thieves to infiltrate the household and acquire the coveted bloom. Her search is at once brightened by new love and threatened by her discovery of a series of ghastly crimes.
More than half a century later, garden designer Addison takes up residence at the manor, now owned by the family of her husband, Rex. The couple's shared passion for mysteries is fueled by the enchanting camellia orchard and an old gardener's notebook. Yet its pages hint at dark acts ingeniously concealed. If the danger that Flora once faced remains very much alive, will Addison share her fate?
ABOUT SARAH JIO
Sarah Jio is a frequent contributor to major magazines, including Real Simple, Glamour, Cooking Light, and Redbook, and is also the health and fitness blogger for Glamour.com. She lives in Seattle with her family.
A CONVERSATION WITH SARAH JIO
Q. What inspired you to set the novel in an English manor? How is the setting essential to the story the novel is telling? You say in your author's note that you "can still see the gardens of Livingston Manor" when you close your eyes. Do you always imagine the settings for your novels so vividly?
My late grandmother, Cecilia, had a fascination with British history, which must be genetic, as I'm the same way. When I began to create this story, I could think of no other setting as perfect for the camellia orchard than the English countryside. In my research, I learned that there are a few very rare camellias in the world, one of which is housed at a conservatory in London. It fascinated me to think of plants housed in protective settings like great art, and I envisioned the Middlebury Pink camellia in the novel to be just as lovely and rare as the prized specimens in real life. And, yes, as I wrote the novel, the camellia orchard was very vivid in my mind. I loved spending time there (in my imagination) while working on the book. I have a very active imagination, so I tend to see all of my stories in this way, playing out in my mind like a film.
Q. Your other novels also follow two storylines: one set in the past, and one in the present. The female protagonists of each — in this case, Flora and Addison — always seem to have such a strong connection to one another. How do you create this kind of kinship between two characters who never meet? Have you ever felt a similar kind of draw to someone you've never met?
It's a concept I think about a lot, especially since there are many people in history who I have never met, and yet feel a kinship to. I think that looking to the past is so important-to learn about ourselves, to improve, to be inspired. I love seeing that happen (well, making that happen) in my books. There are so many great women in history that I am fond of. In particular, at this moment, I'm fascinated by the life of Margaret Wise Brown, the late author of hundreds of beloved children's books, including Goodnight Moon. Margaret wrote of a life with endless (and sometimes overwhelming) creativity. I can relate to that endless stream of ideas. But what's maddening is not having endless time to give each their attention, and I think Margaret would get this pressure. I think we'd have great conversations about it, which is why my sixth novel, out in 2014, is inspired, in part, by her life and legacy.
Q. You note in the preface that camellias have a quiet, unassuming beauty — they're not the flashiest flowers in the garden. Why are Flora, Addison, and Lady Anna all so enchanted by them? What do you think the orchard comes to symbolize for these women? Do you associate camellias with a sense of peace in your own life?
Camellias are beautiful, but in such an understated way. For the women in my novel, I think camellias came to symbolize peace and calm, safety and protection-elements that all of the women were in search of. I suppose this is true of myself, too. A camellia stood at attention on either side of my childhood home, in my mother's garden. These special flowering trees watched as I passed through the door everyday. They saw me grow from a child to a young woman. And though my parents sold the home a few years ago, those camellias will always stay with me, in my heart.
DISCUSSION QUESTIONS
How does the prologue set the stage for the rest of the novel? What does the Middlebury Pink tree mean to the old woman, who finally sees it bloom after many years? What does the tree come to mean to the other characters who search for it, care for it, and cherish it?
Does Flora take Mr. Price up on his offer only to save her family from financial ruin? Or do you think there's something else behind her decision? What would you have done in her place?
How is class portrayed in this novel? Do Rex and Addison face some of the same class-related tensions that Flora and Desmond do? How so?
In what ways is Flora set apart from the rest of the staff — and the family — at Livingston Manor? Does her outsider status offer her a deeper understanding of the people in her midst? Why do you think that might be?
What did you make of Addison's decision to leave New York and go to England with Rex? What did you think she was running from initially? Why do you think the author chose to reveal the details about Addison's past slowly, over the course of the entire novel?
Why is Sean able to wield such power over Addison? When you learned the truth about her past, how did you think Rex would respond? What did his reaction tell you about his character?
What draws Flora and Desmond together? Their connection is almost immediately a deep one. Have you ever experienced anything like that before?
Georgia inscribes her copy of The Years to Flora: "The truth of the matter is that we always know the right thing to do. The hard part is doing it." How does that sentiment apply to the novel? To Flora? Addison? Mrs. Dilloway?
Lady Anna is a constant presence in the novel, despite the fact that she has passed away before the story begins. How does the author paint a picture of her character using only the remembrances of those who knew her? Did you feel like you had a real sense of who she was by the time the book ended?
Can you understand why Mrs. Dilloway spends her entire life in service to the Livingstons? How did her loyalty to them shape her life? Why did she tell Abbott's brother and sisters not to visit him?
How did Lady Anna's unhappiness cast a shadow over life at Livingston Manor? Consider Desmond's relationship with Lord Livingston, and Abbott's hatred of Mr. Blythe. How does Addison help bring peace to the manor at long last?
Were you surprised to learn who'd murdered the girls from the village? What clues did the author offer over the course of the novel? How was the culprit able to escape suspicion for so long?
How does finally revealing the truth about her past to Rex unburden Addison? Are you confident that they'll be able to move forward with their lives now? Do you think that the bond between them is stronger now?
Back to Top