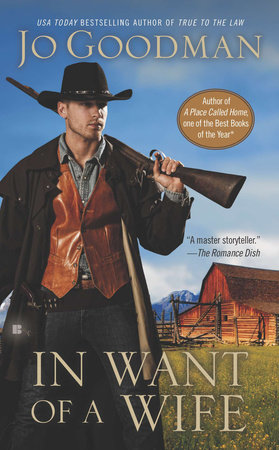 In Want of a Wife
By Jo Goodman

By
Jo Goodman
By Jo Goodman

By
Jo Goodman
Best Seller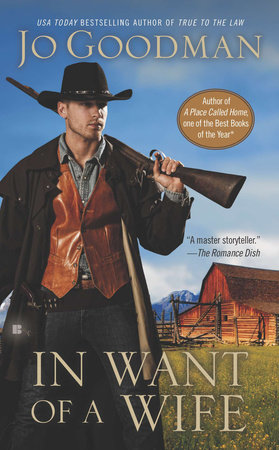 Mass Market Paperback
$7.99
May 06, 2014
|
ISBN 9780425264171
*This format is not eligible to earn points towards the
Reader Rewards
program
May 06, 2014 | ISBN 9780425264171

*This format is not eligible to earn points towards the

Reader Rewards

program
Inspired by Your Browsing History
Buy other books like In Want of a Wife
Praise
Praise for In Want of a Wife:
"Goodman makes a dazzling return trip to 1891 and the town of Bitter Springs, Wyoming…. in this page-turning historical that slyly pays tribute to Austen's Pride and Prejudice. Jane Middlebourne, the orphaned daughter of missionaries, longs to flee her bleak life in New York City. She agrees to be the mail-order bride of rancher Morgan Longstreet. Morgan is hoping for a sturdy wife who can help him run his ranch, so he's shocked by the delicate-looking woman who steps off the train. While at first the pairing seems incongruous, Jane and Morgan rapidly learn that opposites can attract, and Morgan finds that Jane is feistier than he gave her credit for being. But when Morgan's past comes back to haunt them, it could have consequences for the entire town, leading to a dramatic and engrossing finish. This first-rate tale easily measures up to its predecessors and will make readers eager for their next visit to Bitter Springs." —Publishers Weekly (starred review)

"A tender, engaging romance…a totally compelling read." –Library Journal (starred review)
"Goodman's fans will be thrilled with this newest story, a solid romance which achingly depicts…the unsettling beginning of a mail-order marriage.  Once again, her meticulous research, signature eye for the telling detail, and ear for humor in a desperate time shine." –Booklist
Acclaim for Jo Goodman's previous novels True to the Law and The Last Renegade:
"Fans of western romance will be thrilled with this delightful addition to Goodman's strong list." —
Booklist
"Simmering sexual tension, exceptional character development, and slowly revealed secrets make this a book to savor."–
Library Journal
"Humor and drama…a complicated, fast-paced, and deliciously believable story of love, sex, and secrets." —
Publishers Weekly
"
The Last Renegade
 plays out like the best classic western movies…Exceptional across the board, a sheer delight." –
Reader to Reader
"*sigh* This author remains one of my absolute favorites. She can write the hell out of a book. I read her work and feel like she values my intelligence as a reader." —
Fiction Vixen
"Jo Goodman is a master storyteller and one of the reasons I love historical romance so much….
The Last Renegade
 is an outstanding historical western …Even if American historicals aren't your cup of tea, Goodman's writing is brilliant enough to convince you otherwise. I guarantee you will not be disappointed!" —
The Romance Dish
Back to Top