Some Love, Some Pain, Sometime Reader's Guide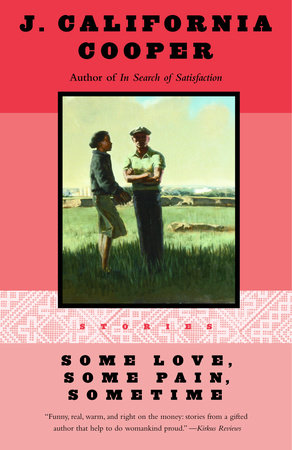 Some Love, Some Pain, Sometime Reader's Guide
READERS GUIDE
In her acclaimed novels and short stories, J. California Cooper portrays the lives of African Americans, bringing to light the impact of history, social and economic hardship, and enduring cultural strengths on the experiences of individuals and families. The questions, discussion topics, suggested reading list, and author biography that follow are designed to enhance your group's discussion of her works, which range across time and place but share the passion, humor, and wisdom that mark J. California Cooper as one of the most original and engaging storytellers of our time.
Introduction
From her first collection of short stories,
A Piece of Mine
, to the recently published
The Future Has a Past
, J. California Cooper has introduced an appealing and diverse cast of characters struggling to make the right choices and find happiness in a society that prefers light skin over dark, money over spirit. The central characters are often women entangled in a tradition of oppression and the inescapable traps of racism, sexism, and poverty. Many of the stories are narrated in the first-person, capturing the cadences of ordinary conversations and lending the stories the intimacy and resonance of gossip shared among friends. They are alive with wry observations on the human tendency toward foolish choices and impetuous behavior, a rich understanding of the small comforts that provide respite from big struggles, and a wisdom based on faith in God and in humankind's potential for goodness.
Questions and Topics for Discussion
1. Most of Cooper's stories focus on the challenges that beset women living in desperate circumstances. How does she give these stories a universal resonance, making them appealing to a variety of readers?
2. The search for love is a common theme in the stories. In addition to the romantic relationships between men and women, what other forms of love does Cooper explore?
3. To what extent are Cooper's protagonists role models? Do you think that the stories are meant to convey certain moral or ethical values?
4. In what ways do the stories in The Future Has a Past differ from those in the earlier books? Do the problems–and the dreams–of the characters reflect changes in our society? Why or why not?
5. What do Cooper's novels share with other books, both fiction and nonfiction, that you have read about the Civil War period? Do her descriptions of the relationships between African Americans and whites before and immediately following the war differ from your previous impressions or beliefs? In what ways does Cooper challenge the traditional depiction of the boundaries between slave and master, black and white? Which characters or relationships do you find particularly surprising? Are the white characters as fully developed as the African Americans are?
6. Cooper touches on a wide range of social, economic, and political issues in her writing, including the historical divisions between races and classes; interracial relationships; the significance of complexion in society in general and within the African American community specifically; and the importance of education. What techniques does she use to incorporate these subjects without disrupting the flow of the stories? In what ways can fiction be more effective than nonfiction in revealing the forces that shape our world?
7. In describing Cooper's writing, Alice Walker said, "Her style is deceptively simple and direct and the vale of tears in which her characters reside is never so deep that a rich chuckle at a foolish person's foolishness cannot be heard." How do these traits mirror classic forms of storytelling, from myths and Biblical parables to the folk stories passed down through oral traditions? Why do you think Cooper may have chosen to use these timeless techniques to tell her stories?
About this Author
J. California Cooper
is the author of five collections of short stories, three novels, and seventeen plays. She was named Black Playwright of the Year in 1978 for
Strangers
, won an American Book Award for
Home-made Love
, a collection of stories, and received the James Baldwin Writing Award and the Literary Lion Award from the American Library Association. She lives in northern California.
Back to Top