My Mother's Secret Reader's Guide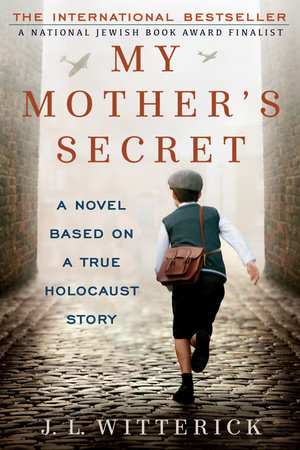 My Mother's Secret Reader's Guide
READERS GUIDE
Questions and Topics for Discussion
INTRODUCTION

Based on a true story, My Mother's Secret is a profound, captivating, and ultimately uplifting tale intertwining the lives of two Jewish families in hiding from the Nazis, a fleeing German soldier, and the clever and "righteous" mother and daughter who teamed up to save them.
Franciszka and her daughter, Helena, are unlikely heroines. They are simple people who mind their own business and don't stand out from the crowd. Until 1939, when crisis strikes. The Nazis have invaded Poland and they are starting to persecute the Jews. Providing shelter to a Jew has become a death sentence. And yet, Franciszka and Helena decide to do just that. In their tiny, two-bedroom home in Sokal, Poland, they cleverly hide one Jewish family of two brothers and their wives in their pigsty out back, another in a makeshift cellar under the kitchen floorboards, and a defecting German soldier in the attic–each group completely unbeknownst to the others. For everyone to survive, Franciszka will have to outsmart her neighbors and the German commanders standing guard right outside her yard.
Told simply and succinctly from four different perspectives, My Mother's Secret is a reminder that you don't have to be extraordinary to make a difference. You can become extraordinary by making a difference.
This book was inspired by the true story of Franciszka Halamajowa, who, with her daughter, saved the lives of fifteen Jews in Poland during the Second World War. She also hid a young German soldier in her attic at the same time. Before the war, there were six thousand Jews in Sokal, Poland. Only thirty survived the war and half of those did so because of Franciszka.
ABOUT J.L. WITTERICK
Originally from Taiwan, J.L. Witterick has been living in Canada since her family's arrival in 1968. She attended the University of Western Ontario, graduating from the Richard Ivey School of Business. My Mother's Secret is her debut novel. It is a bestseller in Canada and has been published in several countries around the world. Witterick lives in Toronto with her husband and son.
DISCUSSION QUESTIONS
At the beginning of My Mother's Secret, there is a quote from Elie Wiesel: "To remain silent and indifferent is the greatest sin of all." What do you think is the importance of this quote to the novel as a whole?
Does Helena's point of view, as Franciszka's daughter, provide different insights into Franciszka's character and motivations than the other points of view in the book?
We see many of the characters in My Mother's Secret display acts of courage and instill hope in others. What part does hope play in the characters' lives, in their actions, especially as a means of survival?
A nosy neighbor asks Franciszka why she is getting extra water from the well. Franciszka tells Helena, "We're in the middle of a war and someone has the time to wonder about why I am using so much water!" What do you think is the larger message behind Franciszka's retort? How does it reflect her moral compass?
Damian's death is heartbreaking for both Franciszka and Helena, and Helena asks, "Do we really heal stronger where we are broken?" In other words, can we fully heal from drastic hardship? Helena does not think it is possible. What do you think?
In many ways, Bronek has to grow up fast, with the death of his father and then starting his own family. What are examples of Bronek's heightened responsibilities, especially his role as protector?
In Chapter 20, Bronek says he is not a "peacemaker," like Dawid, and he punches Resnit in the nose. The theme of violence versus peace is ubiquitous throughout My Mother's Secret. Do you think Bronek equates acts of violence for a cause with his role as protector? How does his definition of his role relate to Franciszka's definition of what a protector should be?
Franciszka has to act in clever ways to ensure that the people she is hiding are not found. How do you think Franciszka balanced living in constant fear of discovery with keeping up her savvy façade, especially when hiding Vilheim?
Mikolaj asks his mother, "Why do people hate us so much, Mama?" What is your take on how this question highlights the vast inequities at the heart of World War II? Is it a question that needs asking today?
Vilheim's mother tells him before he is drafted to "Avoid as much as you can. Do not be brave. This is not a war of necessity or principle." Later, Vilheim reflects, "I always thought that courageous people were those who were not afraid. Meeting Franciszka and her daughter, I realize that courageous people are afraid like everyone else. They just act despite the fear." Can it be said that the difference between courageous people and people who cower at the thought of stepping up for what they believe is simply a matter of action versus inaction?
Who is your favorite character, or what is your favorite point of view, in My Mother's Secret? Why?
My Mother's Secret was inspired by a true story of the Holocaust and, incredibly, a story with a happy ending as well. Does the fact that the book was based on real events alter your opinion of it?
Back to Top