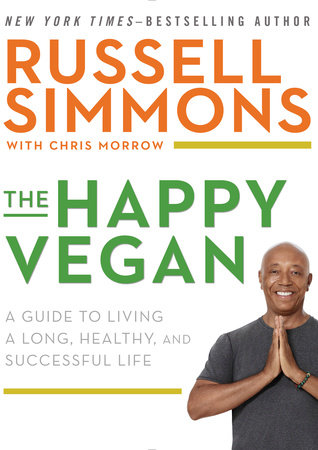 The Happy Vegan
A Guide to Living a Long, Healthy, and Successful Life
A Guide to Living a Long, Healthy, and Successful Life
A Guide to Living a Long, Healthy, and Successful Life
By Russell Simmons and Chris Morrow

By
Russell Simmons

and

Chris Morrow



By Russell Simmons and Chris Morrow

By
Russell Simmons

and

Chris Morrow



By Russell Simmons and Chris Morrow
Read by
Black Ice

and

Chris Morrow



By
Russell Simmons

and

Chris Morrow


Read by

Black Ice

and

Chris Morrow




Best Seller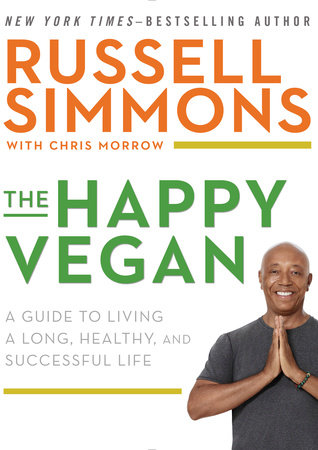 Hardcover
Nov 03, 2015 | ISBN 9781592409327
Hardcover

$20.00

Nov 03, 2015 | ISBN 9781592409327
Buy the Audiobook Download:
Inspired by Your Browsing History
Praise
Russell Simmons is . . . 

"[the symbol of] the hope shared by many that the vaunted American dream might be possible…In the same way he brought hip-hop to the public eye and shaped the cultural identity of a generation, he's found a heartfelt desire to bring new concepts mainstream…Simmons' desire to share the principles that have inspired him comes from a genuine desire to give back."
—Smart CEO
"a regular Midas man . . . He's spreading the wealth by sharing his ideas."
—Seattle Post-Intelligencer 
"the original and eternal hip-hop mogul . . . one of the most innovative and influential figures in modern American business and culture."
—New York Daily News
the "CEO of hip-hop"
—Businessweek
Praise for SUCCESS THROUGH STILLNESS
"Whether a beginner or advanced meditator, this book aims to help readers find greater clarity and focus, and become healthier in mind and body."
-Elevated Existence

"A well-written, enjoyable read for anyone who is interested in meditation, but does not know where to start."
-VeggieFans.net 

"A sacred cookbook for cultivating a satisfying, stress-free life." 
-Kam Williams  (his review ran out as a wire piece to various outlets like Insightnews.com, AALBC.com, NewsBlaze.com, Afro.com) 

Praise for SUPER RICH
"In Super Rich: A Guide to Having It All, Russell defines true affluence as a higher state of consciousness. Read this book, and tap into the infinite supply of abundance in your own being."
— Deepak Chopra, author of The Seven Spiritual Laws of Success and The Third Jesus
 
"In Super Rich, the Philosophy is sound–articulated in simple prose with assistance from journalist Chris Morrow, but filled with anecdotes, humor, and raw language that are unmistakeably Simmons's…like yogic philosophy, hip-hop is all about the power of vibration, the power of the word. Simmons emerges as the first influential voifce to make that connection for a new generation."
— The Washington Post 
 
"Simmons employs many examples from his career and personal struggles to create a platform based on sensible guidance and responsible, timeless ethics. Readers will find lots of positive, heartfelt encouragement."
— Kirkus Reviews 
 
"With personal stories [Simmons] offers insight into his personal striving for peace and posterity, and offers those willing to put in the effort an opportunity to acheive that same abundance."
— Publisher's Weekly 
 
"Simmons provides readers with the tools to schieve not only success but an enlightened state of mind."
— New York Daily News
Praise for DO YOU!
"This book is Russell's truth and if you listen to what he's saying, you'll find the inspiration and the knowledge to start the journey you want to ttake in life, too."
— Nas 
 
"Russell Simmons, the original and eternal Hip-Hop Mogul, is one of the most innovative and influential figures in modern American business and culture"
— The New York Times 
 
"With elegant simplicity, Russell offers practical steps to living a life that is joyful, creative, and fulfilling. He ingeniously presents a way of making us remember our truth. And that is our main goal in life."
— Deepak Chopra, author of The Seven Spiritual Laws of Success and The Third Jesus
 
"Russell Simmons, who rose from the hard-scrabble streets of New York to become one of the biggest names in entertainment and fashion, is a modern-day Renaissance man."
— EbonyJet.com 
 
"Russell Simmons is bank, a regular Midas man…He's spreading the wealth by sharing his ideas."
— Seattle Post-Intelligencer 
 
"Russell is the architect of what we do."
— Jay-Z 
 
"The book communicates Mr. Simmons's ideas earnestly and without condescension. One suspects he may have produced another hit."
— The Wall Street Journal 
 
"Teaches a very simple lesson–by tapping into the power inside you, you can not only get all the things you want in life, but most importantly, you can enjoy them, too."
— The Jacksonville Free Fress
—
praise for Russell Simmons
Back to Top