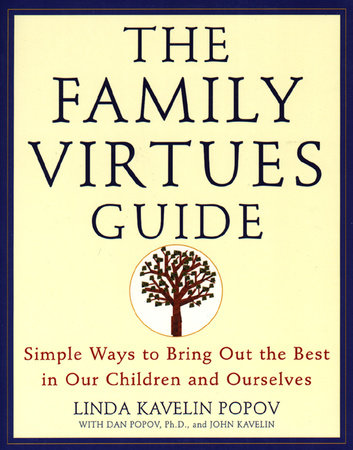 The Family Virtues Guide
Simple Ways to Bring Out the Best in Our Children and Ourselves
By Linda Kavelin Popov, Dan Popov and John Kavelin

By
Linda Kavelin Popov

,

Dan Popov

and

John Kavelin




Best Seller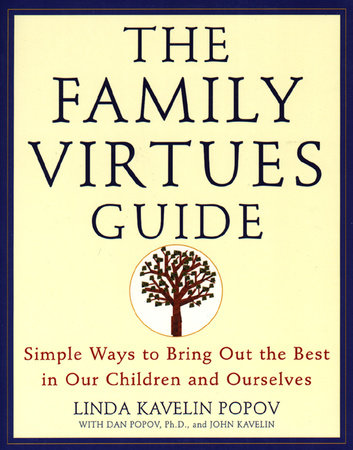 Paperback
Jun 01, 1997 | ISBN 9780452278103
Paperback

$22.00

Jun 01, 1997 | ISBN 9780452278103
Buy the Paperback:
People Who Read
The Family Virtues Guide

Also Read
Inspired by Your Browsing History
Praise
Praise for The Family Virtues Guide

"An important book for teachers and those who work with children. It teaches the importance of developing moral character."—St. Petersburg Times

"Emphasizes family virtues—those things that are valued by all faiths and cultures in the world, such as love, loyalty and courage."—Newsday
Table Of Contents
The Family Virtues GuidePreface
Introduction: How to Use The Family Virtues Guide
Chapter 1. Who Are Our Children, Really?
The Spiritual Nature of Children
The Longing for Mastery and Meaning
What Kids Are
What Kids Are Not
The Oppositis Trap
The "Chip Off the Old Block" Syndrome
Isn't Love Enough?
Chapter 2. What's a Parent to Do?
Parenting Principles and Practices in the Virtues Project

Parent as Educator
Strategy 1. Recognize Teachable Moments
From Shaming to Naming
Use Virtues, Not Labels
Change Enabling to Empowering
Avoid the Abuse of Guilt
What If Your Child Does Something Really Terrible?
Be a Teacher, Not a Preacher

Strategy 2. Speak the Language of the Virtues
Tap the Power of Language to Shape Culture
Tap the Power of Language to Transform
Use Virtues to Acknowledge
Use Virtues to Correct
Name the Act, Not the Actor
Be Specific and Accurate
Parent as Authority
Strategy 3. Set Clear Boundaries
An Educative Model of Authority
Give Children R&R: Routines and Rituals
Ten Guidelines for Establishing Family Ground Rules
Give Choices Within Boundaries
Set Boundaries When Virtues Are Violated
Set Boundaries to Prepare Children for New Situations
Four Principles of Discipline
Parent as Guide
Strategy 4. Honor the Spirit
Share Your Skills
Share Your Family Stories
Create Routines of Reverence
Mark Special Times with Special Rituals
What About God?
Parent as Counselor
Strategy 5. Offer the Art of Spiritual Companioning
What About Feelings?
Help Children to Make Moral Choices
Open the Door
Offer Receptive Silence
Ask Cup-Emptying Questions
Focus on Sensory Cues
Ask Virtues-Reflection Questions
Ask Closure and Integration Questions
Offer Virtues Acknowledgments

Chapter 3. How To Apply the Virtues Family Guide in Your Family
Introducing the Virtues Project to Your Children
Suggestions for Getting Started
Set a Time to Meet
Open with Something Simple and Reverent
Describe the Family Virtues Guide
Choose a Virtue to Practice This Week
Practice Moderation
How to Hold a Family Virtues Meeting
Balance Creativity and Order
A Sample Agenda
Keep It Positive
Keep It Simple and Sacred
Practice Reverence with a Sharing Circle
Apply Creativity and Joyfulness
Review the New Virtue of the Week
Create Peacefulness with a Closing Ritual
Act with Tact

Virtues: The Gifts Within
Assertiveness
Caring
Cleanliness
Compassion
Confidence
Consideration
Courage
Courtesy
Creativity
Detachment
Determination
Enthusiasm
Excellence
Faithfulness
Flexibility
Forgiveness
Friendliness
Generosity
Gentleness
Helpfulness
Honesty
Honor
Humility
Idealism
Joyfulness
Justice
Kindness
Love
Loyalty
Mercy
Moderation
Modesty
Obedience
Orderliness
Patience
Peacefulness
Prayerfulness
Purposefulness
Reliability
Respect
Responsibility
Reverence
Self-discipline
Service
Steadfastness
Tact
Thankfulness
Tolerance
Trust
Trustworthiness
Truthfulness
Unity

Scriptural References
Bibliography
Appendix A. Discussion Exercises
Discussion Exercise 1: Oppositis – "It Doesn't Matter."
Discussion Exercise 2: From Shaming to Naming
Discussion Exercise 3: Recognize Teachable Moments
Discussion Exercise 4: Ready or Not
Discussion Exercise 5: Virtues Acknowledgments
Discussion Exercise 6: Virtues Corrections
Discussion Exercise 7: The Power of Consistency
Discussion Exercise 8: What Difference Can a Ground Rule Make?
Discussion Exercise 9: Give Choices within Boundaries
Discussion Exercise 10: What's Wrong with This Picture?
Discussion Exercise 11: A Family Values History
Discussion Exercise 12: A Confidence History
Discussion Exercise 13: Spiritual Companioning with Children

Appendix B. The Dos and Dont's of Bringing Out the Best in Our Children and Ourselves
Appendix C. How to Make a Virtues Tree Felt Board
Appendix D. Programs and Materials of the Virtues Project; World Wide Web Site
About the Authors
Back to Top