The Ghost Walker Reader's Guide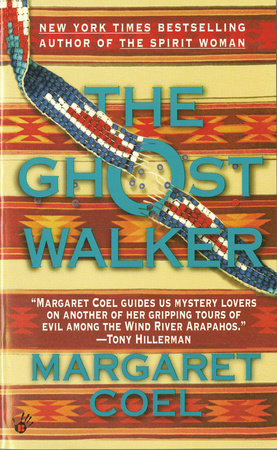 The Ghost Walker Reader's Guide
READERS GUIDE
Questions and Topics for Discussion
INTRODUCTION
The Ghost Walker
Father John O'Malley comes across the corpse lying in a ditch beside the highway. When he returns with the police, it is gone. The Arapahos of the Wind River Reservation speak of Ghost Walkers—tormented souls caught between the earth and the spirit world, who are capable of anything. Then, within days, a young man disappears from the Reservation without a trace. A young woman is found brutally murdered. And as Father John and Arapaho lawyer Vicky Holden investigate these crimes, someone—or something—begins following them. Together, Vicky and Father John must draw upon ancient Arapaho traditions to stop a killer, explain the inexplicable, and put a ghost to rest. . .
ABOUT MARGARET COEL
Margaret Coel is the author of four nonfiction books and many articles on the people and places of the American West. Her work has won national and regional awards. Her first John O'Malley mystery, The Eagle Catcher, was a national bestseller, garnering excellent reviews from the Denver Post, Tony Hillerman, Jean Hager, Loren D. Estleman, Stephen White, Earlene Fowler, Ann Ripley and other top writers in the field. A native of Colorado, she resides in Boulder.
Related Titles
The Lost Bird
0425170594
After the murder of an elderly priest—Father John O'Malley's assistant on the Wind River Reservation—Father John thinks the bullet was meant for him. Father Joseph had been driving John's old Toyota right before he was killed. Consumed with anger and guilt, Father John is determined to find the murderer. Along the way, he teams up with Arapaho lawyer Vicky Holden when they discover Father Joseph had ties to a case of Vicky's, once again putting their lives in danger.
A CONVERSATION WITH MARGARET COELWhat kind of books do you like to read?
Everything. I'm a thoroughly addicted reader and have been as long as I can remember. For me, starting a new book is always like setting out on a new adventure. I never know what I may encounter on the way, and I can't wait to find out. Currently, I belong to two book discussion groups. What does that tell you?
Why do you write mystery novels?
I believe in the old saying: write what you love to read. While I read different kinds of books, I love to curl up with a good mystery. The only thing more fun than reading a mystery, in my opinion, is writing one.
Why write about the Arapahos?
Because I find the Arapaho culture and history endlessly rich and fascination. It's my hope that, as readers come along for the mystery, they will also come to appreciate a very interesting people.
Where do you find the plots for your mystery novels?
The newspapers. My plots are based on actual events and real issues. The plot for The Dram Stalker comes from efforts of the Federal government to place interim nuclear storage facilities on Indian reservations. The facilities can mean millions of dollars to a reservation. That kind of money could lead to murder, I decided, and to a good murder mystery plot.
How do you go about writing your novels?
Once I get the idea for the plot, I let it percolate until the main events begin to take shape in my mind. I start thinking about how Father John and Vicky will react, what they will do. At that point, I start outlining the book. A broad outline, at first. Then I break it into chapters. By the time I start the actual writing, I have the novel pretty well in hand. Of course, the unexpected can always happen. Father John and Vicky can be very independent—they can decide to do something other than what I had planned. That's when writing is the most fun.
DISCUSSION QUESTIONS
As an outsider, how does Father John adapt to the Arapaho culture? What particularly holds him and makes him want to stay at St. Francis?
 
In what ways does Father John believe the Arapaho culture to be similar to his own? In what ways does he think it different?
 
How does Father John's background and sensibilities help him solve the mystery?
 
What conflicts are presented to Father John by his vocation as a priest? How does he attempt to handle them?
 
Discuss the role of addictions in this novel. Many characters are addicts of one type or another. How do the various addictions influence the plot?
 
In what way is Vicky Holden an outsider? How do her background and experiences help solve the mystery?
 
Both Father John and Vicky are what the Arapahos call edge people. How are they affected by being edge people?
 
What are the flaws that have kept characters like Ned Cooley and Jasper Owens from being the persons they might have been, given their privileged backgrounds?
 
What is the significance of the title, The Eagle Catcher? How does the theme of the eagle catcher run through the novel? In what way is Father John an eagle catcher?
Back to Top