The Unknown Errors of Our Lives Reader's Guide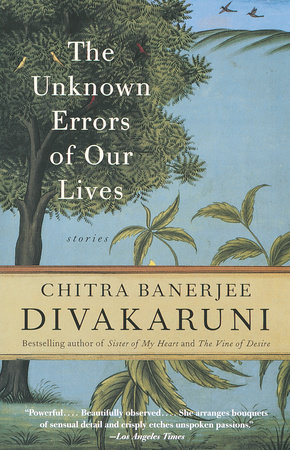 The Unknown Errors of Our Lives Reader's Guide
READERS GUIDE
The introduction, discussion questions, suggested reading list, and author biography that follow are intended to enhance your group's reading of Chitra Banerjee Divakaruni's
The Unknown Errors of Our Lives
. In this collection, the award-winning poet, novelist, and storyteller depicts with great sensitivity the universal truths about both the limits and the expansive possibilities of human relationships.
Introduction
Frequently torn between memories of the traditions and families they have left behind in India and the new, modern lives they are creating in America, Divakaruni's strong central characters are poised on emotional precipices as they confront pivotal decisions: Mrs. Dutta, the aging Indian grandmother from Calcutta trying to find her place in her son's home in San Francisco; Didi, who is attempting to reconnect–physically and emotionally–with her brother since they immigrated separately to America; Leela, the young woman who visits India for the first time hoping to uncover the secrets of her own soul; Monisha, the young mother who must decide whether or not to let her estranged father meet his only grandson; Aparna, whose near-death illness triggers unknown, powerful feelings within her; Didi, the abused child torn by her conflicting family loyalties; Mira, who discovers that the face of love is not what she had expected it to be; the young bride-to-be, Ruchira, who heads into her marriage supplied with secret knowledge about her husband; and Khuku, the mother who tries to recapture her own youth in India by bringing her young sons to the village in which she was raised. The resolute hopes and dreams of Divakaruni's memorable characters resonate across cultural and geographic boundaries, and her stories ring with both the zeal and the anguish of living.
Questions and Topics for Discussion
I. For discussion of "Mrs. Dutta Writes a Letter"

1.Despite being manifested in very different ways, how do Mrs. Dutta's and Molli's approaches to life in America essentially reflect the same pride in their Indian heritage? What else do these two women have in common?

2.Is Mrs. Dutta motivated on some level by revenge or jealously when she defies Molli's household rules? What does Mrs. Dutta's fleeting thought: "Maybe Shyamoli's doing the right thing, after all. . . ." [p. 28] reveal about how she views her own life?
II. For discussion of "The Intelligence of Wild Things"

1.What does the "intelligence of wild things" symbolize?

2.Can the characters find their "way back across the immigrant years, across the frozen warp of the heart" [p. 50]? If so, how?

3.How much of what Didi is trying to recapture is lost childhood, and how much is lost culture? How does this compare to what the mother is looking for in "The Names of Stars in Bengali"?
III. For discussion of "The Lives of Strangers"

1.What is Leela afraid of? Is it this fear or something else that drives her to break up with Dexter? To attempt suicide? To reject Mrs. Das?

2.What is Leela hoping to find in India? Is she on a private pilgrimage of a different sort than the Hindu women?

3.How does the concept of "destiny" [p. 74] differ in America and India? What does this mean to Leela?
IV. For discussion of "The Love of a Good Man"

1.Does Monisha finally come to terms with her mother's death by forgiving her father?

2.Does the phrase that Monisha overhears her father say to Dilip–"except regret" [p. 111]–serve as an apology or as a warning to her?

3.Who is the "good man" to whom the title refers, and does it perhaps refer to more than one man? And what does it mean to be "good"?
V. For discussion of "What the Body Knows"

1.What is Dr. Michaels to Aparna, and what is she to him? Is there more to their relationship than is immediately apparent?

2.This is the only story of the collection that does not directly mention the characters' Indian heritage or refer to India at all. Are the characters different from those in the other stories? In what ways might they be described as more American? Are there distinctly Indian characteristics that Aparna and Umesh possess?
VI. For discussion of "The Forgotten Children"

1.Was Didi's mistake her betrayal of her brother, or how she fooled herself? Was it just inevitable that her brother not be allowed to live the "fantasy"?

2.How is the title of the story ironic?

3.In contrast to "What the Body Knows", this is the only story set solely in India and in which America is not mentioned at all. In what thematic or stylistic ways does this feature set this story apart from the others?
VII. For discussion of "The Blooming Season for Cacti"

1.Why does Mira sleep with Ajit? What are the different roles women play vis-a-vis men and society as represented by the different female characters in this story? How does society treat women differently in Bombay, Texas, and California? Is Mira's relationship with Radhika the only way for them to become truly liberated from the traditional roles they are expected to play?
VIII. For discussion of "The Unknown Errors of Our Lives"

1.How does Ruchira's and Biren's imminent marriage reflect a combination of traditional Hindu and modern American practices? Where does Arlene fit into this unique mixture and what does she represent?

2.Is Ruchira's decision to go forward with her marriage after having met Arlene understandable? Why does she choose to do so? How does this choice affect her?

3.If Ruchira could get back her "book of errors" [p. 211], what might she write in it now?
IX. For discussion of "The Names of Stars in Bengali"

1.How does the different narrative style that Divakaruni employs for this story, e.g., the anonymity of the characters, the frequency of phrasing sentences as questions, affect the tone?

2.What is the role of religion in traditional Indian village life? Has the mother lost her faith in this religion entirely?

3.The mother in this story wants to ask: "How does one remake oneself?" [p. 266] What is she hoping to learn?
X. For discussion of The Unknown Errors of Our Lives

1.How does each story reflect the paradox conveyed by the title phrase "unknown errors"? How much control do the characters in the stories have over the directions their lives take, and how much is predetermined by fate?

2."Families were not for fun. They were for feeding and clothing and teaching children, so that they would, in turn, be adequately equipped to feed and clothe and teach their children" [p. 259]. Does this statement accurately reflect the portrait of Indian family life that emerges in this collection, and how does it translate into the portrait of family life experienced by American immigrants? Which elements of family life in India are preserved and which are lost? How do family ties and the nature of family loyalty change in the process of immigration?

3.In "The Names of Stars in Bengali," the mother laments over "what America had leached away from her" [p. 255]. Does this describe the process of assimilation? Is it necessary for an individual to lose something of his or her original culture in order to adapt to a new culture and, once immersed, are the old ways lost for good? How do the first-generation immigrant characters contrast with those born in America, such as Ajit, who had "a certain trustfulness about him that makes it clear he has never lived anywhere except America" [p. 189]? Can the characters reconcile the tension between their burden of legacy and their desperate need to preserve roots?

4.How does the concept of "home" vary for the different characters? For example, what does "home" mean for Didi in "The Intelligence of Wild Things" or Khuku in "The Names of Stars in Bengali"? Is "home" a physical place, an intangible feeling, or possibly a combination of both?

5.How do the different moods of each of the stories change with the various geographical settings of the stories: from Calcutta and Bombay, to the villages of India, to California, to Vermont? How do the characters' emotions reflect the shifting landscapes of their lives?

6.A recurring theme in each of the stories is fantasy versus reality. How do the characters' fantasies illustrate what each person wants to remember about her life and what she wants to forget? What are their different motives for hiding certain truths from themselves or others? How do the main characters choose to respond to their own fantasies, and what does this choice say about their characters? Compare, for example, Leela's fantasies [p. 75] with Aparna's [pp. 135-6].

7.Many of the characters also have difficulty communicating with the people closest to them. Why is bridging this communication gap so challenging for Mrs. Dutta and her son ("Mrs. Dutta Writes a Letter"), Didi and her brother ("The Intelligence of Wild Things"), Leela and her parents ("The Lives of Strangers"), Monisha and Dilip ("The Love of a Good Man"), and the mother visiting her village ("The Names of Stars in Bengali")? How is the breakdown of communication caused or affected by the immigrant experience? By geographical distance? By generation gaps? What finally opens the gates of communication for these characters?
About this Author
Chitra Banerjee Divakaruni
has published four volumes of poetry, including the award-winning
Leaving Yuba City
, which includes a story which was awarded a Pushcart Prize and a story which won an Allen Ginsburg Prize. Her novel
Arranged Marriage
was awarded the PEN Oakland Josephine Mills Prize for Fiction, the Bay Area Book Reviewers Award for Fiction, and an American Book Award from the Columbus Foundation.
The Mistress of Spices
was short-listed for the Orange Prize (England) and chosen by the
Los Angeles Times
as one of the best books of 1997. Her work has appeared in
The New Yorker
,
The Atlantic Monthly
,
Ms.
,
Best American Short Stories 1999
, and other publications. Divakaruni was born in India and came to the United States in 1976. She lives in the San Francisco area with her husband and two sons.
Back to Top