The Feather Thief Reader's Guide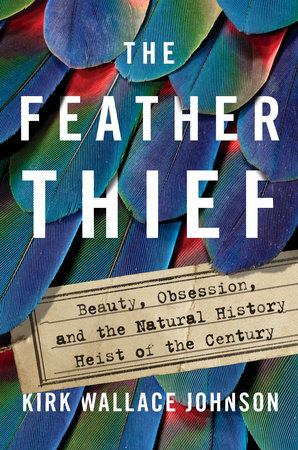 The Feather Thief Reader's Guide
READERS GUIDE
Introduction
"Little did I know, my pursuit of justice would mean journeying deep into the feather underground, a world of fanatical fly-tiers and plume peddlers, cokeheads and big game hunters, ex-detectives and shady dentists. From the lies and threats, rumors and half-truths, revelations and frustrations, I came to understand something about the devilish relationship between man and nature and his unrelenting desire to lay claim to its beauty, whatever the cost." (pages 9–10)
The Feather Thief tells the true story of a crime stranger than fiction: the theft in 2009 of hundreds of bird skins by an American teenager named Edwin Rist. Rist, a gifted flautist who was studying music at the Royal Academy of Music in London, had one driving obsession: he had been perfecting for years the obscure art of Victorian salmon fly-tying, practicing for hours on end, competing at championships, and striking up online friendships with other master fly-tiers. He was heralded as a prodigy by the fly-tying community. But the fanciest, most beautiful flies of them all required rare feathers that only the very wealthiest of tiers could possibly afford, and Rist's student budget wouldn't cut it. "Ever since he tied his first Victorian fly," author Kirk Wallace Johnson tells us, "his pursuit of perfection behind the vise had been defined by struggle; he'd made do with unconvincing substitute feathers, while watching wealthy tiers outbid him at auctions of exotic birds. Despite his fame in the community, there were so many flies that he still hadn't tied" (page 92).
Brash and resourceful, Edwin came up with a plan. He knew that hidden away in the depths of the British Natural History Museum were millions of dollars' worth of rare bird skins, some of which had been collected in the mid-nineteenth century by a scientific explorer named Alfred Russel Wallace. Armed with a glass cutter, latex gloves, and a flashlight, Rist sneaked into the museum late one night, leaving with a suitcase full of bird skins—and, seemingly, not a drop of remorse. With more than enough materials to last him for a lifetime, he began selling some of the feathers on the Internet for exorbitant amounts.
It took over a month for the museum to realize they had been robbed. More than a year later, Edwin was finally tracked down and arrested, but he got away with just a fine and a suspended sentence of one year—he never spent a night behind bars. The crime went largely unnoticed outside the natural-history and fly-tying worlds until 2011, when Johnson happened to hear about it in passing. He had taken up fly-fishing as a way to escape the pressures of nearly a decade of working to help Iraqis who had become refugees as a result of their affiliation with the United States during the war (Johnson was the government official in charge of rebuilding Fallujah). His fly-fishing guide mentioned the crime while the two were waist-deep in a river in northern New Mexico, and Johnson's interest was piqued. Why was Edwin still walking free? Why were there no real repercussions for his crime? Why hadn't such a bizarre case received more media attention? And where were the missing birds?
Johnson began reading everything he could about the case. His investigation would last six years and take him around the world. Like Rist, he was a man obsessed. The more he learned about the curious "feather underground"—the under-the-radar subculture of fly-tiers who bought and sold exotic and illegal feathers on eBay and private online forums—the more determined he became to track down the birds that were still at-large and return them to the museum. "Here were humans bound across centuries by the faith-based belief that these birds were worth preserving," writes Johnson of the scientists and historians who had preserved Charles Darwin and Alfred Russell Wallace's bird skins in the museum for generations of researchers. "That they might help future generations, trusting that the march of scientific progress would forever present new ways of looking at the same ancient skins. In the other current ran Edwin and the feather underground, and the centuries of men and women who looted the skies and forests for wealth and status, driven by greed and the desire to possess what others didn't" (page 241).
Johnson's investigation into Rist's crime is as compulsively readable as a thriller, as readers turn the pages in the hopes of finding out what really happened to those stolen feathers and whether they were ever returned to their rightful place in the museum. But The Feather Thief is more than just an account of one man's journey to solve a mystery. It's also a harrowing, deeply bizarre story of obsession, greed, and environmental destruction that's impossible to stop thinking about.
Questions and Topics for Discussion
1. The Feather Thief shines a spotlight on the dark, illegal underbelly of a seemingly innocent hobby: fly-tying. Why do you think fly-tiers are so obsessed with rare bird feathers?
2. Many of the fly-tying community's conversations and transactions take place online, from discussion forums to eBay to Facebook. In what ways do you think the Internet enables these types of obsessions? Do you think Rist would have pulled off his heist—or even attempted it in the first place—without the resources of the Internet?
3. The story of the actual crime is recounted in just a few chapters, but the tension remains high throughout the book. How does Johnson maintain suspense and keep readers hooked? What was the most suspenseful part for you?
4. Why do you think Johnson chose to include the story of his own investigation, as well as the historical and scientific context for the feather craze, in the book? What do you think the mix of genres accomplishes that a straightforward true-crime narrative might not?
5. Rist's lawyer described the theft of the bird skins as "a very amateur burglary" (page 133), and yet Rist wasn't caught for more than a year and a half. Would you agree with the characterization of his theft as amateurish? Do you think he planned his infiltration of the museum well, or did he just get lucky?
6. Although Rist was eventually caught, he was subsequently released without ever having to spend a night behind bars, thanks in large part to a diagnosis of Asperger's syndrome. Do you think his case should have been handled differently? If so, how?
7. Were you surprised to hear that Edwin Rist finally agreed to speak with Johnson, after multiple refusals? Why, in your opinion, might he have chosen to do so?
8. Johnson experiences a range of emotions when interviewing Long Nguyen, from concern to frustration to annoyance to sympathy. How did you feel about Nguyen's actions, before and after the theft? Did you sympathize with him? How would you have acted differently?
9. Johnson tells us that bird populations in twenty-six states dropped by nearly half from 1883 to 1898 as a result of a "feather fever" taking over fashion. "Before the Hermès bag or Louboutin heel," Johnson tells us, "the ultimate status indicator was a dead bird" (page 43). Can you draw any parallels with trends today, in fashion or otherwise, that are destructive to our environment?
10. Rist's theft was an extremely serious crime, in part because of the immense loss to the scientific record, and yet it's also an extremely strange one. Before reading this book, would you have ever believed that someone would break multiple laws in order to steal feathers? Does it remind you of any other crimes that seem incomprehensible to outsiders?
Back to Top