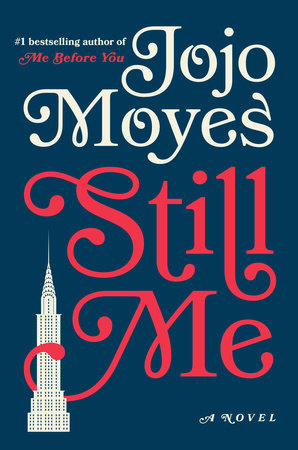 READERS GUIDE
Introduction
An Introduction to
Still Me
Still Me
marks the third and last installment in Jojo Moyes's bestselling trilogy featuring the delightful Louisa Clark. Readers fell in love with Lou's story in
Me Before You
, and followed her as she picked herself up in the pages of
After You
. Full of Moyes's irresistible charm and true-to-life characters who leap off the page,
Still Me
continues Lou's story as she heads to the exciting—though sometimes overwhelming—city of New York.
Live boldly.
Lou promised Will she would put his words into practice, but after his death, she was consumed by an all-compassing grief, nearly incapacitated by her broken heart. Slowly, slowly, Lou finally made her way through to the other side, with the support of her family and her kind and brave boyfriend, Ambulance Sam. Now, with a still-healing heart, she's finally worked up the courage to move beyond her comfort zone. With help from her friend Nathan, she accepts a job working for Agnes Gopnik—the much-younger second wife of a fabulously wealthy New York businessman. Lou packs her suitcase, says goodbye to Sam and her family, and heads to America, ready to take on whatever life throws her way.
But Lou quickly realizes that her role as a personal assistant to Agnes is far more complicated than she could ever have anticipated. At odds with her temperamental stepdaughter, and alienated from the elite social circles by the judgmental, gossipy friends of her husband's first wife, Agnes is constantly anxious and upset as she struggles to fit into New York society. Beyond coordinating impossibly hectic family schedules, ferrying Agnes around town, and maintaining the household peace, Lou realizes that what Agnes truly needs is a friend and confidante, and quickly becomes just that.
Juggling her responsibilities at the Gopnik household is no easy task, though, and it's made harder still as Lou's attempts to balance her New York life and a long-distance relationship with Sam—and her efforts in both worlds seem like they're constantly falling short. Soon though, Lou finds a home-away-from-home in a fabulous vintage clothing store, chances upon a mentor in Margot De Witt, her fashionable if prickly next-door-neighbor, and meets a romantic New Yorker, Josh Ryan, who shows her just how seductive New York can be. Everything seems to be unfolding for her when Lou suddenly finds herself caught in the middle of a life-changing secret. Faced with a difficult decision, Lou must dig deep to remain true to herself and decide what matters most in order to follow her heart.
Questions and Topics for Discussion
1. In NYC, Lou meets Josh Ryan, Will's charming—and very much alive—doppelganger. Understandably, Lou is enchanted by him, and their friendship quickly evolves to something more, until Lou comes to her senses. If you were in Lou's shoes, would you have wanted to connect with Josh, or would you have stayed away specifically because the similarities with Will Traynor were so clear?
2. Sam and Lou's relationship is strained because of the long distance between them, though they try to make it work. Have you ever been in a long-distance relationship? Did it work out? Why or why not? How do you think Lou and Sam could have done better by each other in the relationship?
3. Margot De Witt is the epitome of a difficult neighbor, or so it appears, until Lou has the opportunity to get know Margot better. Soon, Lou realizes that Margot has an incredible life story, and that they in fact share a love of fashion and clothes. Have you ever had to reconsider your perceptions of someone once you learned more about him or her? Might you have disregarded someone who later became a friend? If so, what happened?
4. Still Me is Lou's story, but it also tackles themes of class, reinvention, and rediscovery. How do these themes appear in the book?
5. As Agnes's personal assistant, Lou must take on any number of tasks—from scheduling her calendar to attending social events as Agnes's "friend." But Lou also finds herself caring for Agnes's psychological wellbeing. Have you ever been in a relationship—through work, a friend, a partner, or family—in which you were the one doing most or all of the emotional labor?
6. Lou comes to New York as an outsider who is fascinated but also slightly daunted by the bustling, hustling city. Did her "fish out of water" story ring true to you? What did you learn about living in New York City that you'd never known before?
7. When Lou must choose how she wants to live, she must choose between life in England versus New York, an uber-wealthy world in which she is a bit of a hanger-on versus a less-glamorous life in which she immerses herself in the funky world of vintage fashion. Were you surprised by her choices?
Back to Top