Cooking for Picasso Reader's Guide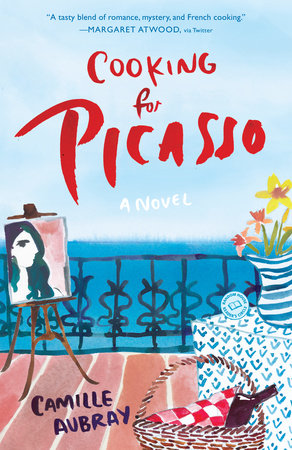 Cooking for Picasso Reader's Guide
READERS GUIDE
A CONVERSATION WITH CAMILLE AUBRAY
The first question most people ask me about my novel
Cooking for Picasso
is usually, "Where did you get the idea for this story?" And I can't help thinking, "The inspiration was right there on the French Riviera just waiting to be noticed, so perhaps it found me!"
It all began in Antibes. While traveling along the bright blue Mediterranean coast with its glittering sea, I glanced up at an enormous image of a face on a museum banner, staring back at me with dark, compelling eyes. It was Pablo Picasso, and the museum banner was for the famed Château Grimaldi. I learned that, shortly after the Second World War ended, when paint and canvases were in short supply, Picasso had painted murals upon those very walls and whatever other surfaces he could find. Now this castle is called the Musée Picasso.
"Who are you looking for?" his challenging gaze seemed to ask. And soon enough my answer was, "You!"
For, in researching Picasso's many years of residence on the Côte d'Azur, I discovered a true but little–known fact: in 1936, Pablo's life in Paris was in such utter turmoil that he'd actually stopped painting. His wife, Olga, the Russian ballerina, discovered that Picasso's young mistress, Marie–Thérèse, had given birth to a daughter. Olga began separation proceedings, and once the lawyers got involved, the endless legal wrangling was just too much for anybody, let alone a highly sensitive soul like Picasso; because, perhaps more than other artists, for him the personal life and the professional life were indelibly intertwined. Stressed out and desperate for relief, Pablo secretly slipped out of Paris by train. The surname of Picasso is actually his mother's family name; so now he traveled under his father's surname, Ruiz, as a way to remain anonymous. The mysterious Monsieur Ruiz rented a villa in the seaside town of Juan–les–Pins during the less–touristy season of spring. No one knows for sure what happened during this reclusive interlude—-but whatever it was, it enabled him to pick up his brush and begin painting again. Within a year he would produce his masterpiece, Guernica.
That little biographical tidbit was enough to set my imagination on fire. Furthermore, as I delved into the unusual artwork that Picasso created during this interval, I learned another intriguing detail: he'd made a pair of paintings of a dark–haired, unidentified woman. People still wonder today—-who was she? Because of her hair color, some say she was the photographer Dora Maar who was soon to -become Pablo's new mistress and muse. Others say it was the brunette sister of Marie–Thérèse. But I knew exactly who that enigmatic model was—-my heroine, for I now felt free to invent a fictional -character.
Surrounded by the irresistible cuisine of the South of France, with its prodigious food markets and its lively cafés, I asked myself one key question: Who fed Pablo Picasso? If he was in hiding, he'd be careful about dining out too often and being recognized. So, who cooked for him?
As I roamed the village of Juan–les–Pins and its cafés, I envisioned a local girl, Ondine, riding a bicycle with a hamper of food, pedalling to the beautiful surrounding villas, with their high stone walls spilling over with flowers—-and secrets. I imagined that my young heroine's Provençal cuisine and her very presence would be the flame that reignited Picasso's creative fervor; and that he, with his brilliance, forceful personality and absolute dedication to his work, would in turn inspire Ondine to greater risks and heights. Bouillabaisse, bourride, tapenade, pissaladière, tartines, daube de boeuf à la provençale . . . these iconic dishes all found their way into my novel at key moments in the story. Meanwhile my readers would meet some of the Côte d'Azur's most famous residents: Henri Matisse, Jean Cocteau, and of course, Picasso's women.
For, as one of the characters in my novel says, "Picasso changed houses as often as he changed women." Going up and down the coast of the French Riviera and its hilltop villages, you can pick out multiple towns where Picasso lived for various periods—-with various ladies. My research took me from the beaches and cafés of Antibes and the fishing town of Juan–les–Pins, to the food markets and mu-seums of Nice, Ménerbes, Golfe–Juan, Cannes. And, of course, to the pottery town of Vallauris, where Pablo lived with his mistress, the artist Françoise Gilot. It was all so intriguing, for, as another of my characters in
Cooking for Picasso
says, "There was a lot of overlap with Picasso's women—-he kept them on the hook and played them against one another."
In writing about my heroine Ondine, I wondered, how would she survive her intense encounter with Picasso? I knew the impact would be life–changing, so I decided to follow her—-and Picasso—-through the years, revealing other crucial moments that helped Ondine to mature into a courageous adult whose ambitions intersected with Picasso at times that were also greatly significant in his life. And, in following Ondine's lifetime, it was natural for me to think about how her adventures with Picasso might also affect her daughter, Julie, and even her American grand–daughter, Céline. This finally led me to the hilltop village of Mougins, where Picasso lived with his second (and last) wife, Jacqueline, in a house they called Notre Dame de Vie. Here the great artist died in 1973. Mougins has for decades been a center of gastronomie, so it was a perfect locale for my novel.
Drawing on my experiences writing and producing for film and TV, I envisioned Ondine's modern–day grand–daughter as a freelance Hollywood makeup artist who feels compelled to find out what happened when her Grandmother Ondine crossed paths with Pablo Picasso. So Céline enrolls in a cooking–class–travel–package deal, held at a mas hotel in Mougins, run by a fictional, attractive but temperamental British chef. Unlike her Grandmother Ondine, Céline has no natural talent for cooking, and this will sorely try the patience of her Michelin–starred chef. But Céline and Gil find other reasons to overcome their mutual wariness and to help each other.
For my research about the subtleties of French and Provençal cuisine, I sought out several French chefs on the Riviera who graciously invited me into their kitchens, as well as the generous Jacques Pépin, onetime chef to Charles de Gaulle and now a revered tele-vision personality—-who told me that my novel made him homesick for his mother's coq au vin. I found these brilliant artists of cuisine to be more soulful, modest and practical than popular culture imagines great chefs to be.
All of the artwork that I describe in my novel was really made by Picasso, except for one that I invented—-the portrait of Ondine, the Girl-at-a-Window. But this was indeed based on the painting that Rembrandt made in 1645 with the same name. Picasso was often inspired to do his own versions of the masters, especially Rembrandt.
Following in Picasso's footsteps on the Côte d'Azur led me to richer experiences than I could possibly have imagined when I first began my journey. To this day there are enduring signs of his vitality, his art and his verve, in the many statues, paintings, pottery and -murals he bequeathed to the various towns and their museums. All you have to do, as the French author and Riviera resident Colette once advised, is, "Regarde!" Yes, just "Look!" Readers have already begun to tell me, "I took your book along with me, as a travel guide speaking in the voice of a trusted friend."
And so merci, Picasso, for helping me to connect with all these kindred souls who, like me, can't resist the lure of la joie de vivre on the French Riviera.
Questions and Topics for Discussion
1. In the early chapters of Cooking for Picasso, long before we actually see Pablo Picasso, we hear a lot about him when the heroine Ondine talks to her parents. What does she observe later from his eating -habits, the letter he wrote to his friend in Paris, and the note he left for Ondine on the table? What do you remember most from that moment when Ondine actually meets Picasso for the first time?
2. When you learned of Picasso's childhood through his eyes, did this change your view of him? What made him feel guilty about his ambition and dedication to his art? What is causing him the stress that made him stop painting?
3. How would you describe the different personalities of Ondine, -Julie and Céline? What are the roots of the family's tensions? What legal and financial complications make it impossible for Céline to help her mother?
4. When Céline and her Aunt Matilda begin their cooking class in Mougins, what causes Céline to immediately get off on the wrong foot with Chef Gilby Hallliwell? Why is secrecy necessary for Céline's quest? Why do Céline and Gil have trouble trusting each other? What draws them together in spite of their wariness?
5. Ondine's life takes an unexpected turn just when she is getting more confident about Picasso. What were your feelings about Luc? Did you feel relief or apprehension about what impact he might have on Ondine's life? Did you later feel that your instincts were correct?
6. Céline's visit to a French lawyer results in a startling revelation about her Grandmother Ondine's death. How does what Céline learns from Monsieur Clément change everything for her? And what does this revelation tell the reader about Ondine's fate?
7. Try making a list of all the paintings mentioned in the novel and looking them up on the Internet. (The only fictional painting in the novel is Picasso's portrait of Ondine called Girl–at–a–Window.) What do you feel about the artwork that Picasso produced during this mysterious interlude?
8. Discuss the impact of Ondine's return to France on her daughter Julie. How does seeing familiar things and people feel different to the reader when we view it all through Julie's eyes?
9. After the Second World War, Picasso comes back into Ondine's life. What has happened to them both with the passage of time? How does this encounter strengthen Ondine's resolve to do something to help Julie?
10. What makes Céline finally open up to her Aunt Matilda and bring her along to visit the fortune–telling neighbor Madame Sylvie? How did you feel about Madame Sylvie's revelations?
11. How does Céline's quest collide with Gil's business problems? What makes her finally decide to take Gil into her confidence? Why is it now possible for them to begin to trust each other?
12. What gives Ondine the courage to seek out Picasso again after so many years? Do you think he planned to help her all along, or do you think he made a sudden decision to do so?
13. What do we learn about Céline's father, Arthur, in the chapters when he was courting Céline's mother, Julie? When Arthur and Julie come to visit Ondine years later, why does the birth of Céline impact Ondine so deeply? What significance can be found in Ondine's dream about being visited by Picasso after his death?
14. What did you feel about the final revelation at the end of the novel? How does Gil help Céline understand its significance?
Back to Top