All of Us and Everything Reader's Guide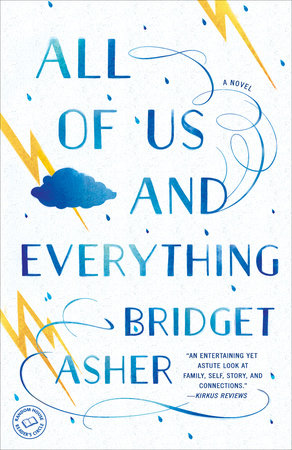 All of Us and Everything Reader's Guide
READERS GUIDE
A Conversation with Bridget Asher

Random House Reader's Circle:
At the risk of asking what Ru would consider a "stupid question," would you shed some light on where you got the inspiration for this novel? Do you agree with Ru that we should stop asking this question as a society?
Bridget Asher:
Ru and I have a lot in common. We both have two older sisters, both write, both brood in similar ways. But, no, I don't think we should stop asking this question. Honestly, some writers are struck by moments of brilliant illumination—-their skulls suddenly lit up with story. Each of my novels contains a million tiny flares, many of which happen while I'm living my life and scribbling notes and many of which happen while writing. But, also, it's worth noting that some of the flares that made this novel have been around for a while. I once wrote a love letter for a stranger on a plane, a kind of win–back. (The essay appeared in Real Simple.) Liv, the cherry picker, has been a character I've wanted to write for a long time. I could never find the right place for her to land. And I've also written a little about the snowstorm that hit DC the night before Kennedy's inauguration, using my father's memories of that night, but I finally found the larger love story within it.
Society should keep asking, but, from me, one can expect a longer, more intricate answer.
RHRC:
How is your authorial approach and perspective similar to or different from Ru's? Was it surreal to bring another writer to life in this character?
Bridget Asher:
It's a relief to write about a writer. So much of our lives we can't quite shove into the lives of characters with other professions, so there's a feeling of ease in writing about a writer and a lot of opportunity to be comedic. Ru's disastrous reading at the public library, well, let's just say I didn't have to rely wholly on imagination.
RHRC:
You've written more than twenty books, but said All of Us and Everything is your favorite one to date. Why is that? How is this book different from your others and what was the experience of writing it like?
Bridget Asher:
I've written as Asher, but also under Julianna Baggott and N.E. Bode, and people ask me all the time which of my own books is my favorite. The intent is often to find out which of my books they should pick up. I usually ask them what they like to read, rearranging the question so I'm not forced to answer. But All of Us and Everything is the novel that I want my really good friends and family to read, the people who know me very well and who've known me for a long time. In writing this novel, I had the opportunity to write out a kind of spirited take on sisterhood and motherhood that I've never allowed myself to do before.
RHRC:
You paint Nick's background as a spy with such finely rendered detail. How did you go about investigating that aspect of the novel?
Bridget Asher:
I had the opportunity to interview someone who worked in intelligence for his entire career. Twenty years retired, he was able to answer questions; what I really wanted to know wasn't about his assignments, but rather about the culture of the work, how love, marriages, and families operated within that culture. I asked him if he was nervous about divulging things. He said that he lived his life assuming that anything he said might be on the record. That was very telling.
RHRC:
This book features a predominantly female cast. Did you find it different/exciting/challenging to focus pointedly on this singular matriarchal family while the men are so behind–the–scenes? Did you arrive at any new revelations about the relationships between mothers/daughters and sisters by zeroing in on the Rockwell women? Which aspects of their family dynamic do you think makes them universal?
Bridget Asher:
I come from matriarchal family lines. My father was raised with his two sisters by a single mother and her sister. My mother's mother was the clear matriarch of our family for most of my life. I would say that my own mother has taken her place in that role. I have a brother and two older sisters, and I have two daughters and two sons. This novel allowed me to really dig into the ways I've seen sisters operate: old scores, unwanted nicknames, family jokes and secrets, petty turf battles—-that don't feel petty at all, some thievery, long memories, as well as incredible tenderness and love, the ties that bind sisters. This goes for friendships as well, people who've known you for what seems like forever. There is something about being known by others for an entire lifetime. When it comes down to it, these sisters are truly there for one another. Just the way in which these sisters—-and Atty too—-orchestrate a guy showing up for dinner is, I hope, familiar to a lot of people. I think that these kinds of politics, as well as clumsily expressed love, exist in many families.
RHRC:
Did you relate to, sympathize with, or want to spend time with any of the Rockwells in particular? Which of them was the most fun to write?
Bridget Asher:
I relate to Ru, absolutely, as the precocious youngest of three daughters, and as a writer. But Liv was the most fun to write. I love her edginess, her self–delusions, her strange acts of kindness and generosity. I miss her the most, though Atty is a very, very close second. She would always surprise me, offering up my favorite lines.
RHRC:
Channeling the spirit of Augusta and Atty, if you could lead a personal movement of your own, what would it be?
Bridget Asher:
Tolerance. If we could allow others to live as they choose, to be who they are, to honor and celebrate our rich diversity, and not perceive others as a threat, I believe the world would be a safer place.
RHRC:
Atty's observations on life and her family lend such comic relief to the narrative. Did she spring from a conscious effort to explore the ways we interact with social media today, or is she just a product of her time?
Bridget Asher:
One of my husband's first jobs was at a boarding school in Delaware, and that school and certainly the spirit of being a faculty brat living on campus is something I've always wanted to write. I didn't set out to make a statement on social media. Atty arrived pretty whole, live-tweeting from the get-go.
RHRC:
You've written some epic win-backs in this novel. Have you ever had to script one in real life?
Bridget Asher:
Well, in addition to the win-back that I wrote for the stranger on the plane, I do write win-backs in various ways. I still believe that words are powerful and change someone's way of thinking, change their mind, as well as possibly win their heart. When my mother hands you a letter, you know that she has something to tell you that she can't tell you without crying. The tradition began there, perhaps. The truth is win-backs don't always work. My oldest sister, actually, is the one who's tried to tell me that I always think I can fix things with words. Sometimes words fail. But when they win, it's a beautiful thing.
RHRC:
What is the most important message you'd like readers to take away from this story?
Bridget Asher:
I want people to see pieces of themselves, their sisters, their mothers, their best friends, the loves of their lives. I want people to find lines that nail some emotion or thought or family dynamic so hard that they have to share them with someone else. After my father read the book—-he was one of the first—-we had an immediate set of catchphrases, a secret language of inside jokes. I want this book to do that for people.
RHRC:
Are you a Nancy Drew fan yourself? What shaped your own reading tastes as a child? What sorts of books do you gravitate toward now?
Bridget Asher:
I liked stranger, more magical stories. My love of Roald Dahl quickly turned into a love of Gabriel Garcia Marquez, then Lee Smith and, for family dynamics, Anne Tyler and John Irving. I also saw a lot of theater as a kid and that may have been even more influential than what I was reading in terms of developing my ear.
RHRC:
What's in the works next for you?
Bridget Asher:
I want to write a Paris novel. I loved writing The Provence Cure for the Brokenhearted and, of course, doing the research it required. I'd love to find an excuse to go to Paris for a little while. Who wouldn't?
Questions and Topics for Discussion
1. Augusta says, "Storms are one way to define people. . . . There are those who love storms, those who fear them, and those who love them because they fear them." Based on how this plays out in the narrative, how would you define the Rockwells and why? Which category do you fall into?
2. Discuss the characters' relationships with control. In what ways are the Rockwells always striving for it in their personal lives, their romantic relationships, and their approaches to motherhood? Are these relationships healthy? Do the characters eventually relinquish control and if so, what is it that frees them?
3. Augusta has attempted to spearhead numerous movements, none of which have gotten off the ground. Why do you think she has such a need to organize these campaigns, and why do they all inevitably fail? What's the significance of her causes—-Mothers United for Peace, Raise Your Voices, The Movement's Movement, The Self–Actualization Cause, The Individuality Movement, and The Personal Honesty Movement, to name a few—in relation to the story? Is there a commonality between them that's essential to understanding her?
4. Instead of writing fiction, Ru decides to study an actual matriarchal society in an attempt to "borrow authenticity." Do you agree with her statement that all nonfiction is "borrowed authenticity"? How does this differ from her approach to writing novels, or does it? What do you think Ru is trying to get at in her writing?
5. Ru wonders if sisterhood and motherhood are "[ways] to find versions of yourself locked away in others." Do you think that's an accurate way to describe these relationships? Do you see any of your own sibling and/or parental relationships reflected in the story?
6. The girls have each adopted a different method of coping with their father's absence. Liv looks for comfort in other people's families and relationships rather than her own, Ru holds onto the belief that her father really is a spy and makes it her mission to find him, and Esme has outright accused Augusta of sleeping with multiple men to satisfy her own selfish desire to become a mother. How do these assumptions shape each of them, their sense of self and responsibility? How does the reality of their father's existence affect the very essence of who they are? Do they each seem to be on a path to healing, acceptance, and self–actualization after all?
7. What is Liv's impetus for cherry–picking husbands from the engagement pages? Do you think she's capable of real love? Did you empathize with her by the end and, if so, what lessons do you think she needed to learn in order to become a sympathetic character?
8. What were the different qualities Ru appreciated about Cliff and Teddy? Which qualities made Teddy the right man for Ru and, conversely, Cliff the wrong one?
9. Esme admits to feeling the other life she could have lived with Darwin Webber, even while she was married to Doug, so strongly that it was like she was in touch with an alternate universe. Is it fair of her to blame her father for the current state of her life? Is it human nature to feel a connection to the path not taken? If you were in Esme's shoes, would you have wanted to reconnect with Darwin and the life that could have been, or do you think that kind of wishful thinking is a recipe for disappointment?
10. Nick was involved in his daughters' lives from a removed distance, but he certainly changed the course of events for them. Would you say he's more parental or manipulative in that way? Could you pardon him, knowing his reasons for intervening when he felt he must, or do you think he should have stayed out of things? How is his relationship and involvement different with each of the sisters and why?
11. Do you think Nick is a good father? Is Augusta a good mother?
12. Did Augusta do the right thing by keeping so much about Nick from their daughters? Was there anything she could or should have done differently?
13. The sisters argue over whether they're ultimately likeable versus loveable versus unlikeable. Would you agree with their conclusion that they're unlikeable? Why or why not? Why do you think they see themselves that way?
14. The concept of truth is a muddled one for the Rockwells, who've lied to themselves and one another for various reasons. Why is it so hard for them to be honest? Is one lie more profound, even more destructive, than the others?
15. Why is it so important that Atty collect the complete set of Nancy Drew books by the end of the novel? What is the thematic significance of Nancy Drew in this story?
16. The weather is such a visceral piece of the narrative, almost like a character in and of itself. How did the storms affect the way you experienced the story? What did the Rockwells lose as a result of the hurricane and, ultimately, what did they gain? Why does it sometimes take a perfect storm to finally reconcile the past?
Back to Top