The Peacock Emporium Reader's Guide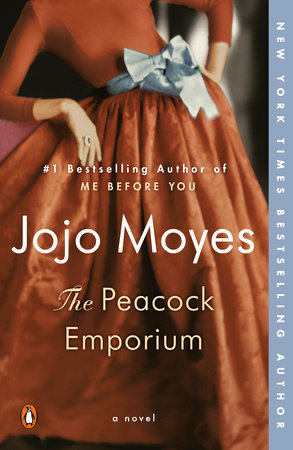 The Peacock Emporium Reader's Guide
READERS GUIDE
Introduction
Jojo Moyes became a household name with her
New York Times
bestselling Me Before You trilogy (
Me Before You
,
After You
, and
Still Me
), and especially for her trademark memorable characters and complex, true-to-life relationships. Moyes brings all of that to
The Peacock Emporium
, a rich story of a young woman with a mysterious past who finds both safety and salvation in the quirky shop she opens in her small town.
Athene Forster was untouchable. Dubbed the "Last Deb," she was gorgeous, rich, and could have anything—or anyone—she wanted, including young heir Douglas Fairley-Hulme. Two years into their marriage, however, scandal engulfs the couple after a young salesman catches Athene's eye, ultimately causing her fall from grace.
Thirty-five years later, Suzanna Peacock is drowning in the shadow of her late mother, Athene. Unhappy in her marriage and desperate for a fresh start, Suzanna opens The Peacock Emporium, an eclectic shop that attracts an eccentric cast of characters. In her new role, Suzanna begins opening up, and even finds a true friend in Alejandro, a male midwife. But despite her efforts, Suzanna is unable to escape the specter of her mother. It will take tragedy, heartbreak, and ultimately healing for Suzanna to learn that only by confronting the ghosts of her past can she finally begin to live in the present.
Like all Moyes's books,
The Peacock Emporium
will steal your heart—and is an absolutely unputdownable, unforgettable read.
Questions and Topics for Discussion
1. The Peacock Emporium is about Suzanna coming to terms with her family and her past, but it is also a love story, as well as an ensemble piece about the ways a small town reacts around issues of domestic violence. Do you think the elements came together to create a realistic and cohesive narrative? Why or why not? Which storyline compelled you the most?
2. In this novel, Suzanna must reckon with her mother's scandalous past and the way in which this history affects her own identity. How important a role do you think parents' lives should play in the foundation of one's own identity?
3. Suzanna, the protagonist, is an enigma to the end. She continually denies her true feelings, and is stalled in life out of passivity, confusion, and fear, yet these are very understandable human reactions. Did you understand why Suzanna decided to keep everything to herself, and why she had trouble letting others get close to her? What do you think motivates her? Is it her unhappiness and feelings of not belonging or being good enough—or something else entirely? Or why do you think she's so unhappy in her marriage?
4. Some of the great joys of this novel are the wonderful secondary characters, such as Arturro, Father Lenny, Mrs. Creek, etc. Which of these characters stood out most for you? Did you relate personally to any of them? In what ways?
5. Suzanna makes a point of not inviting her husband, Neil, to the opening of the Peacock Emporium, because she "wanted something that was hers, pure and pleasurable, untainted by her and Neil's history. Uncomplicated by people" (p. 83). What do you think she meant by this?
6. Suzanna is so different from the rest of the Fairley-Hulmes—both emotionally and in terms of her outlook on life. How do you think these differences helped or hindered her relationships within her family? How do they shape her choices regarding the shop?
7. How did you come to understand Suzanna and Neil's marriage? Did you understand and believe in the relationship that develops between her and Arturro, and did you anticipate what happened between them?
8. Did you like the way the ending connected to the beginning of the novel, having come full circle? Did you think it made for a satisfying ending?
Back to Top