Home for Erring and Outcast Girls Reader's Guide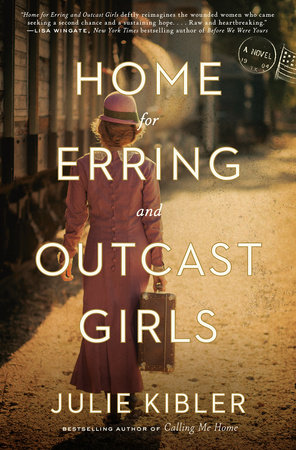 Home for Erring and Outcast Girls Reader's Guide
READERS GUIDE
1. Novels told from multiple points of view give the reader insight into many character perspectives, which may help us understand why characters make certain decisions. Did any character in
Home for Erring and Outcast Girls
make a decision you felt was unfathomable or unforgiveable?
2. Which character did you most relate to in the novel? Which character did you find the most difficult to empathize with?
3. We enter the story through Lizzie's third-person point of view, whereas Cate's storyline is told in first person. What benefits do each of these narrative structures have? Do you feel you were able to gain insight into each character's thoughts or feelings? Did you trust both narrative forms?
4. Cate's sense of identity is turned upside down at a pivotal point in her adolescence. What impact do you think this had on her life? How could her family or community have played a more supportive role? Have you observed or experienced any similar situations?
5. Lizzie vows to keep her daughter safe at any cost. How do you think this affected Lizzie's relationships—especially with Docie as she matured? How does their relationship contrast with other mother-daughter type relationships in the novel, biological and not?
6. Mattie and Lizzie's friendship is central to the storyline, and arguably what helped both women overcome extremely difficult circumstances. What other themes of sisterhood and friendship appear throughout the novel? What examples of destructive female relationships appear?
7. Cate seemingly suppressed a good deal of emotional hardship by suffering through the trauma of her youth alone. Why do you think she didn't confide in Jess, whom she considered her best friend? Or in River? How do you think her character might have fared if she'd had a friend like Mattie? How does Cate's relationship with Laurel in the present day inspire her to change?
8. Did you find Hallie to be a sympathetic character? Was there any point at which you began to understand her point of view, or any point at which you lost empathy for her?
9. At one point, Lizzie notes that "everyone might be worth saving, but not everyone can be saved." What does that mean to you? Do you think it's true? How do themes of piety and faith play out in ways that helped the women in the past? Or that harmed them? What about for Cate?
10. Were you surprised by the twist in Cate's past? How did it affect your reading of the first part of the story? What do you think is the future of Cate's relationships with Laurel and River?
11. What did you glean from the relationship between Cate and Laurel? Did you think Cate's desire and invitation to adopt Laurel was appropriate, even if Laurel was technically an adult? Have you ever been a foster parent or child, formally or informally? How did it change you? Have you ever considered taking on this role? What fears do you have about fostering?
12. Ultimately, the stories of the women of the Berachah Home are fictionalized accounts of what factually occurred to countless women during that period. What is the benefit of reading a fictionalized story about this time period? How is it different from reading nonfiction about the same events?
13. Which themes in
Home for Erring and Outcast Girls
are still applicable today? What has changed? What hasn't? Did reading this novel transform any ideas or opinions you have held? Did it inspire personal change or inspire you to advocate for "outcast" women or girls in your world?
Back to Top