The Great Believers Reader's Guide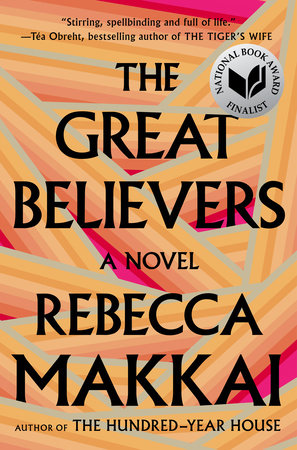 The Great Believers Reader's Guide
READERS GUIDE
Spanning three decades and two continents,
The Great Believers
is the story of a group of friends and their stirring emotional journey through the 1980s AIDS crisis in Chicago and its effects on the contemporary lives of survivors.
In 1985, Yale Tishman is the development director at the art gallery at Northwestern University, working to bring in an extraordinary collection of 1920s paintings as a gift from an elderly woman who was once an artist's model in Paris. Yet as his career begins to flourish, the carnage of the AIDS epidemic grows around him. The novel opens on the funeral day of his late friend Nico. As the virus continues to take its toll on the gay community in Chicago, Yale grows closer to Nico's little sister Fiona, who comes to care for many of Nico's friends.
Thirty years later, Fiona is in Paris tracking down her estranged daughter Claire who disappeared into a cult. While staying with her old friend Richard, a famous photographer who documented the Chicago epidemic, she finds herself surrounded by memories and reminders of that time. Finally, she begins to understand just how profoundly the AIDS crisis affected her life, grappling with what she sacrificed in caring for and loving these men, sacrifices that affected her marriage and her relationship with her daughter. Yale and Fiona's stories unfold in moving and sometimes surprising ways, as both struggle to find goodness and feel hope in the face of disaster.
The Great Believers
is a powerful meditation, not on death, but rather on the power and gift of love and friendship.
Questions and Topics for Discussion
1. Yale's group of friends is very close. In a sense, they are his "chosen family." How is this explored in the book? How does each character relate to their family, biological and chosen? Do you have a "chosen family," and if so, what brings you all together?
2. How has the culture changed regarding LGBTQ+ voices and stories since the 1980s?
3. Chicago is such a powerful presence in this novel that it is almost a character in itself. Have you ever been to or lived in a place that exerted a strong influence on you?
4. Nora, the elderly woman donating the 1920s pieces, seems completely removed from the rest of Yale's life, yet her story contains elements that can be compared and contrasted with Yale's. What similarities between his and her life are there? How has her past affected the present?
5. Fiona has suffered many losses in her life. How do you think that affected her as a mother? What are the ways in which trauma and loss are passed down through generations?
6. Do you empathize more with Fiona or Claire?
7. Do you see any parallels between the state of healthcare during the 1980s and now?
8. On page 353, Asher asks Yale, "Does it really ever go anywhere? . . . Love. Does it vanish?" Yale replies, "I mean, we never want it to. But it does, doesn't it?" What would you say to them?
9. Is the creation of artwork always a collaborative effort? How do you feel about the relationship between artist and muse?
10. What has been your knowledge of—or experience with, if any—AIDS or those affected by the disease? Has reading this novel changed any ideas you have previously had about the subject?
About this Author
What was your research process in learning about the AIDS epidemic in Chicago?
There wasn't nearly as much about AIDS in Chicago in book or film form as you would think. Chicago was and is the third largest city in America, but most of what's out there focuses on New York, San Francisco, and Los Angeles. This meant I needed to get out from behind my desk and do some legwork. I holed up in the Harold Washington Library in downtown Chicago and read every issue of
Windy City Times
(Chicago's biggest gay weekly) from 1985 to 1992. During the four years I worked on the novel, I interviewed people one-on-one, in coffee shops, or in their homes: doctors, nurses, activists, lawyers, survivors, people with HIV, and people who had simply been young and gay in Chicago in the '80s. They were so incredibly generous with their time, and in the details and stories they shared. A few of them read the book for accuracy, too, after it was done; while the story is fiction, it was so important to me to get things right.

One of your characters travels to Paris in search of her daughter who became entangled in a cult. What was your research process into that world?
I wanted to write about cults after I accidentally went to a restaurant owned by a cult, which led to researching them afterward (I'd tell you which one, but cults are notoriously litigious and make a lot of their money on lawsuits!). I based the Hosanna Collective, the group that Fiona's daughter is tangled up in, on that cult, but also on others as it was important to me that it not be identifiable as any particular group. There are some incredibly scary cults out there, of course, but what was so frightening to me about the ones I modeled Hosanna on was how benign and rational it all seemed at first. From the outside, these people really just look like hippies.

As a cisgender heterosexual woman, why was this an important story for you to tell? How are you able to lift up the voices of the LGBTQA+ community?
I thought and stressed a lot about whether it was appropriate for me to tell a story about AIDS, and ultimately I felt I needed to satisfactorily answer two questions: 1) Could I do a good job, do this story justice? and 2) Would this book detract from the narratives of those who lived through this crisis, or help readers discover those stories? The answer to the first question was that I could do it with relentless research, and I hope I've indeed done justice to the story. The answer to the second question was that my novel is much more likely, if it's successful, to engender further discussion and writing about AIDS than to squelch it. The way commercial publishing works, a novel's success means more presses will be willing to back a similar project in the future. I have opportunities now to point people toward both fictional and nonfictional accounts of the AIDS crisis.
This book is about a lot more than AIDS—it's also about the Paris art world of the 1920s, cults, Chicago, memory, and loss. I do want people to come away knowing, thinking, or feeling more about AIDS than they have previously. I don't want them to stop with my book—I want this to be the beginning of a lot more reading and conversation about the subject.

Your characters in The Great Believers feel like very real, dynamic people. What or who inspired your creation of these characters?
I've never based a character on a real person, but there are slivers of different real people (and huge chunks of myself) in every character I write. In this novel, some of those slivers came from the details that people shared with me about themselves or their friends back in the '80s, and some came from elsewhere. These characters ended up feeling real to me in a way that I've never quite experienced before in my previous novels or stories. In particular, my main character, Yale Tishman, is someone I keep thinking of like a friend I just lost. When I get good news about the novel, I wish I could tell him about it. That might make me sound unbalanced, but it was important to my process that I got to the point of thinking of him as a real person.

The Great Believers weaves together two stories in two different cities. Why did you choose Chicago and Paris as your settings?
I grew up in Chicago and live here still, so it was much more interesting for me to explore what happened right here than to force myself to write about New York or San Francisco, which would have been more expected. Chicago is, in a way, the great love of my life. I'll never get tired of it and I'll never get tired of writing about it.
Oddly, the origin of my novel was something that's now only a small part of it: the art scene in Paris between the two world wars. I've always been fascinated by that time, and by the "École de Paris" set—the young artists who came to Paris from around the world—and although that shrunk to a subplot of the novel, something we hear stories about but don't see firsthand, it's still there and still important. The 2015 sections of
The Great Believers
were actually a later addition to the story. I'd written about 150 pages thinking the book was just going to be about the '80s before I realized I needed to go back and forth in time. But when I thought about what would happen in those 2015 sections, it made sense for Paris to be the setting, echoing the scene we've heard about from the 1920s.

Why do you think it is important to contextualize the pervasive pain of the AIDS crisis in the modern day?
For one thing, that pain is still here. It's tempting, in the United States, to think of AIDS as something of the past, but globally there are 37 million people living with HIV.
Even if we are thinking of the late '80s to early '90s height of the US crisis—and the gay community it primarily impacted—people are still living in the shadow of those years, feeling those losses, and putting their lives back together. It was important to me to write not just about the '80s, but about the reach of the epidemic across decades.

What parallels, if any, did you discover between the state of healthcare during the 1980s and now?
Legislation of healthcare is still based on subconscious (or even conscious) prejudices about who deserves to live and who doesn't. Just this December [2017], Trump disbanded the HIV/AIDS Advisory Council, despite the fact that over a million Americans are still living with HIV. That's not random; that's coming straight from homophobia and racism, and the idea that those million lives are disposable. And when it's not sexual orientation or race, it's gender, poverty level, education. Certain individuals, some of whom are in power, blame people for their own illnesses—you shouldn't have drunk all that soda, you shouldn't have had sex, you shouldn't have lived in Flint. I think it's a way they make themselves feel safer, like nothing bad will happen to
them
, and I think it's also a way to sanction mass cruelty. In the '80s, the glee with which some politicians talked about gay men dying was barely contained; most politicians do a better job now of hiding their motivations, but they're still there, festering.

What does the title The Great Believers mean?
The title is taken from an F. Scott Fitzgerald quote that serves as one of the novel's epigraphs:
"We were the great believers.
I have never cared for any men as much as for these who felt the first springs when I did, and saw death ahead, and were reprieved—and who now walk the long stormy summer."
—F. Scott Fitzgerald, "My Generation"
Fitzgerald is referring to the lost generation, and the quote struck me as so counterintuitive—we often think of that generation as jaded and worldly. The parallels between that generation and the generation we lost in the '80s is something I explore in the novel. In particular, I was struck by the similarities between the way Paris was a refuge for so many misfit artists, and the role big American cities like Chicago have played for young LGBTQA+ people. The arts scene in Paris was interrupted by WWI and between the war and the influenza of 1918, a whole generation was decimated. I was particularly interested in those who regrouped in Paris after the war, who tried to recreate some of what had been lost. The lines we can draw between that time and the '80s are fascinating to me.

What do you want people to take away from reading The Great Believers?
Ultimately, I do think
The Great Believers
is a defiantly hopeful book—or at least that my characters are defiantly hopeful. That's one of the meanings of the title, I think. As their lives fall apart, they also take on greater direction and conviction. We're living in a difficult time, and life is hard enough to begin with, but I drew so much inspiration in the past few years from talking to survivors, listening to the stories of how they fought for their lives and for each other even when it seemed utterly hopeless. If my characters can do for readers just a fraction of what these people did for me, I'll be satisfied.
Back to Top