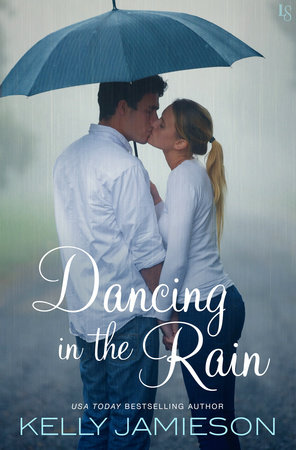 Dancing in the Rain
A Novel
By Kelly Jamieson

By
Kelly Jamieson
Best Seller
People Who Read
Dancing in the Rain

Also Read
Inspired by Your Browsing History
Praise
"Dancing in the Rain is a heartwarming story of love, loss, and finding your way. From the very first page you will lose your heart to this family, only to slowly regain it with each beautifully written word."—New York Times bestselling author Kelly Elliott

"A hot hockey hero and a sweet, emotional romance. Kelly Jamieson's Dancing in the Rain touched my heart and left me smiling through my tears."—New York Times bestselling author Virna DePaul

"Dancing in the Rain is an emotional and heartwarming story of new beginnings."—Harlequin Junkie (four stars)

"I enjoyed this story so much, even though it is sad and emotional, it has an uplifting message. . . . I couldn't put this book down."—Cocktails & Books

"I thought the book was so good and definitely recommend it. . . . It's a tearjerker so have your tissues read before you pick up the book."—Book Binge

"I 100% recommend this book to everyone who loves romances."—The Girl Who Read Too Much

"I am a lover of hockey romances and have read and enjoyed several of Kelly Jamieson's hockey hunks, so when I saw that she had a new stand-alone hockey romance I decided to check out the blurb. I must say I was intrigued with this one, as it still had the hockey side to it but from a much different angle."—Lustful Literature 

"I absolutely loved this one!"—Reads & Reviews (five stars)

"Dancing in the Rain is heartrending and heartwarming. It is an engaging romance with an HEA, but it is also more than romance. It offers readers a believable world where bad things happen to good people, but where love heals even as grief endures and people learn that it is possible to find happiness despite loss. If you can appreciate a romance that requires a good supply of Kleenex, I highly recommend this one."—The Romance Dish

"Kelly Jamieson did an astounding job with Dancing in the Rain. It had me laughing and crying. I was invested in the characters. I enjoyed the plot. The story dealt with hard issues and had worthy life lessons. The ending was perfect. I loved this story."—Diane's Book Blog

"This was a three-hanky novel, and I really enjoyed being put through the wringer."—A Chick Who Reads

"Emotional and beautiful."—A Crazy Vermonter's Book Reviews 

"As a reader, I experienced so many emotions reading this book and was a bit exhausted when I finished, but I was also extremely satisfied."—Guilty Pleasures Book Reviews (five stars)

"This is one of those books that demands empathy, reminding readers that sometimes those HEAs are harder fought for than others. If you're in the market to spend some time with authentic characters and grieve with them a little, then I highly recommend Dancing in the Rain."—All About Romance

"This truly is a captivating, heartwarming story that may have you in tears for more than half of it but will definitely leave you satisfied and smiling by the very end."—What's Better Than Books?
Back to Top