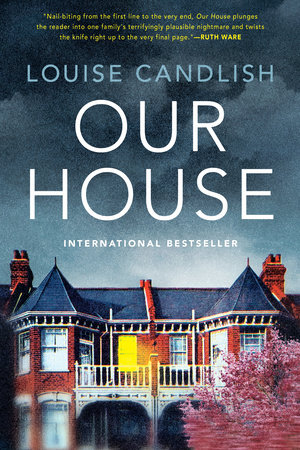 READERS GUIDE
Our House
Louise Candlish
Questions for Discussion
1. Fi's story is told in a podcast interview meant for public broadcast, while Bram's is told in a written suicide confession intended for the police. Is either form inherently more trustworthy than the other?
2. Do you have sympathy for Bram's predicament? Might he have handled the blackmailers' demands differently?
3. Fi claims that 91 Trinity Avenue was the Lawson family's "primary breadwinner" and "benign master." Is the novel a cautionary tale about investing too much in our property—both financially and emotionally?
4. Alison, Merle, Kirsty, Polly, her mother: Fi's network is almost entirely female and manifestly dynamic. Meanwhile, Bram comments that "in my experience men noticed very little" and jokes about his desire for a "prefeminist" partner. What point is the author making about modern male-female relationships?
5. What do you make of the bird's nest custody arrangement? Were Bram and Fi being realistic in thinking it could work, even before the interference of Mike and Wendy? Do you know anyone who has had this co-parenting arrangement in real life? Was it successful?
6. Fi and Bram praise each other's parenting skills and repeatedly claim to make important decisions with their sons in mind. Do events bear this out?
7. Did you enjoy the structure of the book? When Fi's podcast interview ends and the crucial, astounding events of January 13 and 14 are revealed, were there any shocks or surprises?
8. The death that occurs in the couple's flat is arguably the novel's most serious crime. Did you anticipate it, and is it likely that the perpetrator(s) will go unpunished? Do you want the perpetrator(s) to be punished?
Back to Top