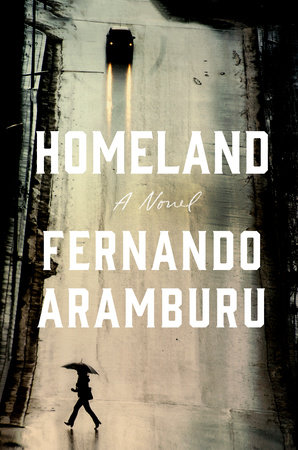 READERS GUIDE
"Homeland has reminded Spain of the dormant power of literature to shake up society." —Politico Europe

"Magnificent . . . Aramburu's remarkable novel is an honest and empathetic portrait of suffering and forgiveness, home and family." —Publishers Weekly (starred review)
"Aramburu recounts the lives of ordinary people shattered by events that are ongoing in Spain today even years after ETA has suspended its armed campaign; the reader needs no background in that tangled history to understand that basic, terrible truth. A humane, memorable work of literature." —Kirkus Reviews (starred review)
***
The questions, discussion topics, and reading list that follow are intended to enhance your reading group's discussion of
Homeland
by Fernando Aramburu. Set in Spanish Basque country and taking place over decades, up to the present day,
Homeland
explores the lives of two families torn apart by violent insurgency.
Introduction
Fernando Aramburu's internationally acclaimed novel evokes an unresolved history of violence, giving a fictional account of lives shattered by Basque terrorism even as it rekindles debate about truth and reconciliation.
Lifetime friends become bitter enemies when the father of one family is killed by militants—one of whom is a son from the other family. Told in short sections highlighting a rich multiplicity of characters from all walks of life,
Homeland
brilliantly unfolds in nonlinear fashion as it traces the moral dilemmas faced by the families of murder victim and perpetrator alike. Aramburu alludes only obliquely to the historical context while he focuses on the psychological complexity of his characters and builds nearly unbearable suspense.
Questions and Topics for Discussion
1. Before reading this novel, did you know about the armed struggle of the ETA in Spain and its truce in 2011? If not, were you able to follow the events of the novel anyway and piece together the basic history? If yes, did you start reading the novel already sympathetic to one side?
2. Why has Aramburu chosen to structure the novel in non-chronological short chapters and many voices? Why are the voices in the third person rather than the first person, which he could have done since each chapter is devoted to a particular character and perspective? And why within the third person, does the author occasionally have an utterance or comment in the first person (for example, "I know what I'm talking about"? (p. 4)).
3. How is this both a universal tale and specific to the rural Basque region of Spain in the late 20th century?
4. Discuss the relationship between Bittori and Miren, at one time "intimate friends" (p. 55) who almost become nuns together (p. 53, "Can you imagine if we had become nuns?"). Also discuss the relationship between Txato and Joxian. What changes their relationships and how do the fallen friendships affect the two families? Can the two families ever be reunited?
5. Describe the two central mother-daughter relationships in the novel, that of Bittori/Nerea and Miren/Aranxta. Compare and contrast the two relationships.
6. How does the Catholic Church play into the novel? What is Don Serapo's role in his village, and in the ETA conflict? What is the importance of St. Ignatius in the novel and to Basques in general?
7. How is Homeland a novel about violence, including reactions to violence and living with violence? How does violence pervade all of society, both physically and mentally, in the novel? And what is the impact of violence on ordinary people's lives?
8. The violence poisons the relationship between the two families, but also affects the relationships within each family. How? Discuss how the relationships between husbands and wives, mothers and daughters, siblings.
9. Publishers Weekly writes, "The cast is sprawling—with both matriarchs, husbands, children, spouses, grandchildren—but each's story is realized masterfully, as the characters look to escape violence however they can, be it exile, alcohol, or love." Describe how each of the characters attempts to escape the violence and their memories.
10. Why would young people gravitate towards and support or even join the ETA? Why does Joxe Marie join up? How does Gorka react to the draw of the ETA? How does he support Basque culture and separateness from Spain without joining the ETA?
11. Which characters leave the village and why? Are all the reasons for leaving basically the same?
12. Discuss the themes of betrayal, guilt and forgiveness in Homeland. Why does Aranxta plead with Joxe Marie to ask Bittori for forgiveness?
13. There are many descriptions of food in the novel. Both matriarchs are excellent cooks and food is central to both of their lives. What do you learn about Basque food and culture from these descriptions?
14. Bittori, in talking to her husband's grave, tries to explain Miren's behavior, "I understand her transformation, even if I don't approve . . . She became a fanatic of maternal instinct . . . In her place, I might have behaved the same way. How can you turn your back on your own child even when you know he's doing bad things? Until then, Miren hadn't taken the slightest interest in politics" (p. 55). Would you have behaved the same way as Miren in her situation? Do you understand and sympathize with her?
15. What is the importance of words in the threats and attacks on Txato? How do the words turn the village against him?
16. Describe Txato as a man. "Txato took his precautions. He wasn't a fool" (p. 189). Why was he targeted? Why was he ultimately killed?
17. What kind of fathers are Txato and Joxian? Why can't Xabier have a relationship after Txato dies? Nerea and Aranxta both have complicated relationships with their husbands after Txato is gone as well. How does the violence affect their relationships?
18. Why doesn't Nerea come home for her father's funeral or mourning period? How does she grieve her father's death?
19. Why is it impossible for anyone in the village to remain neutral?
20. Late in the novel, a writer appears at a victims' conference, "against forgetting". Is this Aramburu, do you think? The novelist says, "I wrote against crimes perpetrated under the guise of politics, in the name of a homeland where a handful of armed people, with the shameful support of one sector of society, decides who belongs to that homeland and who should either leave it or die" (p. 504). What is Xabier's reaction to hearing this writer?
21. What is it about Aranxta, her personality and her situation that she is able to bring her family members around to attempt to reunite with Bittori? How is she the voice of reason in the novel without being able to talk?
22. Aranxta says to her brother Jose Marie that they are both in prison, "You're there because of what you did. What did I do to deserve this?" (p. 572). Explain what is happening in this scene. How is this scene and these two characters pivotal to the novel?
23. How do the three siblings, Aranxta and her two brothers Jose Marie and Gorka, represent three ways of being and reacting to the ETA armed struggle?
24. How does Gorka's wedding to Ramuntxo cause Miren to open up a little? Why is Arantxa "a silent fountain of joy" (p. 542) at the wedding reception?
25. Aramburu also gives us Joxe Marie's story, his motives, dreams and struggles. We learn that the police and the state are brutal to the prisoners and are not innocent in the struggle either. "So many things happen. No one outside the prison finds out about them" (p. 561). Do these descriptions make you empathize with Joxe Marie and the terrorists? Do you understand the conflict more hearing all sides?
26. What do you think of the ending of Homeland? Will things change in the village and with these two families?
About this Author
Born in 1959 in San Sebastian, Fernando Aramburu has lived in Germany since 1985. He established himself as a major Spanish novelist with his Antibula trilogy—
Fuegos con limón
(1996),
Bami sin sombra
(2005), and
La gran Mariván
(2013)—about an imaginary state (which is and is not the Basque country) that is bedeviled by terrorism, regionalism, and nationalism.
Homeland
is his first book to be translated into English.
Suggested Reading
JM Coetzee,
Life and Times of Michael K
Rachel Seiffert,
The Walk Home

Elena Ferrante,
My Brilliant Friend

Gabriel Urza,
All That Followed

Mario Vargas Llosa,
The Feast of the Goat
Back to Top