American Princess Reader's Guide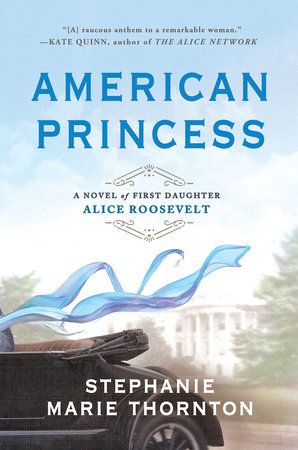 American Princess Reader's Guide
READERS GUIDE
American Princess
Stephanie Marie Thornton
Reading Group Questions
1. In a country without royalty, the press dubbed Alice Roosevelt with the title
Princess
Alice. In what ways did she use the press to her advantage, and how did this sometimes backfire?
2. As portrayed in the novel, how would you describe Alice's relationship with her father? Was Roosevelt a good father? Did he change as a father over the course of the novel? Was Alice a good daughter?
3. Alice struggles with forming lasting female friendships throughout
American Princess
. Her falling-out with Maggie Cassini happens early, and she is good friends with Cissy Patterson before they fall out with each other later. How do Alice's friendships with these two, along with those of Ruth Hanna McCormick, Mary Borah, and Eleanor Roosevelt, transform over the years?
4. Throughout her early years, and even beyond, Alice craves attention and will go to great lengths to get it, most especially from her father, but also from her friends, Nick Longworth, and even the press. Yet there are some societal rules even she isn't willing to break. How does this juxtaposition affect her relationship with Nick throughout their years together?
5. What did you think of Alice's choice to marry Nick? Why did she make that decision? What viable alternatives did she have?
6. Cissy's marriage to Count Gizycki serves as a warning to Alice throughout the story, and both women engage in affairs after their own marriages fall apart. How was divorce looked upon in those days, and how did Alice's views differ from Cissy's?
7. Alice is constantly at odds with her parents during her teenaged years, yet she also struggles as a parent herself after Paulina is born. What lessons did she learn from her parents, and what mistakes did she make? How did she learn from those mistakes after she takes custody of Joanna?
8. "
Blackbirds rarely sit behind the shoulder of one whose pace is fast enough.
" Over the course of her long life, Alice experiences many terrible losses. How did her father's attitude toward the loss of her mother—Alice Lee—affect her own ability to grieve? In your opinion, is this a good way to deal with loss?
9. Alice was famous for her caustic wit, and her embroidered couch pillow—
If you can't say something good about someone sit right here by me
—is well-known. When was that wit put to good use? Are there times when Alice should have curbed her tongue?
10. Alice Roosevelt Longworth lived a very full ninety-six years, from 1884 to 1980, to become the other Washington Monument. What most surprised you about her very long life? What did you learn about her that you didn't know before?
Back to Top