Leading Men Reader's Guide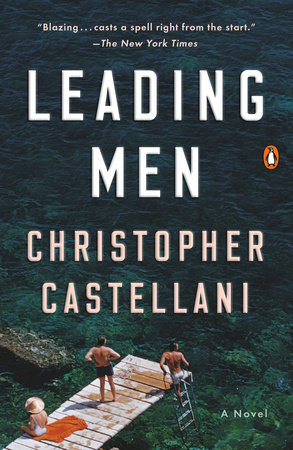 Leading Men Reader's Guide
READERS GUIDE
Introduction
An Introduction to LEADING MEN by Christopher Castellani
Two lovers locking eyes across a room: this was theater, yes, but it was something else, too. Brightness, maybe.
In July of 1953, at a glittering party thrown by Truman Capote, the literary and film elites of the age gather in Portofino, Italy, for a night of drinking, gossip, and dancing. Truman himself lords over the revelry, while the American novelist Jack Burns stumbles through the door on the arm of his Italian lover, Sandro, and Tennessee Williams parades around the man he calls Little Horse—his longtime partner Frank Merlo—a working-class Italian American man from New Jersey.
There, in the fog of smoke and boozy conversation, Frank and Tenn have a lively exchange with Anja Blomgren, a young, enigmatic Swedish beauty and aspiring actress, and decide to take her under their wing. Their chance encounter and the events that transpire in the following week—shaped by personalities like Luchino Visconti, Anna Magnani, and Paul Bowles—will go on to alter the rest of each of their lives.
A decade later, a terminally ill Frank revisits the tempestuous events of that fateful summer from his deathbed in Manhattan and reflects on his fifteen-year romance with Tennessee, in which he transformed himself and sacrificed his own artistic ambitions to play the roles of lover, caretaker, and muse. Williams wrote most of his truly great plays—from
Cat on a Hot Tin Roof
to
Suddenly Last Summer
—during their time together, and never penned another hit in the decades that followed. Losing an untimely battle with cancer, Frank waits anxiously for his former partner to visit him one final time.
In present-day America, Anja is settled into a quiet retirement in New England after enjoying a long and successful film career as the leading lady for renowned Scandinavian film director Martin Hovland. That is, until a young man connected to her time in Italy, Sandrino, lures her back into the spotlight after he discovers she possesses the only surviving copy of Williams's final play.
What keeps two people together and what breaks them apart? Can we save someone else if we can't save ourselves? What does it take to endure the pressure of expectations that accompanies a generation-defining talent?
Leading Men
seamlessly weaves fact and fiction to intimately resurrect Frank and Tenn's relationship and explore the tensions between public figures and their private lives. In a deeply affecting portrait of the burdens of fame and the complex negotiations of life in the shadows of greatness, Castellani creates an unforgettable leading lady in Anja Bloom and reveals the hidden machinery of one of the great literary love stories of the twentieth-century.
Questions and Topics for Discussion
1. This novel is a fictionalized account based on the lives of real people, some of whom, like Tennessee Williams and Truman Capote, are very famous for their roles in elite literary circles. How did the author's characterizations of these people surprise you? Did they differ substantially from what you imagined?
2. What is your opinion of Frank and Tenn's relationship, and why do you think it endured for so long? What do they bring to and take from each other? Do you view them as codependent—and, if so, in an ultimately positive or negative way? Which of them do you believe needs the other more?
3. Leading Men examines the trappings and pitfalls of living in close proximity to celebrity, ambition, and excess, both for famous artists and those who inspire and support them. How did your understanding of this kind of relationship evolve over the course of the novel? How did this dynamic function in different partnerships (Anja and Hovland, Frank and Tenn, Jack and Sandro)?
4. The title of the book is Leading Men, but much of the novel hinges on Anja, the enigmatic Swedish muse and actress. Did knowing Anja's story enhance your understanding of Frank, and vice versa? How do you think Anja's experiences with her own set of leading men—Hovland; her husband, Pieter; Sandrino; her father—relate to the larger themes in the novel?
5. Castellani portrays several queer relationships in the novel, including those between Frank and Tennessee, Jack Burns and Sandro Nencini, Jack Dunphy and Truman Capote, and Sandrino and Trevor, each with its own set of norms. And there are more unconventional groupings— young Trevor and Sandrino with aging Anja; Frank and Tenn's surprising alliance with teenage Anja; and even the brief and notorious love triangle between Anja, her mother, Bitte, and an Italian fisherman. What did you find compelling about these love stories? What differences, if any, did you notice between the relationships set in the mid-twentieth century, those that are more recent, and our current historical moment?
6. What did you make of Call It Joy, Tennessee's "lost" play? What did it reveal to you about the man who wrote it?
About this Author
About the AuthorChristopher Castellani
is the author of three previous novels (the trilogy
A Kiss from Maddalena
,
The Saint of Lost Things
, and
All This Talk of Love
) and
The Art of Perspective
, a book of essays on the craft of fiction. He is the son of Italian immigrants, a Guggenheim fellow, and the artistic director of GrubStreet, one of the country's leading creative writing centers. He lives in Boston.
Back to Top