Kingdom of Shadows Reader's Guide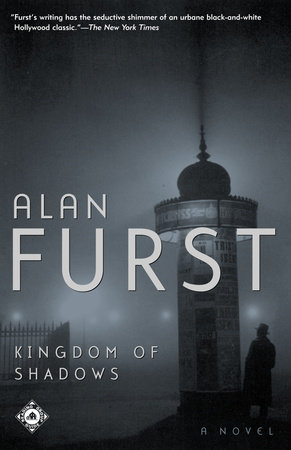 Kingdom of Shadows Reader's Guide
READERS GUIDE
Questions and Topics for Discussion
1. How does Nicholas Morath's experience as a cavalry officer in World War I affect his behavior in this book?
2. During many of Morath's assignments, he acts with very limited knowledge–he knows what he is to do, but not why, or who is involved. His uncle, a diplomat at the Hungarian legation, does not tell him the full story. Why? Is his uncle morally right to do this? Is he right in any sense? How is this used as a plot device?
3. The first verse of the Hungarian national anthem, quotes in the epigraph of Kingdom of Shadows, speaks of a people "torn by misfortune," a nation that has "already paid for its sins." How is the tone of this national anthem different from that of other patriotic songs? What can you infer about the history of Hungary from its national anthem?
4. Critics praise Furst's ability to re-create the atmosphere of World War II-era Europe with great accuracy. What elements of description make the setting come alive? How can you account for the fact that the settings seem authentic even though you probably have no first-hand knowledge of the times and places he writes about?
5. Furst's novels have been described as "historical novels" and as "spy novels". He call them "historical spy novels." Some critics have insisted they are, simply, novels. How does his work compare with other spy novels you've read? What does he do that is the same? Different? If you owned a bookstore, in what section would you display his books?
6. Furst is often praised for his minor characters, which have been described as "sketched out in a few strokes." Do you have a favorite in this book? Characters in Furst's books often take part in the action for a few pages and then disappear. What do you think becomes of them? And, if you know, how do you know? What in the book is guiding you toward that opinion?
7. At the end of an Alan Furst novel, the hero is always still alive. What becomes of Furst's heroes? Will they survive the war? Does Furst know what becomes of them? Would it be better if they were somewhere safe and sound, to live out the end of the war in comfort? If not, why not?
8. Love affairs are always prominent in Furst's novels, and "love in a time of war" is a recurring theme. Do you think these affairs might last, and lead to marriage and domesticity?
9. How do the notions of good and evil work in Kingdom of Shadows? Would you prefer a confrontation between villian and hero at the end of the book? Do you like Furst's use of realism in the novel?
Back to Top